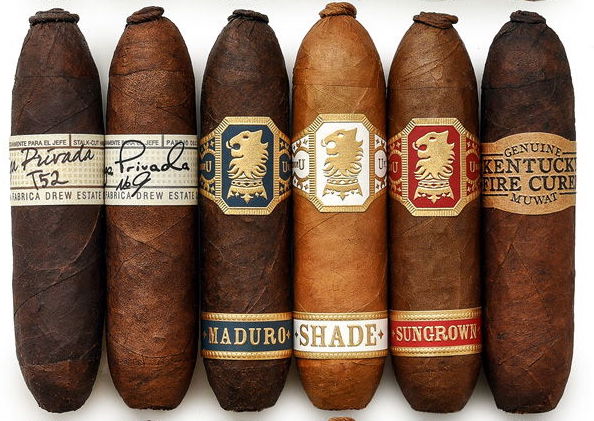 Drew Estate has announced it is releasing six of its signature Flying Pig releases to its Drew Diplomat retailers. The company also announced it will now be going to a cycle where Flying Pigs will be released twice a year.
The Flying Pigs being shipped include the Liga Privada No. 9, Liga Privada T52, Undercrown (Maduro), Undercrown Shade, and Undercrown Sun Grown blends as we as the return of the Kentucky Fire Cured Flying Pig.
The Flying Pig is a 3 15/16 x 60 (100mm x 60) ring gauge perfecto that is based off an 1895 cigar salesman's size selection stake. Drew Estate describes it as one of the most difficult cigars Draw Estate has made as it requires specialized training by the buncheros at rollers at the La Gran Fabrica Drew Estate facility in Estelí, Nicaragua.
In a press release announcing the return, Drew Estate President and co-Founder Jonathan Drew commented, "The Flying Pig franchise has become an iconic Drew Estate vitola. In addition to the flavor, taste and aroma, there's something unexplainably exciting about smoking a DE pig… it simply commands your attention when you open your humidor at home and makes your mouth water. It's psychological warfare, the pig versus everybody. We are changing the distribution process to release piggies twice a year, Spring and Late Fall."
At a glance here is a look at the six Flying Pigs:
Liga Privada No. 9
Wrapper: Connecticut Broadleaf
Binder: Brazilian Mata Fina
Filler: Nicaraguan, Honduran
Country of Origin: Nicaragua (La Gran Fabrica Drew Estate)
Flying Pig: 3 15/16 x 60
Price: $181.17 (12 Count Box)
Liga Privada T52
Wrapper: Connecticut River Valley Stalk Cut and Sun Cured Habano
Binder: Brazilian Mata Fina
Filler: Nicaraguan, Honduran
Country of Origin: Nicaragua (La Gran Fabrica Drew Estate)
Flying Pig: 3 15/16 x 60
Price: $181.17 (12 Count Box)
Undercrown Maduro
Wrapper: Mexican San Andres Maduro
Binder: Connecticut River Valley Stalk Cut
Filler: Nicaraguan, Brazilian Mata Fina
Country of Origin: Nicaragua (La Gran Fabrica Drew Estate)
Flying Pig: 3 15/16 x 60
Price: $153.17 (12 Count Box)
Undercrown Shade
Wrapper: Ecuadorian Connecticut Shade wrapper
Binder: Sumatra
Filler: Nicaraguan, Dominican
Country of Origin: Nicaragua (La Gran Fabrica Drew Estate)
Flying Pig: 3 15/16 x 60
Price: $153.17 (12 Count Box)
Undercrown Sun Grown
Wrapper: Sumatra
Binder: Connecticut River Valley Stalk Cut
Filler: Nicaraguan
Country of Origin: Nicaragua (La Gran Fabrica Drew Estate)
Flying Pig: 3 15/16 x 60
Price: $153.17 (12 Count Box)
Kentucky Fire Cured
Wrapper: Mexican San Andres
Binder: Not Disclosed
Filler: Kentucky Fire Cured, Nicaraguan, Brazilian
Country of Origin: Nicaragua (La Gran Fabrica Drew Estate)
Flying Pig: 3 15/16 x 60
Price: $115.17 (12 Count Box)
Photo Credit: Drew Estate