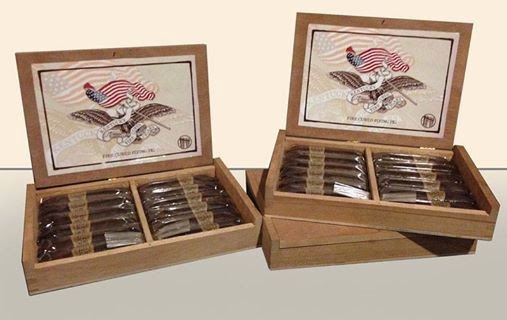 MUWAT Kentucky Fire Cured Flying Pig
(Photo Credit Oxmoor Smoke Shoppe Facebook Page)
Oxmoor Smoke Shoppe in Louisville Kentucky has announced on their Facebook page that they will be taking pre-orders for the MUWAT Kentucky Fire Cured Flying Pig. This had been a long rumored line extension to the MUWAT Kentucky Fire Cured line, but this past weekend was confirmed on social media by Drew Estate Chairman Jonathan Drew. This will be followed by a launch at the 2014 IPCPR in July and distribution to nationwide accounts in September.
According to Oxmoor, the Kentucky Fire Cured Flying Pig they will receive the early release in August. The store will be the first retailer to receive these cigars.

The pre-orders will be taken at a June 18th event that will feature Jonathan Drew. As we reported a few days ago, a limited amount of the Undercrown Flying Pig will also be available at that event.
The MUWAT Kentucky Fire Cured line marked Drew Estate's entry into the area of Fire Cured tobacco. While there are several fire cured releases, the Drew Estate release is unique in that it features a fire cured wrapper. Drew Estate announced the Kentucky Fire Cured in early April, 2013 and released it late last year.
In a press release that followed up this story, Drew stated why he chose to debut the cigar in Kentucky,"The choice was an easy one. Kentucky is obviously a major inspiration for the Kentucky Fire Cured line, and that inspiration comes through in everything from the blend profile to the iconic imagery. The tobacco that gives the Kentucky Fire Cured line its distinctive smoky aroma and flavor is grown right here in Kentucky."
The Kentucky Fire Cured Flying Pig will be released in boxes of 12, and the cigar will be the same size as the other Flying Pig releases, 3 15/16" x 60. The company said the Flying Pig will capture the essence of the smoky character for which Kentucky Fire Cured line has become known for.>


Updated 6/18/14: Information from press release by Drew Estate included on nationwide launch and size.