---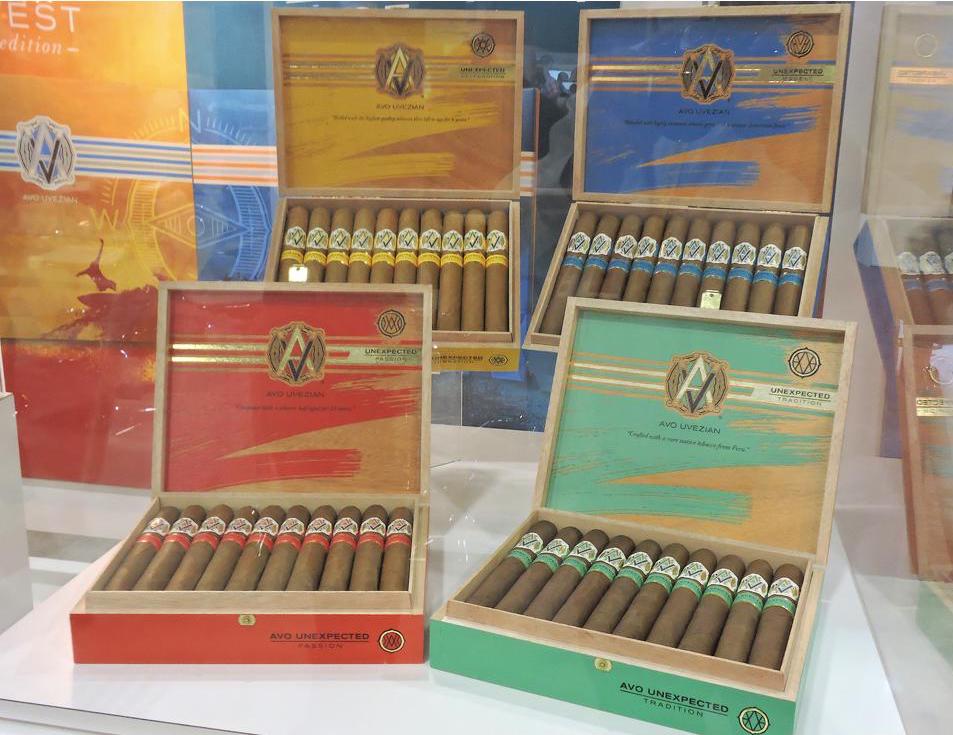 At the 2019 IPCPR Trade Show, AVO Cigars launched a limited series of undisclosed blends called the AVO Unexpected Series.
AVO Unexpected features four distinct blends and the brand is only hinting at details of the four.
AVO Unexpected Celebration (Yellow): Rolled with the highest quality tobacco left to age for six years.
AVO Unexpected Moment (Blue): Blended with highly aromatic tobacco on a unique Dominican finca (farm).
AVO Unexpected Tradition (Green): Crafted with a rare native tobacco from Peru.
AVO Unexpected Passion (Red): Composed with a tobacco leaf aged 25 years.
Each of the four blends are presented in 20-count boxes in a Toro size. The AVO Unexpected Moment (SRP $12.70) and AVO Unexpected Celebration (SRP $11.70) are 6 x 54 Toros while the AVO Unexpected Tradition (SRP $9.80) and AVO Unexpected Passion  (SRP $10.50) are 6 x 50 Toros. A total of 1,500 boxes of each have been made available. Davidoff has required retailers wanting to purchase from the Unexpected Series to bring in at least one box from each of the AVO Unexpected lines.
In addition, AVO Cigars is making available AVO Unexpected Mystery Assortment. This is a play off what AVO has done in the past by releasing a sampler including an unreleased blend. The AVO Unexpected Mystery Sampler includes 5 x 50 Robusto size offerings of the AVO Unexpected Moment and AVO Unexpected Tradition as well as two undisclosed blends: AVO Unexpected AU20 and AVO Unexpected AU21. A total of 500 samplers are being made available worldwide. Each sampler sells for $34.99.
Bear Duplisea contributed content to this report.
Photo Credits: Cigar Coop, except where noted