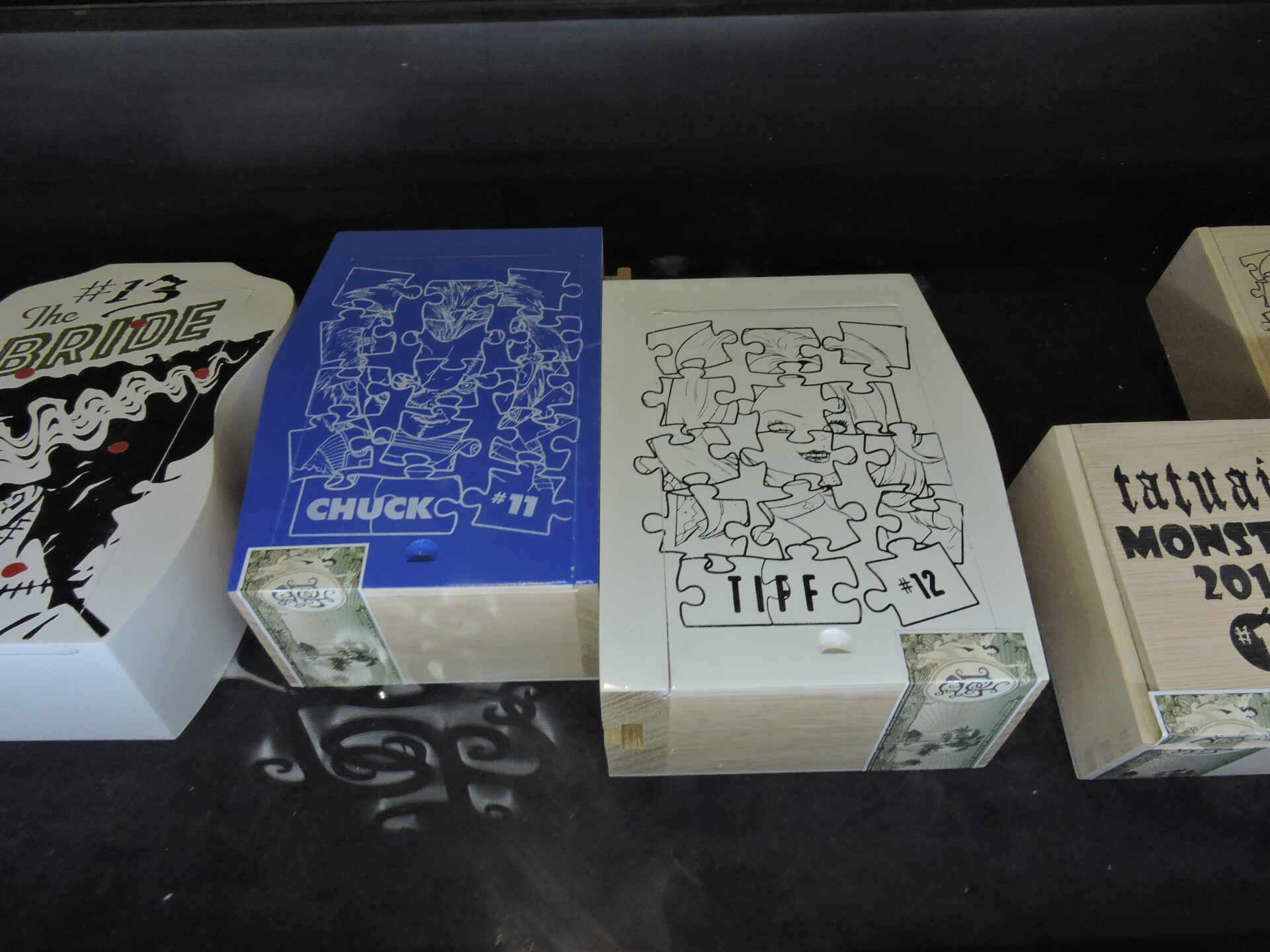 Tatuaje Cigars has announced the Unlucky 26 retailers who will receive dress boxes of this year's Monster Series releases – Tatuaje The Chuck and Tatuaje The Tiff.  Since there are two Monster releases, this year the total number of retailers who will receive the dress boxes is doubled. In previous years, the retailers were referred to as the Unlucky 13.
The Unlucky 26 will have the opportunity to carry this cigar in special limited edition "dress boxes". While the dress boxes will be made available to the Unlucky 26, other authorized Tatuaje retailers will get the opportunity to carry the cigar in plain cedar boxes.
Over the past few years, this has typically become one of the most anticipated cigar releases of the year by many cigar enthusiasts.  The name Unlucky 26 comes from the fact that the retailers selected to carry the dress boxes often have to deal with a frenzy of consumers trying to acquire a box.
Tatuaje Chuck and Tiff made their debut as a part of the Pudgy Monsters Series. These blends carried over into the Skinny Monsters, but haven't had a full-sized release until now.
Both Chuck and Tiff measure 5 7/8 x 52. Tatuaje The Chuck is officially dubbed as the 11th Monster installment – it features an Ecuadorian Habano wrapper over Nicaraguan binder and filler. Meanwhile, Tatuaje The Tiff has been dubbed the 12th Monster and features an Ecuadorian Connecticut Shade wrapper over Nicaraguan binder and filler.
The Unlucky 26 includes:
Ambassador Fine Cigars: ‪Phoenix, AZ ‬
Belle Meade Premium Cigars: ‪Nashville, TN‬
Castro's Back Room: Manchester, NH‬
Cigar Cigars: Horsham, PA
Cigars Ltd: Fresno, CA‬
Cigars on 7th: Eugene, OR
Club Humidor: San Antonio
Elite Cigar Cafe: Addison, TX
‪Habana Premium Cigar Shoppe‬: Albany, NY
Havana Connections: Richmond, VA
Havana Manor: Louisville, CO
Humidor Pipe Shop: Hunstville, AL
Lake Country: Delafield, WI
Mane Street Lounge & Tobacco: Woodridge, NJ
Metro Cigars: Germantown, W
Michael's Tobacco: Keller, T
Regency Cigar Emporium: East Greenwich, RI
Sanford & Son: Chattanooga, TN
Smoke on the Water: Weston, FL
Sturman's Smoke Shop: Boise, ID
The Humidor: Lisle, IL
Tobacco Grove‬: ‪Maple Grove, MN
Twins Smoke Shop: Londonderry, NH
Up Down: Chicago, IL
World Famous Cigar Bar: Fort Myers, FL
W. Curtis Draper's: Washington, DC‬
‪
For additional details on the Chuck and Tiff releases, refer to our 2019 IPCPR Pre-Game Coverage:
Photo Credits: Cigar Coop