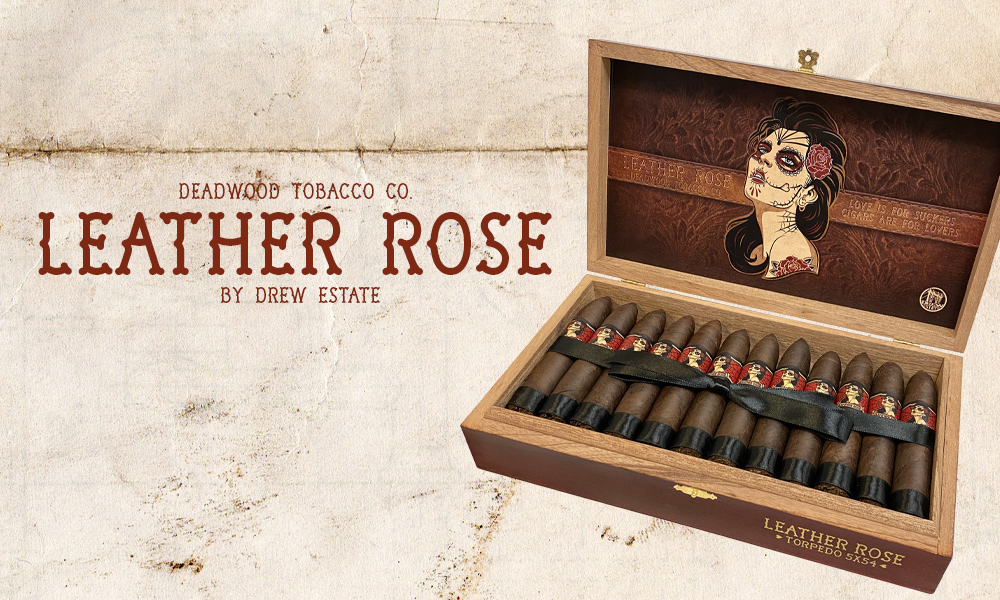 On June 11th, Drew Estate hosted a virtual show called "Freestyle Live Special Edition" where it showcased the 2020 product releases it has announced over the past couple weeks. On the show, Drew Estate unveiled a previously unannounced product. That product would be an extension to the Deadwood Tobacco brand known as Leather Rose.
Deadwood Tobacco was originally a line of shop exclusive cigars for Deadwood Tobacco, a retailer based in South Dakota. In 2016, Drew Estate announced it was taking the brand national. Since then it has become one of Drew Estate's more popular infused lines, and it has received several line extensions.
Leather Rose is a 5 x 54 Maduro offering that is described as the spiciest of the Deadwood Tobacco offerings. The cigars are packaged in 24-count boxes with each box priced at $194.40 MSRP.
In a press release, Jonathan Drew Founder and President of Drew Estate commented, "'The 'story behind the story' of the Deadwood brand begins with one of Drew Estate's oldest accounts, formerly owned by Miss Vaughn Boyd of Deadwood Tobacco Company. Miss Vaughn collaborated with us to create the concept, beginning with the notorious Sweet Jane. The early adopters were the C.A.T.S and "Cigars for Warriors" communities, but from there the brand continued to grow exponentially … and is a juggernaut at this point. Deadwood fans around the world, it's time to fall in love with Leather Rose. She's simply bad to the bone."
Plans are for the Deadwood Tobacco Leather Rose to ship in July.