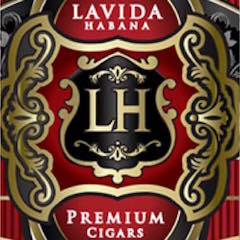 One thing that was missing in the LH Cigars portfolio was a figurado shaped cigar. So when it came to releasing the cigar, LH Cigars' founder and blender Nick Syris wanted to use a wrapper he was long a fan of – Ecuadorian Vuelta Abajo. It's this wrapper that covers the newly released "Panzon" – a 6 x 64 figurado that is being released under the "Nick" line.
This is not the first time Syris has used the Ecuadorian Vuelta Abaja wrapper. Back in 2017, he teamed up with "Island Jim" Robinson to release the Nick & Jim P.B.E., a project that allowed him to use that wrapper which became one of LH's most successful releases.
Meanwhile, as Syris was meeting with customers, he began to get requests for many sizes that weren't in his portfolio. He would release a private blend for 2nd Street Cigars in Oklahoma using the Vuelta Abajo Seed wrapper in the form of a 6 x 46 Lonsdale. That cigar became known as the "Nick."  Using a blend based on the "Nick," Syris has now expanded the line to include the Panzon as a national release. In addition to the Lonsdale and Panzon, Syris says one could expect additional sizes of the "Nick" down the road.
Panzon is Spanish for "pot belly" and it reflects the shape of the cigar which is a 6 x 64 figurado tapered on each end. In addition to the Ecuadorian Vuelta Abajo seed wrapper, the cigar incorporates Nicaraguan binder and a combination of Brazilian Mata Fina, Nicaraguan, and Peruvian tobaccos for the filler. The cigars are packaged in 20-count boxes and feature similar "rugged style" bands and boxes.
The cigar is now available to shipping to retailers.