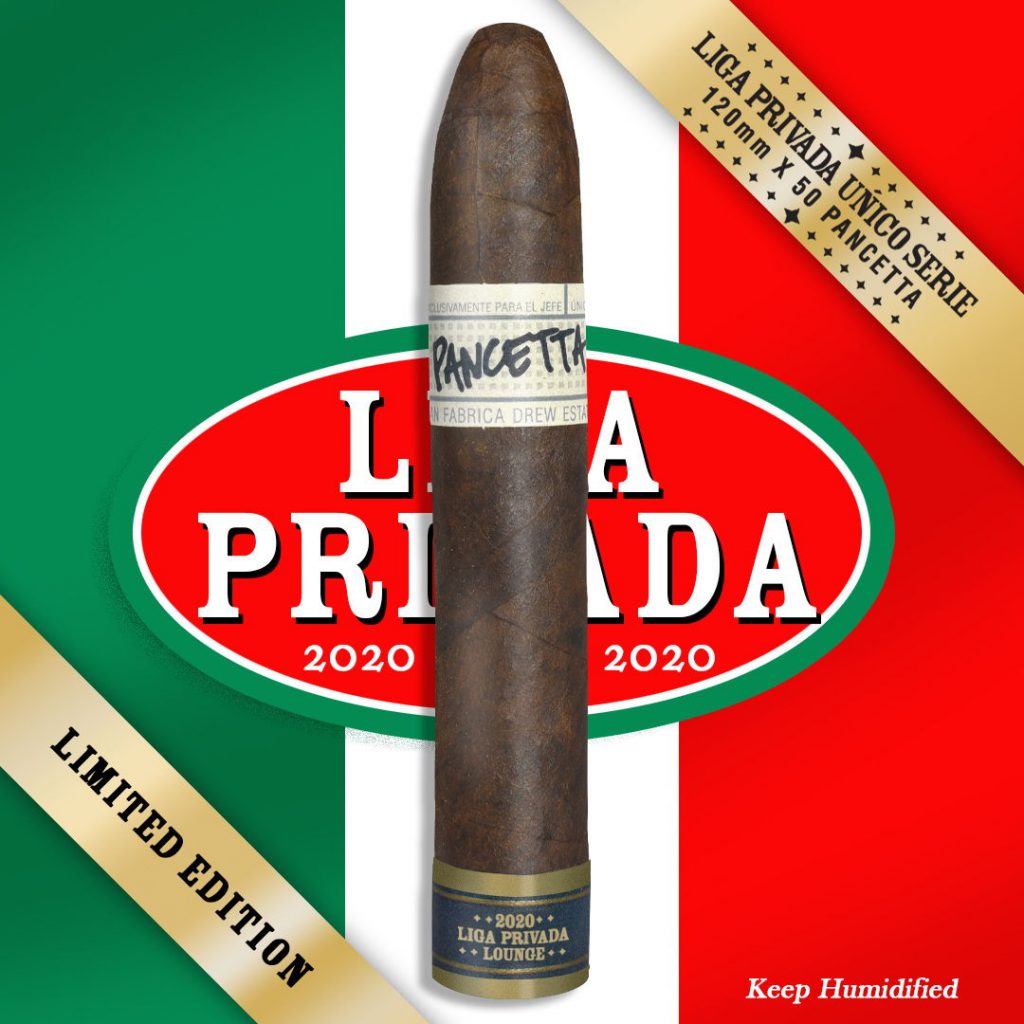 Drew Estate has announced the return of Liga Privada Unico Serie Pancetta. The series was launched last year as an exclusive annual release to Wooden Indian Tobacco Shop in Havertown, PA and Barrister Cigars in Union, NJ. Both stores once again will be recipients of the cigar.
The blend of the Pancetta is described as a mash-up between the Liga Privada T52 and the Liga Privada Unico Serie Feral Flying Pig. The cigar features the Connecticut Stalk Cut and Cured Habano wrapper found on the Liga Privada T52 line. In addition the blend features a Brazilian Mata FIna binder and a combination of Nicaraguan and Honduran filler. According to Drew Estate, these are the same binder and filler leaves found on the Liga Privada Unico Serie Feral Flying Pig. The Pancetta is available in one size – a 4 3/4 x 50 Belicoso. The cigars are presented in 24-count boxes.
From the Wynwood Safehouse, Jonathan Drew President and Founder of Drew Estate commented in a press release, "The Pancetta brings us back to the early days of the Liga Privada brandmark, representing the important brick & mortar friendships that deeply contributed to our initial success with the brand. We took the approach of selecting a small group of accounts who we felt believed most highly in the LP project … and slowly, carefully, one-by-one, added accounts that shared our vision for the Connecticut River Valley, as well as a "Stalk Cut – Stalk Cured" process. Barrister Cigars and Wooden Indian were among our first accounts, immediately understanding the vision and showing the love and passion for the brand. The Pancetta is so crazy dope that I firmly suggest listening to the song "Dope Beat" while smoking this banga … btw … that's Boogie Down Productions for those who don't know … "who got the dope beat … we got the dope beat!!!""
David Mallow, owner of Barrister Cigars noted, "Since the opening of our Liga Privada Lounge with Jonathan Drew and the National Launch of two sizes of T52, Liga Privada has continually been one of the bestselling lines in our store. Our customers seek us out because of our Liga Privada selection and hard to find DE classics."
David Mayer, owner of Wooden Indian, adds, "We were one of the first stores in the country to bring in Liga Privada, and we consider it a cornerstone of our humidor.
The Liga Privada Unico Pancetta is packaged in 24-count boxes with an MSRP of $299.00/box, and sold exclusively through Wooden Indian Tobacco Shop and Barrister Cigars. A virtual launch event will be held at 5:00 pm on September 25th. Consumers can register via Zoom here.