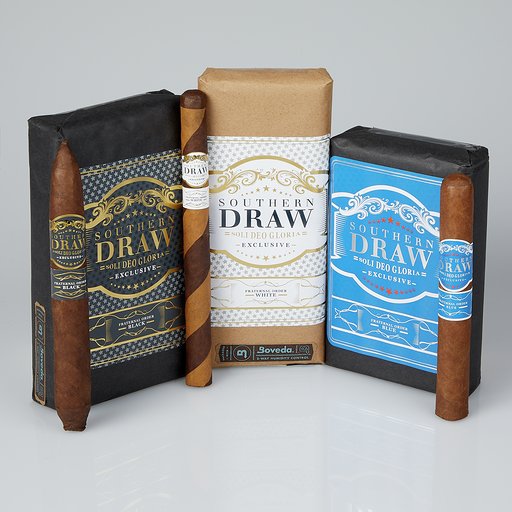 Southern Draw Cigars has added a third blend and a pair of line extensions to its Fraternal Order brand. Fraternal Order was a line that was originally an exclusive cigar to Cigars International, but Southern Draw Cigars has also announced that these will now be national releases that will be available to all retailers. The new cigars will make their debut at Cigars International's Virtual CIGARFest 2020 opening on October 16th.
The third blend being added to Fraternal Order is the Fraternal Order Blue. It's a cigar featuring a Nicaraguan Corojo wrapper over a Nicaraguan binder and a combination of Nicaraguan, Honduran, and Brazilian fillers. The cigar is being released in a 6 x 52 toro packaged in a ten-count mazo priced at $59.99.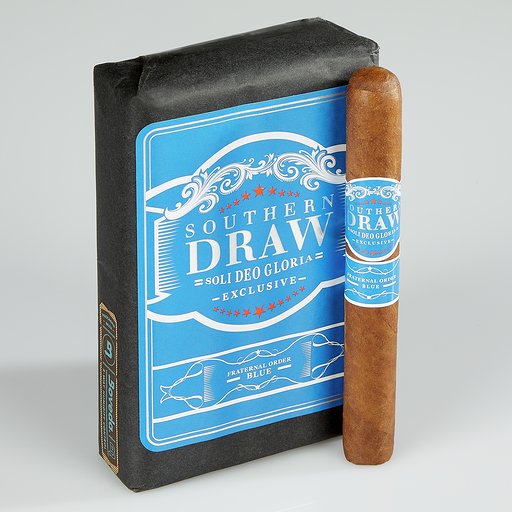 Meanwhile the Fraternal Order White, a Barber Pole wrapped line, gets a 7 1/2 x 40 lancero. The Barber Pole features a combination of Ecuadorian and Nicaraguan wrappers over a Nicaraguan binder and a combination of Nicaraguan and Dominican fillers. It's also packaged in 10-count mazos and is priced at $59.99. Last year, the blend was released exclusively to Cigars International in a 6 x 52 Toro.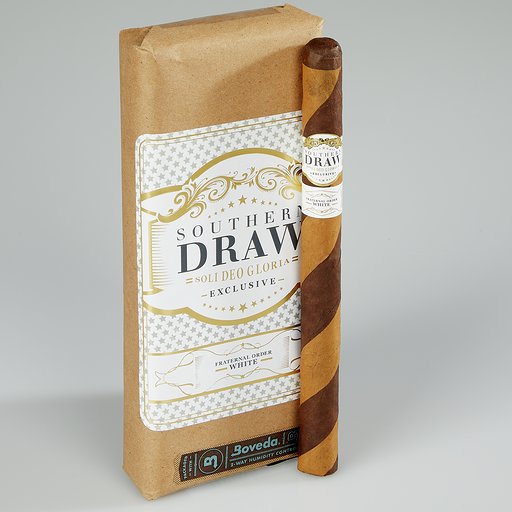 Finally, the Fraternal Order Black adds a 7 1/10 x 58 Salomon. The Black features a San Andres Maduro wrapper over an Ecuadorian binder and a combination of Nicaraguan and Honduran fillers. It's packaged in 10-count mazos and priced at $69.99. Last year, the blend was released in a 7 x 60 Gran Gordo exclusively for Cigars International.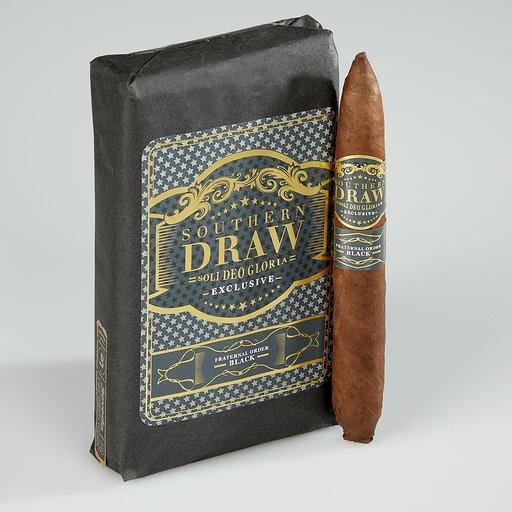 Southern Draw Cigars has said production for 2020 is limited to approximately 50,000 cigars.
"It's been a trying year for most all of us, and as we all adjust to the ever-changing environment in which we live, the Southern Draw family takes this opportunity to fellowship by sharing an integral part of our Fall Release Collection. The process for selecting the new Fraternal Order releases was unique in that we worked closely with members of Cigar Internationals product, marketing and merchandising teams (2019 we worked with the retail sales and management staff to make final decisions on the releases) and now we are pleased to share the expanded Fraternal Order cigar line as part of the innovative Virtual CIGARFest 2020. Cigars International has provided an ideal opportunity for consumers to learn more about these new releases via a special virtual appearance by Southern Draw Cigars at 3pm ET on October 17th where we can share a cigar and maybe even offer some prizes and raffles during our scheduled 1 hour virtual visit. https://fb.me/e/1Lo1pCCVV Southern Draw is just a small part of a stellar line-up of brands so make plans to join Virtual CIGARfest for both days," said Robert Holt in a press released. "We would also like to extend our prayers and very best wishes for a full recovery to our friend and brother, Richard L. Monts, General Manager, CI Retail Superstore (Hamburg, PA)."
Jeffrey Kocher, Vice President of Merchandising for Cigars International: "Cigars International is proud to once again collaborate with the folks behind Southern Draw Cigars on these new, exciting projects made exclusively for CI Nation. Last year's Fraternal Order releases at our retails stores were huge successes, and with the overwhelmingly positive feedback we received from our customers, we knew we needed to keep the project going and open it up to a larger audience. Robert Holt, Sharon Holt, and AJ Fernandez Cigar Co. have crafted three great cigars in this batch that we are sure will become go-to favorites for fans of Southern Draw across the country. "
At a glance, here is a look at the Fraternal Order line:
Fraternal Order Blue
Wrapper: Nicaragua Corojo
Binder: Nicaragua
Filler: Brazil, Nicaragua & Honduras
Country of Origin: Nicaragua
Factory: Tabacalera AJ Fernandez Cigars de Nicaragua S.A.
Toro: 6.0×52
Fraternal Order White
Wrapper: Ecuador & Nicaragua
Binder: Nicaragua
Filler: Nicaragua & Dominican Republic
Country of Origin: Nicaragua
Factory: Tabacalera AJ Fernandez Cigars de Nicaragua S.A
Lancero: 7 1/2 x 60 (2020 Release)
Toro: 6 x 52 (2019 Release)
Fraternal Order Black
Wrapper: San Andres Maduro
Binder: Ecuador
Filler: Nicaragua & Honduras
Country of Origin: Nicaragua
Factory: Tabacalera AJ Fernandez Cigars de Nicaragua S.A
Solomon: 7 1/8 x 58 (2020 Release)
Gran Gordo: 7 x 60 (2019 Release)
Photo Credits: Southern Draw Cigars