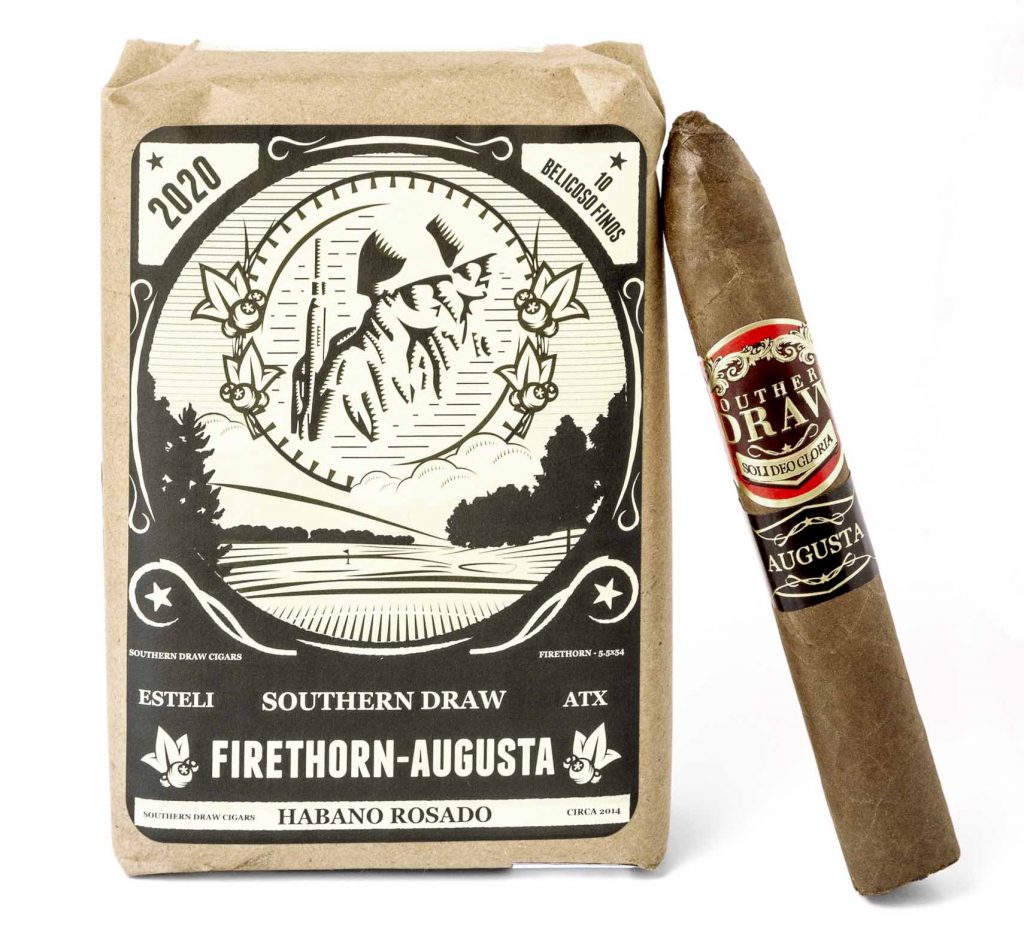 Southern Draw Cigars has announced a new extension to its Firethorn brand known as Firethorn Augusta. It's a release that will debut as an exclusive to Cigars International on November 11th, coinciding with the release of Veterans Day.
Augusta Firethorn features a unique variation of the vitola featuring changes in both the rations and aging of the same tobaccos. The blend incorporates a Habano Rosado wrapper from Ecuador, a San Andres Maduro binder from Mexico and Nicaraguan filler. Augusta Firethorn will be an ongoing release with an annual production of 50,000 to 75,000 cigars. The cigars are being initially released in a 5 1/2 x 54 box-pressed Belicoso Fino packaged in ten-count mazos priced at $99.99. A total of 1,000 mazos will initially be available. In Q2 of 2021, the Firethorn Augusta will be available in 20-count boxes.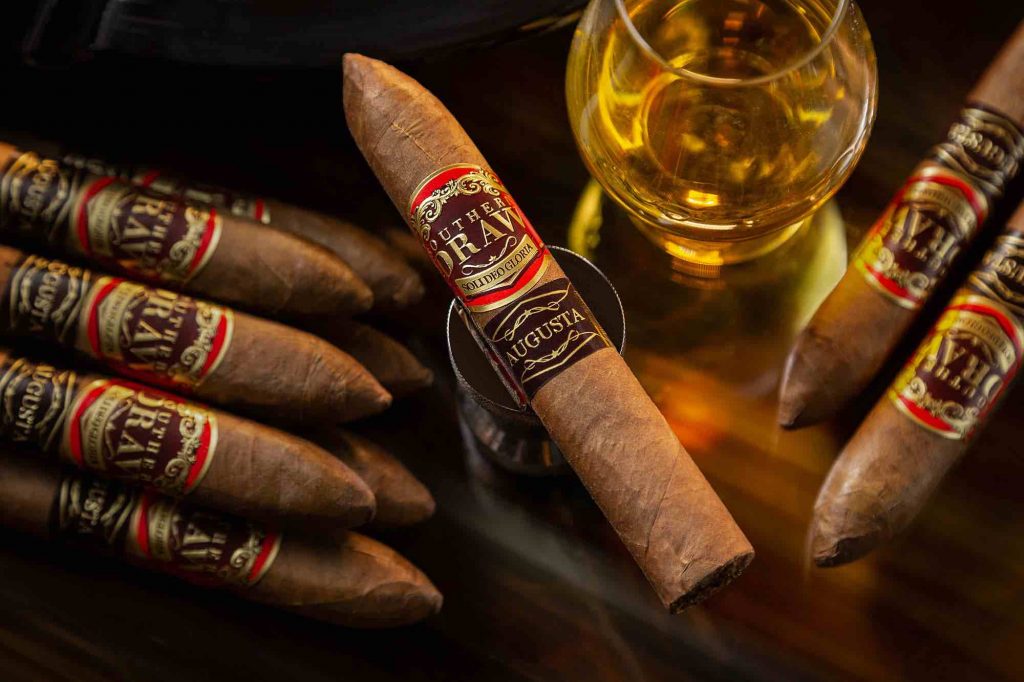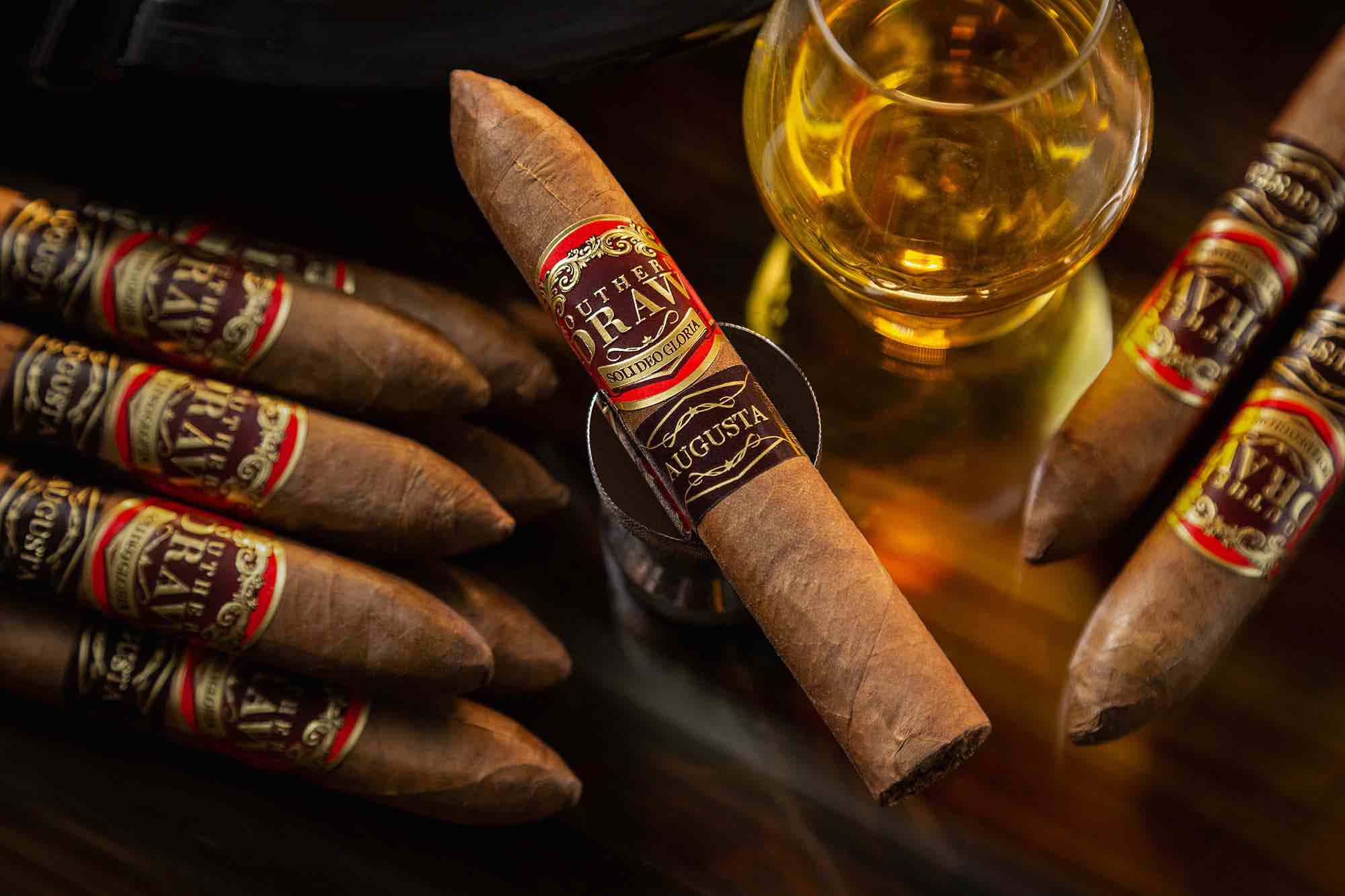 Southern Draw Cigars prides itself on being a U.S. Veteran family-owned and operated business. For Firethorn Augusta, the company partner with Arizona-based JMG Graphic Works to come up with a new logo that represents the long service history of Southern Draw's U.S. Veterans.
"Working with Jonathan at JMG was an inspiring process as we looked to update our branding while preserving the heritage that is behind the original backstory of the Firethorn mark. We shared our combined military service history in Georgia that spanned fifty years (1942 – 1992) and their team intuitively understood just who Southern Draw is and what Augusta, Georgia means to us," explained Southern Draw's Chief Evangelist Robert Holt in a press release.
"We were extremely excited to bring to light what the Southern Draw brand stands for through the Firethorn redesign and the forthcoming redesign of all related product branding," said Jonathan Gollins, founder of JMG Graphic Works. "Here at JMG, we look to capture the story creatively. We looked to tie in elements of the Southern Draw family's military service at Ft. Gordon, formerly known as Camp Gordon and home to the U.S. Army Cyber Command and U.S. Army Signal Corps, the inspiration of the Firethorn at the most prestigious tournament in all of golf and the soul and deep musical influences of long-time Augusta resident, James Brown who began his illustrious music career by entertaining military troops at Camp Gordon including members of Robert Holts family that were serving in Augusta in those days. Each element emphasizes the products' relationship with the people and places and invoke a visual story for the brand. Augusta, Georgia and the supportive military community has a deep meaning to the Southern Draw family."
The Firethorn Augusta is the eighth cigar in the 2020 Fall Release Collection with a single package option of 1,000 10-count mazos of Belicoso Finos – 5.5×54 which have been expertly box pressed with an original production date May 2014. The blend is a unique variation of the original Firethorn, embracing changes in both ratios and aging of the same select tobaccos: Wrapper: Habano Rosado – Ecuador, Binder: San Andres Maduro – Mexico, Filler: Proprietary – Nicaragua. (annual production of 50,000 – 75,000 cigars, Q2 2021 and will be available in 20-count boxes).
"Southern Draw continues to be a great strategic partner to us here at Cigars International, and we're proud to offer this important commemorative release on Veteran's Day 2020 to the many members of CI Nation," said Jeffrey Kocher, VP of Sales.
The Firethorn Augusta is the 8th release from Southern Draw as a part of its 2020 Fall Collection. Other releases have included: Desert Rose Lonsdale and Toro; three new Fraternal Order Line offerings; and two new sizes of Jacobs Ladder Brimstone.
At a glance, here is a look at the Southern Draw Firethorn Augusta:
Blend and Origin
Wrapper: Habano Rosado – Ecuador
Binder: San Andres Maduro – Mexico
Filler: Nicaraguan
Country of Origin: Nicaragua
Factory: Tabacalera AJ Fernandez de Nicaragua SA
Vitolas Offered
Belicoso Fino: 5 1/2 x 54 (Box Pressed)