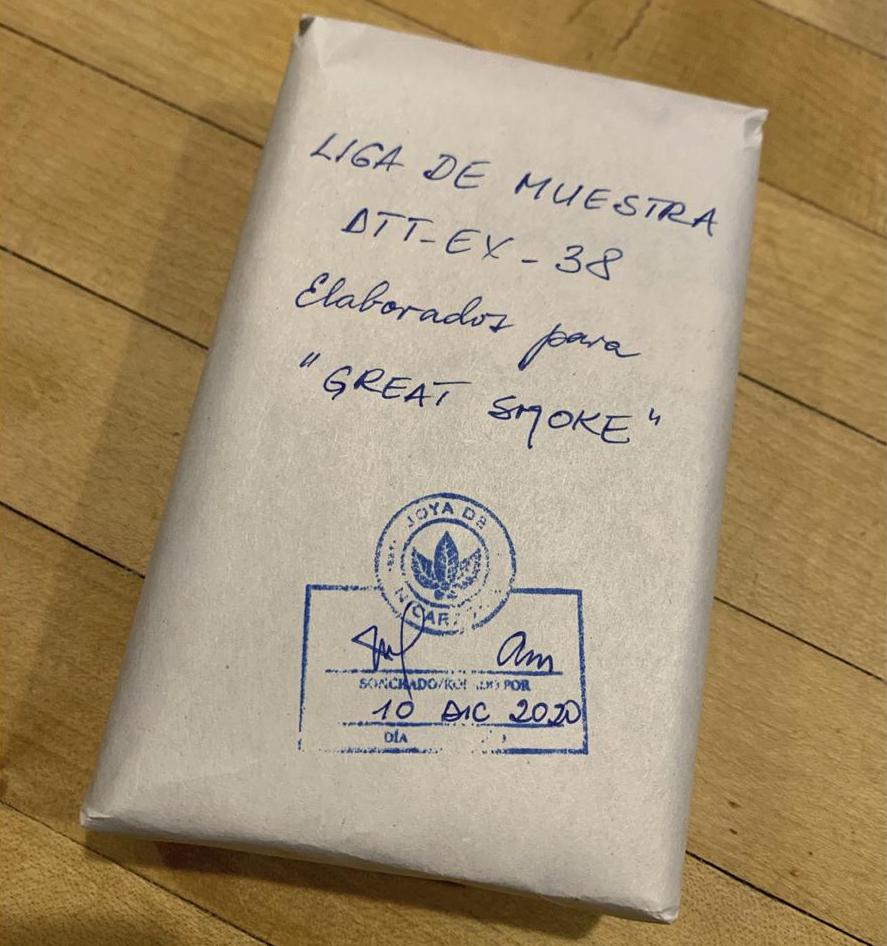 At Smoke Inn's Great Smoke Digital Event scheduled for Saturday February 20th, 2021, there will be six manufacturers offering exclusive cigars for ticket holders. One of the cigars comes from Dunbarton Tobacco and Trust and it's a blend created by Steve Saka.
In a statement, Saka explained the background behind this cigar:
DTT-EX-38 is a sample liga I have been working on since 2016. It incorporates a seldom grown leaf of Costa Rican Morron, which is a derivative of a Negro leaf seed strain grown primarily as wrapper. My goal behind the blend was to incorporate the smaller corona leaves as a unique ligero into the tripa recipe due to its chocolate and softer pepper notes. The "EX" stands for "extraterrestrial" – don't ask, and the "38" is the number of variations I have crafted to date trying to tweak it to best exemplify the Morron ligero. The blend has remained dormant for two years and remains a "work in progress", but we crafted a very limited batch exclusively for The Great Smoke.
The blend itself features an Ecuadorian Habana Sungrown H2000 wrapper, a San Andres Negro binder and a combination of Jalapa and Pueblo Nueva tobaccos from Nicaragua and Costa Rican Morron Ligero. DTT-EX-38 comes in one size – a 5 x 46 parejo with a pigtail. The cigars come in 10-count bundles with a total of 200 bundles available.
Saka has said the final pricing is to be announced.
The six companies offering event-exclusive cigars at The Great Smoke 2021 event are from:
Rocky Patel Premium Cigars
Tatuaje Cigars
Arturo Fuente Cigar Company
Perdomo Cigars
Dunbarton Tobacco & Trust
Aganorsa Leaf
The schedule for when these go on sale during the event can be found here.
Smoke Inn proprietor Abe Dababneh appeared on Episode 171 of the Prime Time Show where we previewed The Great Smoke event (You may need to click on "Watch on YouTube" due to age restrictions):
A promotional video can be seen below. (You may need to click on "Watch on YouTube" due to age restrictions):
Photo Credit: Dunbarton Tobacco & Trust