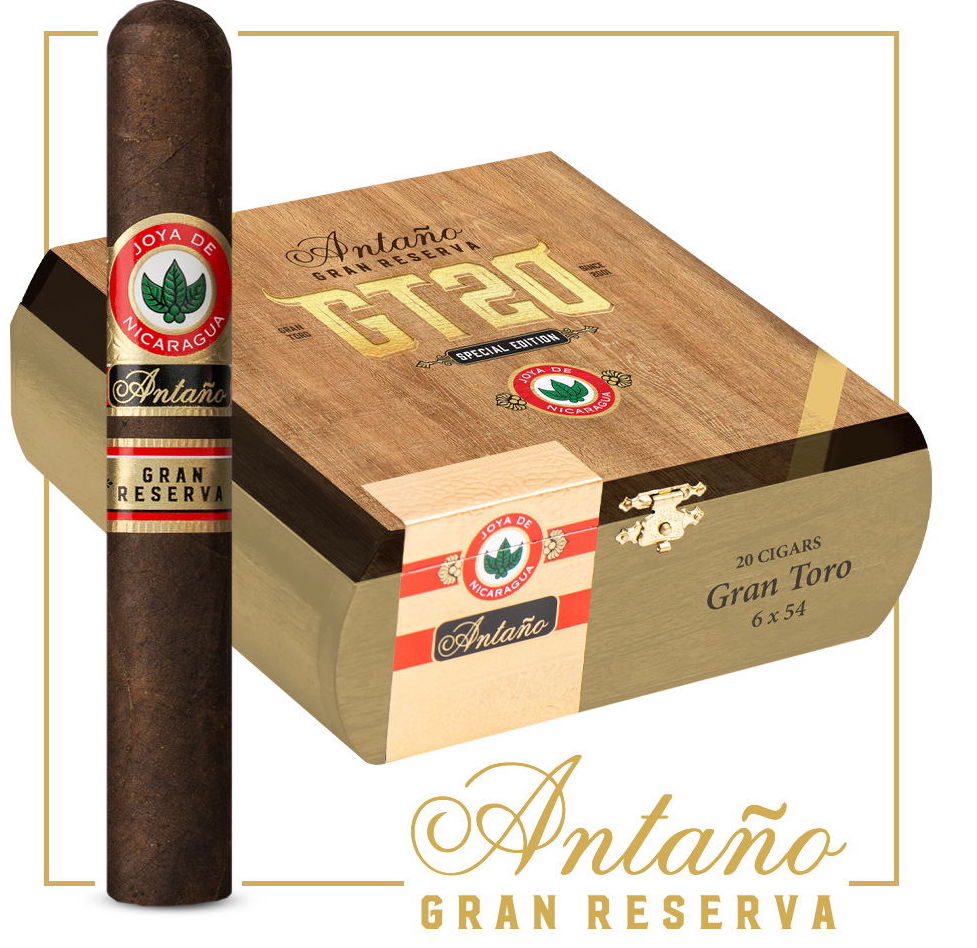 On day three of Drew Estate's #DEBonanzaTakeover for 2021, Joya de Nicaragua announced a new line extension to its Antaño Gran Reserva line that commemorates the 20th anniversary of the Antaño brand, the Joya de Nicaragua Antaño Gran Reserva GT20.
The original Antaño 1970 cigar made its debut in 2001. It was Nicaraguan puro that many consider to be a game-changer in terms of its boldness. Today, the Antaño brand consists of four sizes: Antaño 1970, Antaño CT, Antaño Dark Corojo, and Antaño Gran Reserva.
"When anybody thinks of Nicaraguan powerhouse cigars, they undoubtedly think of Antaño. This is the cigar on which cigar legends are inspired," says Dr. Alejandro Martínez Cuenca, Chairman of Joya de Nicaragua and Master Blender of Antaño. "When we first tried the blend in progress, it was a bomb! Everybody in the room became so excited because it was exactly what we wanted: it was full-bodied and really hit your palate in all the places where we wanted it to hit … and we knew it was to become a game changer."
In terms of the Antaño Gran Reserva GT20 and how it fits into the story of Joya de Nicaragua, Juan Martinez, Executive President of Joya de Nicaragua says, "Instead of only celebrating another wonderful occasion, we wanted to focus on forging the thriving future for Antaño by giving our cigar lovers an enhanced experience of Antaño. Thus, the blend selection was intricate, drafting on our more than 53 years of experience and on the best leaves of Nicaraguan tobacco in our bodegas. We chose to do a special version of our Antaño Gran Reserva blend, with all Nicaraguan leaves aged for more than five years. In this way, we have the original tobaccos and the original character, but with a smoother and more complex flavor profile that just upgrades the smoking experience to a whole new level. We guarantee this is the best Antaño you'll ever smoke; that's why we call it our GT!"
Antaño Gran Reserva GT20 is a box-pressed Gran Toro (6 x 54) that comes in a 20-count box, with an MSRP of $9.50/cigar. The cigar will be available for all Drew Estate customers in the United States beginning August 2021.
#DEBonanzaTakeover for 2021, is a series of new product announcements Drew Estate has planned for the year. Joya de Nicaragua is distributed by Drew Estate in the United States.