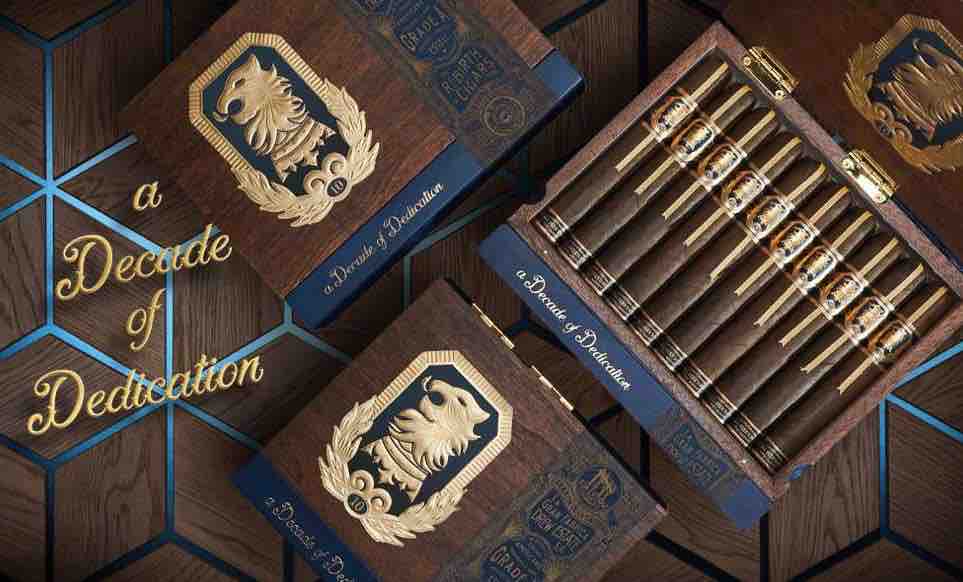 The year 2021 is a big milestone year for Drew Estate. It marks the company's 25th anniversary as well as the 10th anniversary of the Undercrown brand. For the 10th anniversary of Undercrown, Drew Estate announced a new addition to the Undecrown lineup with the Undercrown 10. The Undercrown 10 will become the fourth line under the Undercrown brand joining the Maduro, Shade, and Sun Grown offerings. The announcement of the Undercrown took place on day nine of the company's 2021 #DEBonanzaTakeover during the Freestyle Live Broadcast.
Undercrown 10 had a soft-launch as part of a unbanded "Mystery Cigar" include in a Freestyle Live Limited Edition Event Kit that was made available to consumers prior to the Freestyle Live Broadcast. On the broadcast, it was revealed the Mystery Cigar was the new Undercrown 10.
Featuring elegant packaging, the Undercrown 10 features what Drew Estate calls "the highest priming of Mexican San Andres dark wrapper" over a Connecticut River Valley Broadleaf binder and all-Nicaraguan fillers. The Undercrown 10 will debut in four core vitolas: Toro (6 x 52), Robusto (5 x 50), Corona (5 x 43), and Corona Doble (7 x 50), each available in 20-count boxes.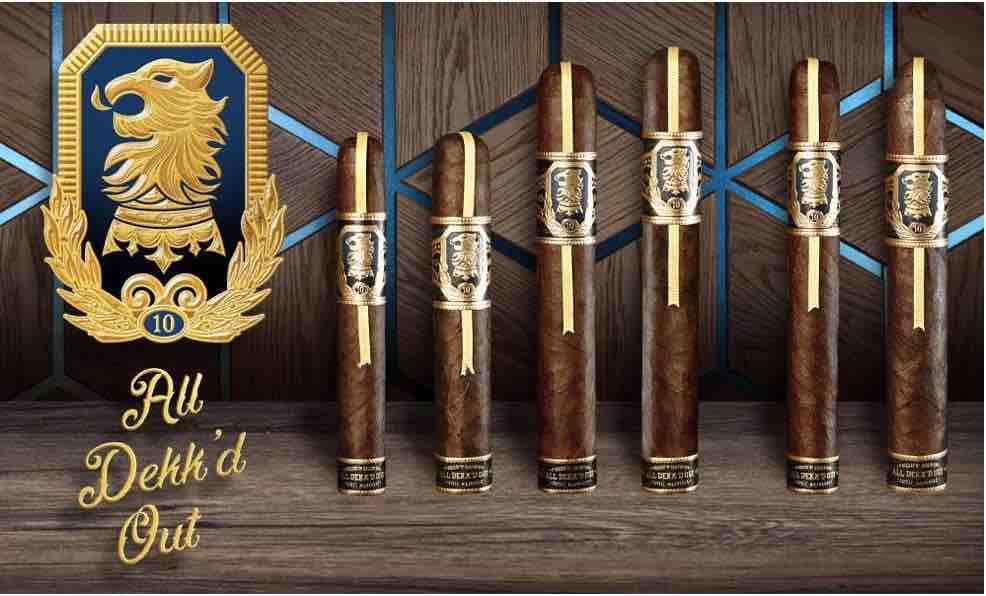 "Undercrown 10 offers smokers an experience of Mexican hot chocolate … naturally sweet with hints of raisin and cacao … waves of intense black pepper … along with notes of sun-dried cherries, espresso, woodiness and earthiness," commented La Gran Fabrica Drew Estate Factory Spokesman, Pedro Gomez in a press release.
There will also be a limited-edition Undercrown 10 "Factory Floor Edition" in the form of a 6 x 46 Lonsdale. The Undercrown 10 Factory Floor Edition is packaged in commemorative 20-count boxes and includes a unique "tobacco leaf library," featuring the tobaccos that make up the Undercrown 10.
Finally, there will be an event-only cigar offering known as the  Undercrown 10 Tuani Belicoso (6 x 52). This will be exclusively available in a special 2-count presentation coffin/box at Undercrown 10 events hosted by Gomez.
"Undercrown is a noble prince of a brand, both humble and loyal, who is now to become a king. The new UC10 expression represents its super-premium platform, sealing the brand's destiny … as the good king whose brand promise is gratitude for our talented team at La Gran Fabrica. The new UC10 is so incredibly important to Drew Estate that we gave it two slogans, 'A Decade of Dedication' and 'All Dekked Out.' Add those two slogans to 'Born on the Factory Floor,' and the Shakespeare really unfolds," commented Drew Estate President & Founder Jonathan Drew in a press release.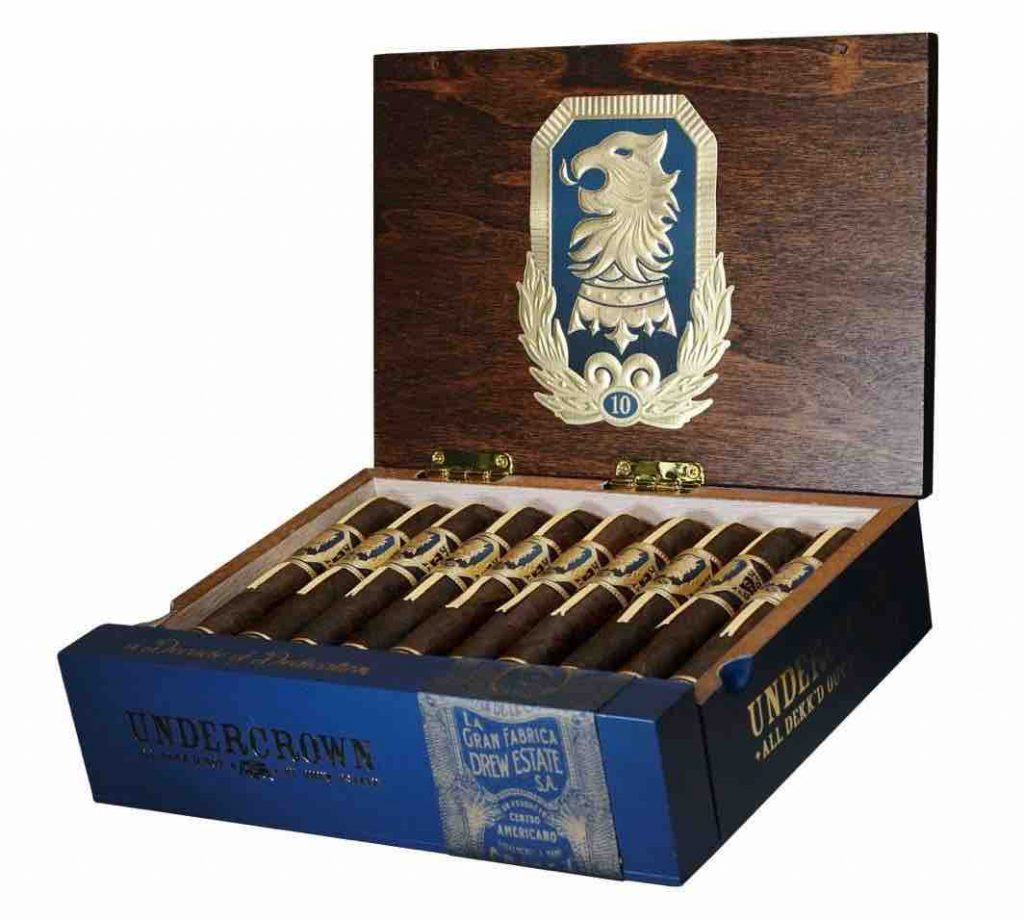 The Undercrown 10 core vitolas will begin shipping to retailers beginning this month. The Undercrown 10 Factory Floor Edition is scheduled to debut in July.
The following is a promotional video from Drew Estate:
#DEBonanzaTakeover for 2021, is a series of new product announcements Drew Estate has planned for the year.
At a glance, here is a look at the Undercrown 10 line:
Blend and Origin
Wrapper: High Priming Mexican San Andres
Binder: Connecticut Broadleaf
Filler: Nicaraguan
Country of Origin: Nicaragua
Factory: La Gran Fabrica Drew Estate
Vitolas Offered
Corona: 5 x 43 ($10.50/cigar, $210.00/box)
Robusto: 5 x 50 ($11.75/cigar, $235.00/box)
Toro: 6 x 52 ($12.00/cigar, $240.00/box)
Corona Doble: 7 x 50 ($13.50/cigar, $270.00 box).
Lonsdale (Factory Floor Edition): 6 x 46 ($13.50/cigar, $272.00/box)
Tuani Belicoso (Event Only); 6 x 52
Photo/Video Credits: Drew Estate