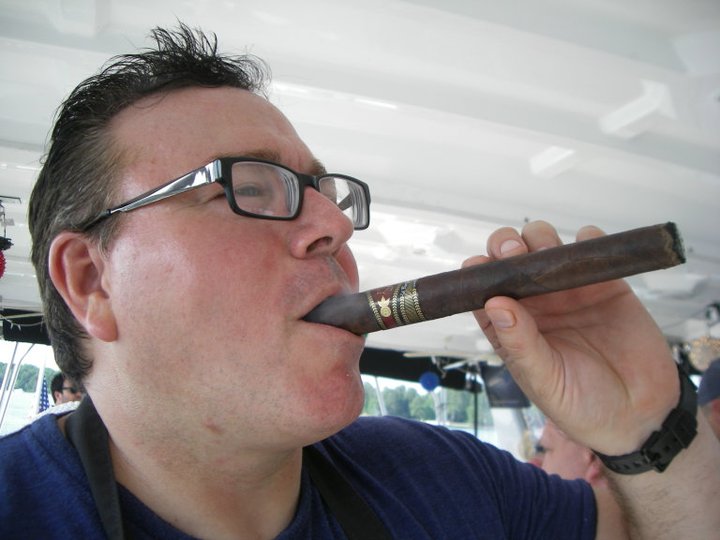 As we meet people in what we do as both cigar enthusiasts and cigar media, they become a part of your extended family. Today we are sad to report the loss of one of our extended family here on Cigar Coop as Scott Cunius, the man who many called "Big Scott" or "Cigar Machine" has passed away after a courageous battle with COVID-19.
Scott has been a long-time fan of our Prime Time Shows and of Cigar Coop. He also worked in the retail sector of the cigar industry for many years. Scott was a tobacconist in the Charlotte, North Carolina area.  He personally helped expand my horizons in terms of trying out cigars. When I launched Cigar Coop, he helped me out whenever he could, and continued to do so over the years. When he left Charlotte and went back to Virginia, we remained in contact. As the Prime Time Shows were launched, Scott tuned in live whenever he could; and tuned in on-demand for those live shows he missed. He also was a long-time fan of KMA Talk Radio, Developing Palates, and El Oso Fumar Takes.
Our audience is very important. They become a part of the fabric of the show. Scott was one of those guys who truly became a fixture of what we do.
Scott loved cigars and he loved the cigar industry. He loved La Flor Dominicana and Dunbarton Tobacco & Trust cigars. There were so many other brands he loved as well – Quesada, Oliveros, My Father, Tatuaje, RoMa Craft Tobac, Recluse, Perdomo (he sold me my first Champagne), Viaje (a big fan of the Stuffed Turkeys!), Camacho (He loved the Legend D'Arios!), LH Cigars – and the list goes on and on. We took road trips to Chattanooga and had some great smoking events on Lake Norman. In retail, he became known as the "Cigar Machine" for his tireless efforts of driving sales, running events, and making cigar consumers happy. He was a big supporter of Cigar Rights of America (CRA) signing many members up over the years.
He will never be forgotten, and our thoughts and prayers go to his family and loved ones through this difficult time.