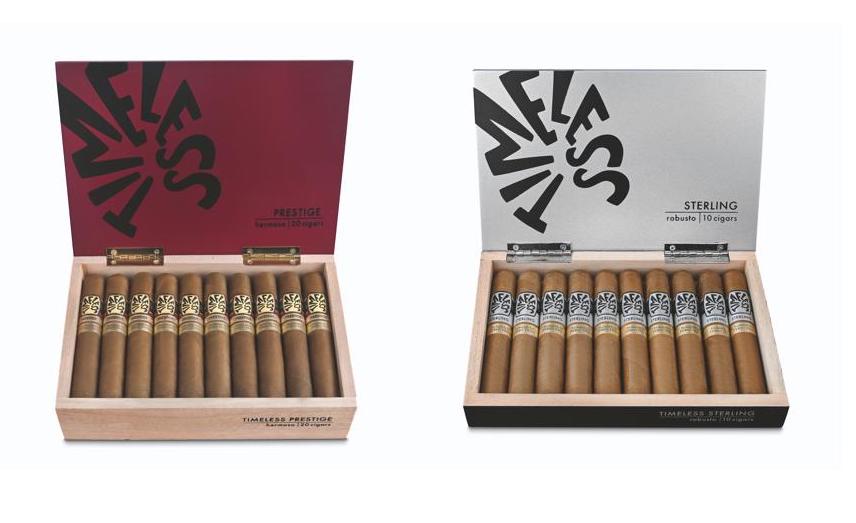 Ferio Tego has announced the return of the Timeless Prestige and Timeless Sterling brands. These are the first two products that the company is shipping since the official launch of Ferio Tego at the beginning of the year.
Ferio Tego is the venture started by former Nat Sherman International employees Michael Herklots and Brendon Scott. Late in 2020, Nat Sherman International owner Altria decided to exit the premium cigar business. Earlier this year, Ferio Tego was able to acquire the premium cigar brands owned by Nat Sherman – including the Timeless Collection and Metropolitan Selection lines. These are now being sold by Ferio Tego without the Nat Sherman name on them.
"Our commitment and the commitment of our manufacturing partners is to continue to deliver premium cigars of the highest quality and equally important consistency," said Michael Herklots, co-owner of Ferio Tego, LLC in a press release. "The Timeless Collection blends are the same, and what matters more, the experience of the blends are exactly as they were, and the manufacturers who have been carefully crafting these blends since their inception remain unchanged."
Both Timeless Prestige and Timeless Sterling are Dominican-made cigars and are produced at the Quesada factory.
Timeless Prestige was the first Timeless cigar to be released back in 2012. It utilizes six tobaccos from three countries, featuring a Honduran wrapper, Dominican binder, and filler tobaccos from the Dominican Republic and Nicaragua. The cigars are being offered in boxes of twenty cigars. Timeless Prestige comes in these sizes: Gordo (6 x 60, $12.00), No. 2 Torpedo (6 1/4 x 52, $11.50), Churchill (" x 48, $11.00), Hermoso (5 1/2 x 54, $10.50), and Robusto (4.3/4 x 50, $9.50).
Timeless Sterling was introduced in 2013. It combines Dominican fillers and binder tobaccos with a gorgeous Ecuador-grown Connecticut wrapper. The cigars are being released in five sizes – each presented in ten-count boxes: Churchill (7 x 48, $14.50), Corona Gorda (5 3/4 x 46, $13.50), Robusto (4 3/4 x 50, $13.00), Dalias (6 1/2 x 43, $12.75) and Marevas (5 1/2 x 42, $11.50).
The company says it is taking orders immediately through the Davidoff USA sales team.
"We have been working very thoughtfully and diligently, together with our manufacturing partners as well as our distribution partner, Davidoff USA, to make sure we're doing everything the right way," shared Herklots. "Ferio Tego is steadfast in our long-term vision. Our portfolio is thoughtful, incredibly diverse, and consistent. We intend to create and maintain experiences that cigar enthusiasts can depend on year after year."
Ferio Tego also says the Ferio Tego Elegancia and Generoso are on track to ship the first week in October. Meanwhile, the Nicaraguan cigars in the Timeless Collection (Supreme and Panamericana), as well as the Metropolitan Selection, are also on track for their return next month.