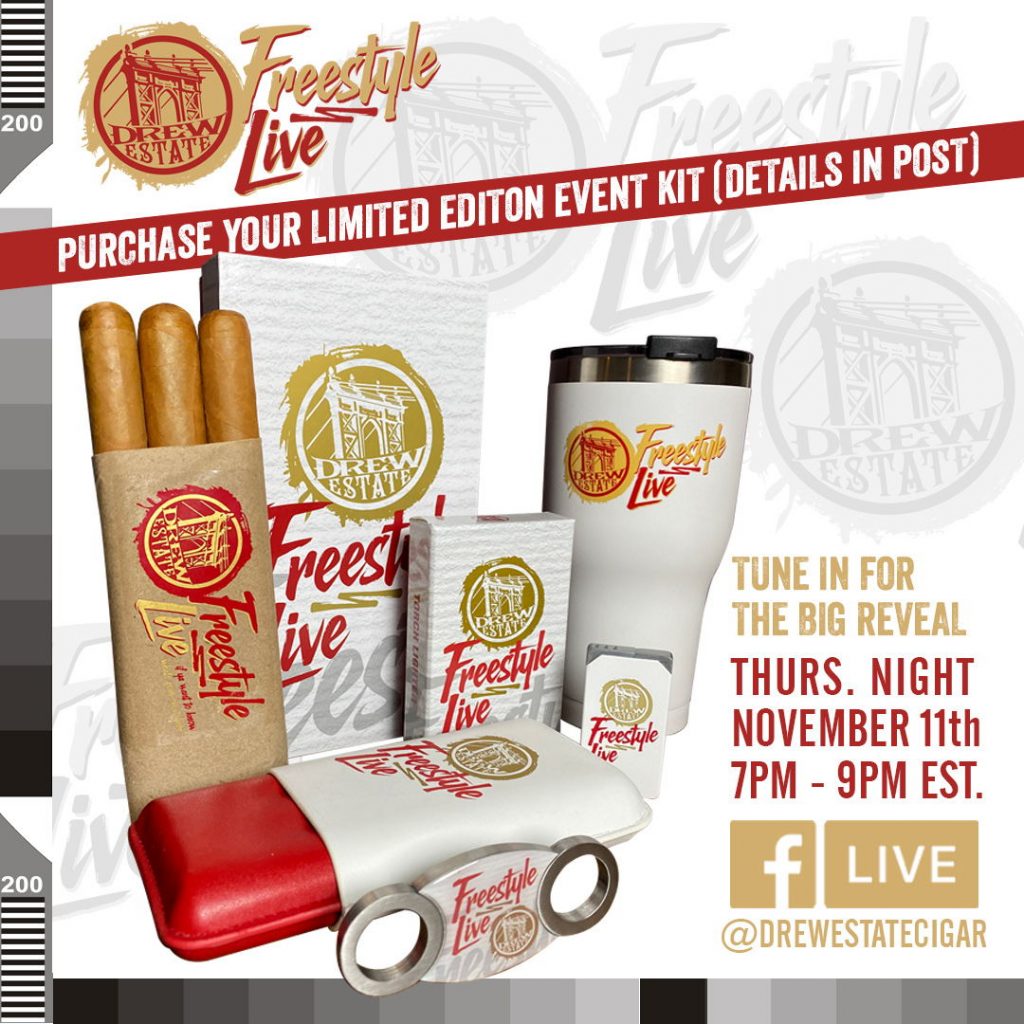 Drew Estate has announced it will be releasing a second Freestyle Live Event kit. The kit will contain what the company called "three ultra-premium cigars" (unbanded) along with a Freestyle Live-branded cutter, lighter, and tumbler. The cigars represent a new brand that will be unveiled during the "Freestyle Live: Special Edition" show on Nov. 11 on Drew Estate's Facebook Live page (facebook.com/drewestatecigar).
Previously, Drew Estate released a Freestyle Live Event Kit this past spring that contained the cigars that were revealed as Undercrown 10.
Each Freestyle Live Event Pack comes with a lanyard and badge. Anyone who purchases a Freestyle Live Event Pack can register their badge via the QR code on the back to be entered into a sweepstakes for a chance to win incredible prizes, including the grand prize of a 2022 Ford F-150 Lightning electric truck, valued at $42,000. The second-place prize is a 2022 Polaris 1400 General ATV, valued at $14,000. The third-place contestant wins a Drew Estate Bridge Bar, which is valued at $1,500.
In addition, participating Freestyle Live Event Pack retailers are automatically entered for a chance to win prizes as well, including the grand prize of a $7,500 Drew Estate credit, three Dreamseat recliners, and a Drew Estate Bridge Bar; a second prize of a $2,500 Drew Estate credit and two Dreamseat recliners; and third prize of a $1,000 Drew Estate credit and two Mega standing ashtrays.
The Nov 11 Freestyle Live Show will also announce five additional finalists for the company's Bitcoin Sweepstakes.
Each of the Drew Estate Freestyle Live Special Edition Event Packs has an MSRP of $45.00. A total of 5,000 packs will be made available for purchase. A list of participating retailers will be available at drewestate.com/freestylelive2021 beginning on Oct. 25.