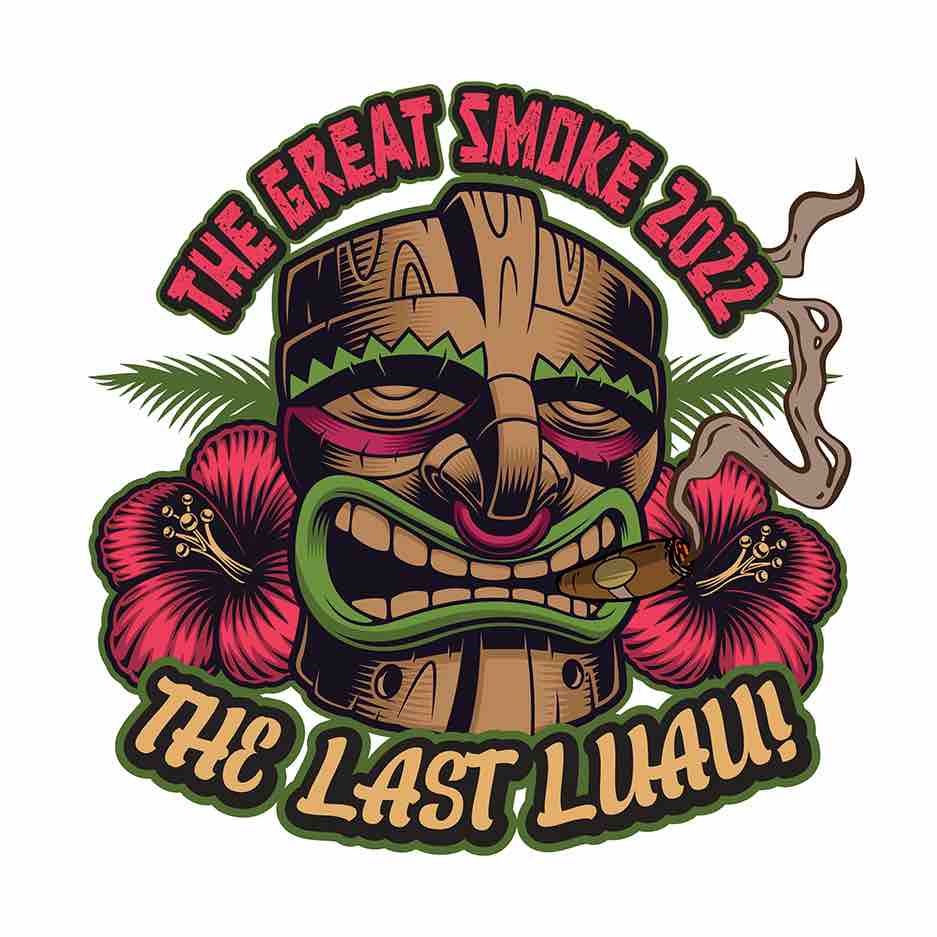 While COVID-19 resulted in the cancellation of the in-person 2021 edition of The Great Smoke (TGS), the event went on with a high-profile virtual event that raised the bar in the cigar industry as a whole. For 2022, The Great Smoke will not only return with an in-person edition, but there will be a virtual component available at home. It's being dubbed The Great Smoke 2022 – The Last Luau and it's scheduled for February 26, 2022.
As previously revealed, The Great Smoke 2022 will have a Hawaiian Luau theme. This theme will be a part of the TGS Luau Party Pack – which will be identical for both in-person and at-home attendees. The 2022 TGS Luau Party Pack includes an event hat, shirt, lei, draw-string backpack, tiki shot glass, cigar cutter, ashtray, Drew Estate spray paint can lighter, and 40 premium cigars from the industry's top brands.
Once again Michael Herklots and Kim Keeney will return as co-hosts. They will be joined by KMA Talk Radio personality Paul DeGrocco. During the February 26th event, a series of five on-air portions of the event will air throughout the day. These segments will be interspersed with with live footage and interaction with in-person attendees on the event floor. Prizes and raffles will be held hourly, with all ticket holders (in-person and virtual) automatically entered to win.
Last year the 2021 TGS Virtual Event featured some event-exclusive cigars that sold out quite quickly. Once again, there will be five event-exclusive cigars available from the following manufacturers: Aganorsa Leaf, Dunbarton Tobacco & Trust, Espinosa Premium Cigars, Room101, and ADV Cigars. This year, these cigars will be offered during special virtual events, taking place throughout December, January, and February, where only event ticket holders will be granted access to purchase each limited cigar (TGS tickets must be purchased prior to each cigar launch in order to participate). A total of 300 to 500 boxes/bundles of each project have been created—sold on a first come, first served basis.
The schedule is as follows:
Aganorsa Leaf: Wednesday, December 8th (7pm EST)
Dunbarton Tobacco & Trust: Wednesday, December 29th (7pm EST)
Espinosa Premium Cigars: Wednesday, January 12th (7pm EST)
Room101: Wednesday, January 26th (7PM EST)
ADV Cigars: Wednesday, February 9th (7pm EST)
While the main event takes place on February 26, 2022, at the South Florida Fairgrounds, the festivities will begin on February 24th and continue through the 27th. The event will, once again, be held at the South Florida Fairgrounds in West Palm Beach, FL. This includes pre-event and post-event parties hosted by Caldwell Cigar Co., Alec Bradley, HVC Cigars, and Rocky Patel. In addition, The Red Meat Lover's Club will be the hosts for a private luau pre-event dinner for VIP ticket holders, where special guest Steve Saka will be in attendance with an exclusive cigar for dinner guests.
Tickets are scheduled to go on sale on Friday, November 12th at 12pm (EST), with limited spaces available only through TheGreatSmoke.com.