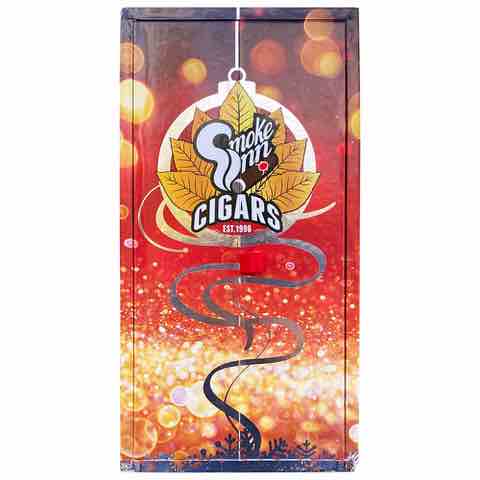 Smoke Inn has released its long-awaited cigar advent calendar. The project has been over a year in the making and was scheduled to be released in October. This was delayed because of shipping and supply chain issues of the specially humidified box used for the Advent Calendar. With the box in, the Advent Calendar was able to be released.
The Smoke Inn Advent Calendar allows you to count down the days till Christmas and open a different day to reveal a special cigar.
"We began working on this back in September of 2020," commented Abe Dababneh, owner of Smoke Inn. "We wanted to launch it for 2020 but soon realized the impossibility of that. At first, we literally thought that we were going to be the first-ever advent calendar in the cigar industry. As we reached out to various manufacturers for their involvement, we soon realized that not only would we not be the first, but a few companies were planning to launch their own for 2021! That didn't deter us one bit. We knew our packaging would outshine any other calendar. We went through multiple revisions before we were happy and proud. It had to be functional and maintain the quality of the cigars it held, PLUS attractive enough that it would be a conversation piece when displayed. We also had the advantage of being a retailer. We had the ability to work with an unbelievable selection from a plethora of amazing companies. Our Advent Calendar will offer premium selections from a variety of top companies."
Smoke Inn has said the 2021 edition of the Advent Calendar contains 25 cigars from 21 different cigar manufacturers. These companies include cigars from: Padrón, Arturo Fuente, Tatuaje, Dunbarton, J.C. Newman, Drew Estate, Perdomo, Rocky Patel, Aganorsa Leaf, My Father, Alec Bradley, EPC, and many more.
Earlier this year Oliva and Tatuaje showcased brand-specific advent calendars at the 2021 PCA Trade Show. The Oliva calendar has recently arrived on shelves.
A total of 1,000 Smoke Inn Advent calendars have been made. Smoke Inn has said the calendars are valued at $300.00, but are being sold for $265.00. It's widely believed that this is the first major multi-vendor cigar advent calendar to be released.
Image Credits: Smoke Inn