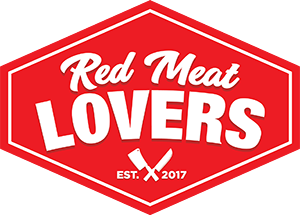 Smoke Inn has announced its latest project in the South Florida store's exclusive Red Meat Lovers Club Series, "The Beef Stick." The Red Meat Lovers Club project is a collaboration between Dunbarton Tobacco & Trust's Steve Saka and Evan Darnell of the Red Meat Lovers Club. The Beef Stick introduces a 6 x 48 format based on the Red Meat Lovers Club blend. This was a cigar that was introduced in a small batch that was offered to attendees at the 2022 Great Smoke VIP Dinner hosted by The Red Meat Lovers Club and featuring Steve Saka. Pre-orders for the cigars are being accepted now, with the cigars scheduled for release in November.  The cigars will be sold exclusively through Smoke Inn.
The Beef Stick follows the 6 x 56 Toro Gordo blend released in 2018 and 2019 and 6 x 52 Toro "Meat Box Pressed" released in 2020 and 2021. The blend for the Beef Stick features a Connecticut Broadleaf No. 1 dark wrapper, a San Andrés Negro Oscuro binder, and both Nicaraguan and U.S. filler tobaccos. The cigars also feature a flat closed foot and head meant to resemble a Beef Stick. The cigars are packaged in ten-count packs priced at $135.00 per pack.
"The 6 x 48 version of this blend was such a big hit with everyone who had a chance to try it at the Great Smoke this year that it only seemed fitting to make this the size for the 2022 drop. To be completely honest, that is my vitola of choice. I know I probably sound like a broken record by saying this is now my favorite variation of this blend, but what can I say, it is the truth!" commented Abe Dababneh of Smoke Inn in a press release.
Steve Saka added, "This is a unique take on the Red Meat Lovers' Liga. The blend has been tweaked to make it a stronger variant of the Puro that delivers a spicier, fuller pop on the palate, yet remains true to the core earthy, meaty flavor profile. The vitola features a whimsical approach with its flat head and flat closed foot."
Like the 2021 release of the Meat Box Pressed, Smoke Inn is accepting pre-orders for the ten-packs of the Beef Stick. The retailer says this is being done to avoid insufficient production, website crashes, and secondary market gouging. To secure the cigars, customers will be allowed to put a $25.00 deposit to secure a bundle. The open pre-order period will begin March 25th and end on April 8th and can be completed at Smoke Inn's website, www.smokeinn.com. The cigars are expected to arrive in late November of this year at which time consumers who have paid a deposit will receive an email AND be notified through the Smoke Inn account portal where they can pay the balance. The pre-orders will determine the final production run quantities.
At a glance, here is a look at the Red Meat Lovers Club line:
Blend and Origin
Wrapper: Connecticut Broadleaf No. 1 Dark (USA)
Binder: San Andrés Negro Oscuro (Mexico)
Filler: Nicaraguan, Pennsylvanian Seedleaf Ligero
Country of Origin: Nicaragua
Factory: Nicaraguan American Cigars, S.A. (NACSA)
Vitolas Offered (Past Editions Included)
Toro Gordo (2018, 2019): 6 x 56 (Sold Out)
Meat Box Pressed (2020,2021): 6 x 52 (Sold Out)
Beef Stick (2022): 6 x 48