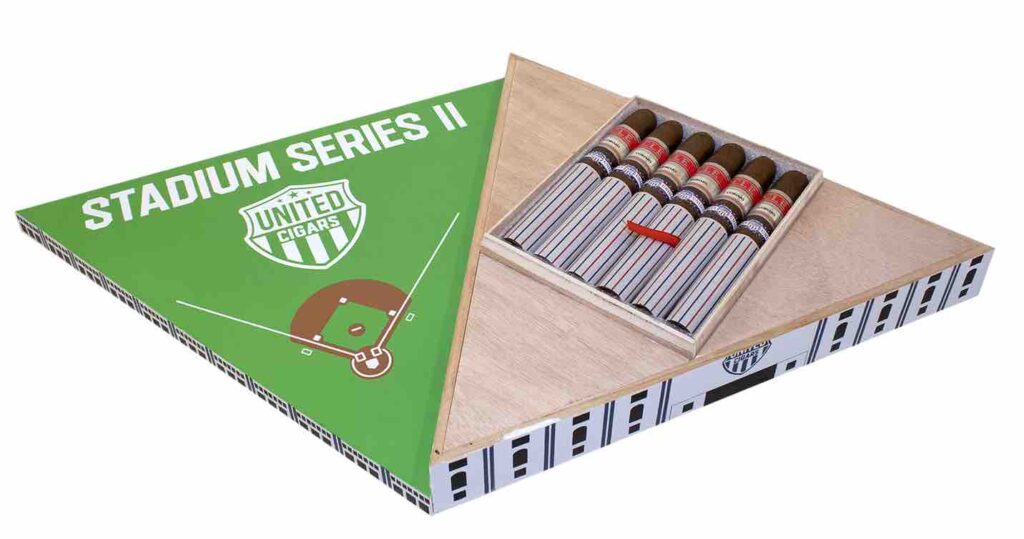 United Cigars has announced its Stadium Series II. This year, United Cigars will be teaming with CLE Cigar Company for the Stadium Series release. This year's release features an 11/18 size of the CLE Corojo blend in packaging resembling a baseball stadium.
This is the second year CLE Cigar Company has teamed with United Cigars on the Stadium Series. Last year, the Stadium Series 1 was slated to feature an Asylum 13 Candela, but that project never made it to retailers. The 11/18 is a size created by Christian Eiroa during his days at Camacho. It is a vitola that resembles a parejo but is thicker in the middle. The 11/18 got its name from the birthday of Eiroa's mother (November 18th). After launching CE Cigar Company Eiroa has continued to use the 11/18 for various cigars. The blend for the CLE Corojo consists of a Honduran Corojo wrapper over all Honduran tobaccos.

A total of 1,000 stadium units will hold 12 CLE Corojo 11/18 cigars. Stadium Series I was slated to hold nine cigars to represent nine innings of baseball, however, a decision was made to add a few more for Stadium Series II.
"We had to go a few extra-innings to get this one done," said Oliver Nivaud, Director of Operations for United Cigars. "Made the call to the Bullpen and got 3 more innings out of CLE."
The United Cigars Stadium Series is scheduled to be a yearly release with a nod to the venues around the world that bring us sports and entertainment. It is part of United Cigars' Series Unidas line that features collaborations with select manufacturers. The Stadium Series II begins shipping to retailers on April 11th with pricing set at $120 per box.
Photo Credits: United Cigars