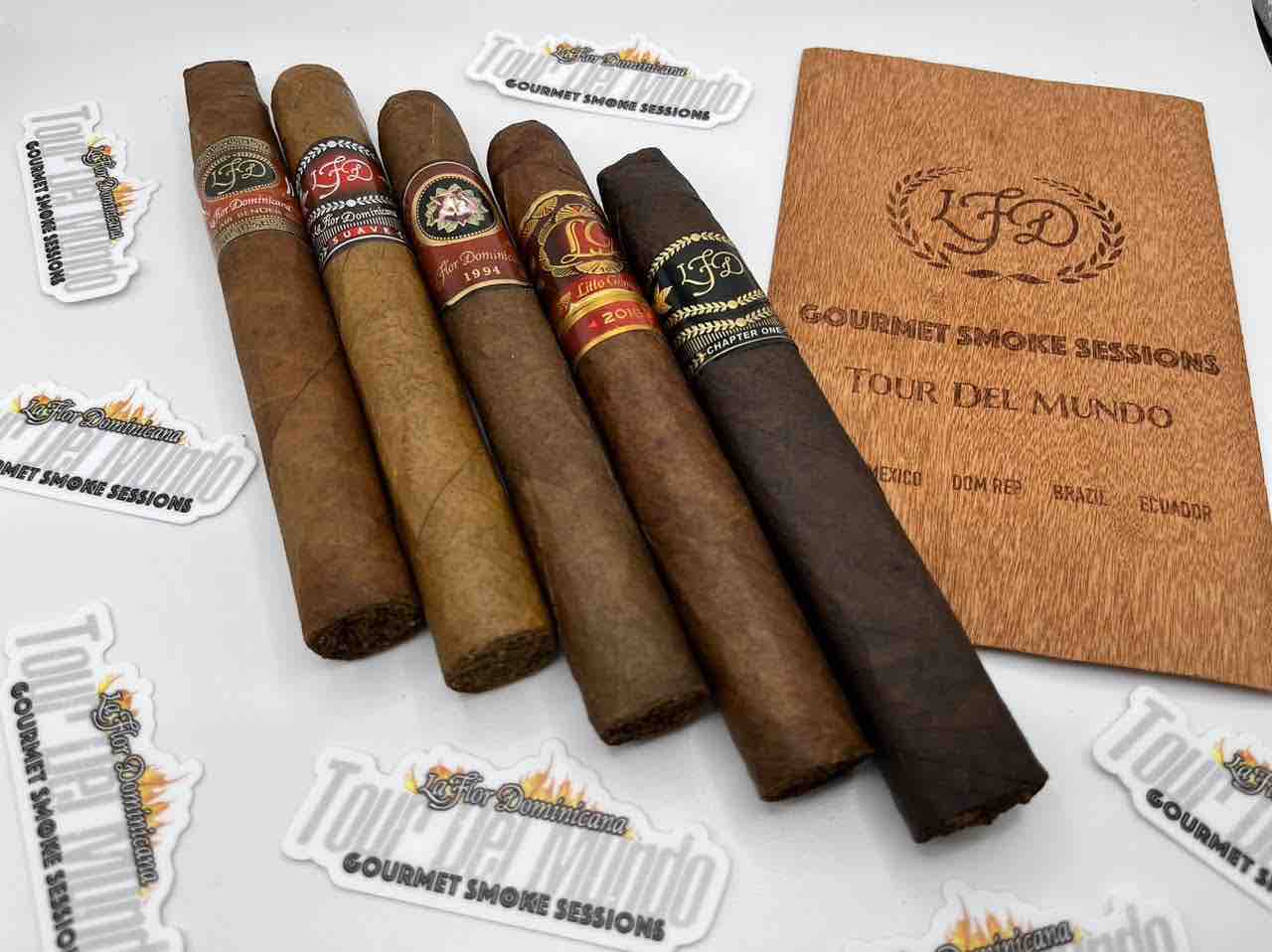 La Flor Dominicana and Hacking Gourmet are proud to announce Season Two of the "La Flor Dominicana Gourmet Smoke Sessions" (LFD GSS): "La Flor Dominicana Gourmet Smoke Sessions – Tour Del Mundo." It's an event program that pairs gourmet food with the world of premium handmade cigars. The events take place with selected retailers.
This year, each Tour Del Mundo event will feature five La Flor Dominicana cigars that include the La Flor Dominicana Chapter One and the Litto Gomez 2015 Lusitano. The wrapper tobaccos for the cigars will be tied to the country of each dish. There will be a minimum of five cigars and five food pairings per session. Gourmet dishes featured in the Season 2 Premiere events include Prime Caribbean Filet Mignon, Hacking Gourmet's famous BBQ Chicken, Brazilian Shrimp Stew featuring aged fromage stations, bread service, and side dishes all inspired by world renown cigar regions.
Miami meat purveyor Meat N' Bone will continue their partnership with the "LFD GSS" by being the exclusive meat purveyor for all "Tour Del Mundo Sessions." Jonathan M. Carney, of Hacking Gourmet and the Vice President of Sales for La Flor Dominicana has developed all the culinary offerings in conjunction with the many offerings available through Meat N' Bone which provides worldwide shipping on a large variety of gourmet meats and seafood at www.MeatNBone.com.
Season 2 kicked off on Tuesday with Rocky's Cigars of Syracuse, New York at the Lock 1 Distillery in Phoenix, New York. A second premier event for Session 2 will be held on Thursday, May 26, 2022, with Anstead's Tobacco Company of Fayetteville, North Carolina. Throughout season 2, select sessions will feature on-site broadcasts that will stream LIVE through La Flor Dominicana and Hacking Gourmet on Facebook and YouTube.
Hacking Gourmet is a broadcast co-founded during the pandemic by Jonathan Carney focused on culinary arts and premium cigars.
All "LFD GSS Tour Del Mundo" dates and participation details will be featured on www.HackingGourmet.com and www.LFDCigars.com. Cigar packages and tickets to in-person experiences will be provided through participating retailers.
Photo Credit: La Flor Dominicana