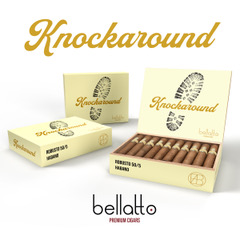 Bellatto Premium Cigars, the new venture started by Tony Bellatto, has announced its first release called Knockaround. The company is accepting pre-offers and the product is expected to be showcased and available at the 2022 PCA Trade Show.
In a press release announcing Knockaround, the company explains the concept behind Knockaround was "Having a premium, top-of-line quality cigar, for every day occasions, as well as, for the types of real-life daily adventures people find themselves in. It's for exploring the city, it's for hiking in the wilderness, it's for the backyard BBQ, the golf course and the beach."
The cigar is a Habano wrapper over a Dominican binder and a combination of Dominican and Nicaraguan filers. It wil come in three sizes: Robusto 550 (5 x 50), Toro 650 (6 x 50), and Gordo 660 (6 x 60). Each is presented in 20-count boxes. It's meant to be an affordable cigar with pricing ranging from $7.00 to $9.00. Production comes from Tabacalera William Ventura.
"It's for me, honestly, and for my friends first-and-foremost, but also for the people I know who don't want to sacrifice in quality or experience, but ultimately want something that can fit in your regular rotation without breaking the bank," commented Tony Bellatto.
Earlier this year, Tony Bellatto announced the formation of Bellatto Premium Cigars, a company he formed with his father. Bellatto Premium Cigars is a separate venture from his current La Barba Cigars company.
The 2022 PCA Trade Show opens July 9th in Las Vegas, Nevada.
.