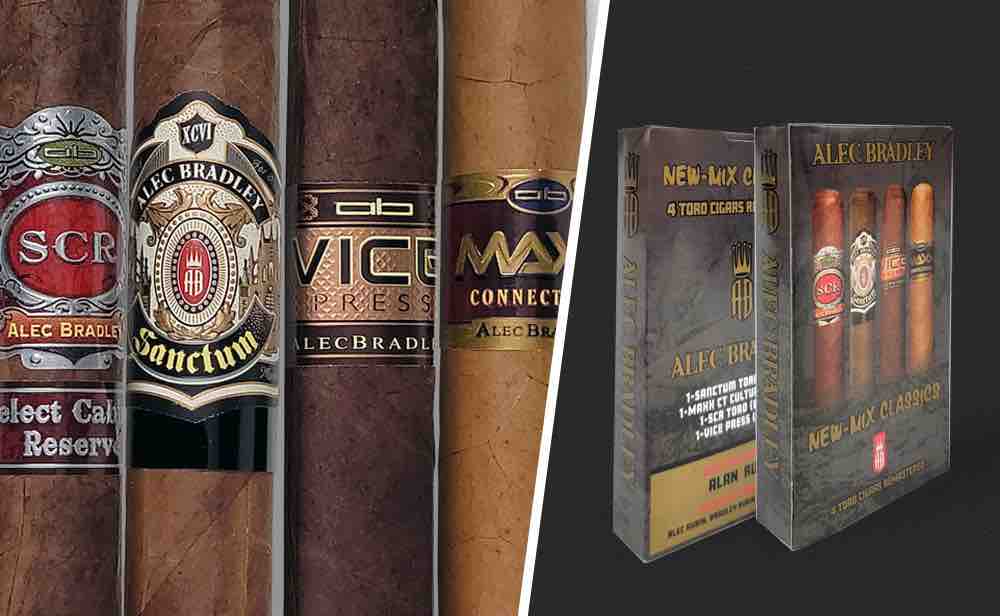 At the 2022 Premium Cigar Association (PCA) Trade Show, Alec Bradley Cigar Company revealed its mystery exclusive item to attendees. It's called the New-Mix Classics and it is a four-count sampler containing cigars from four discontinued blends from the company's past that have been remastered using the original blends. The cigars in the sampler include Sanctum, Maxx Connecticut, Select Cabinet Reserve (SCR), and Vice Press.
Each sampler will contain one Toro size of each of the four remastered blends. A total of 1,000 packs were made available to attendees.
According to Alec Bradley, the project came about when the company found thousands of unused cigar bands for each of the lines (the band with the smallest amount found was used to set the production number).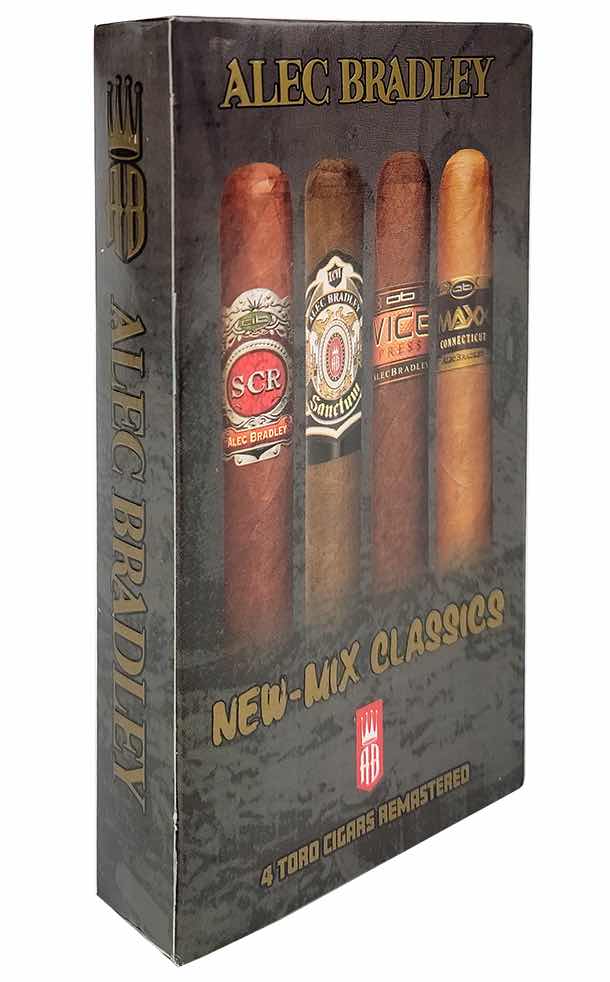 "I'm sure there are some lost and forgotten about cigars somewhere in our aging rooms," commented Bradley Rubin in a press release issued concurrently with the trade show, "but coming across these bands gave us the opportunity to remaster the blends and reintroduce the cigars at the venue where they were first launched, We're very excited for cigar enthusiasts to experience a piece of Alec Bradley history!"
Pricing is set at $34.95 and the cigars are scheduled to ship later this month.
At a glance, here is a look at the four cigars in the sampler:
Alec Bradley Sanctum
Wrapper: Honduran
Binder: Costa Rican
Fillers: Honduran, Nicaraguan, Colombian
Toro: 6 x 52
Alec Bradley SCR
Wrapper: Honduran
Binder: Honduran, Indonesian
Fillers: Honduran, Nicaraguan
Toro: 6 x 52
Alec Bradley Maxx Connecticut
Wrapper: Ecuadorian
Binder: Costa Rican
Fillers: Honduran, Nicaraguan, Mexican San Andrés, Colombia
Toro: 6 x 54
Alec Bradley Vice Press
Wrapper: Nicaraguan
Binder: Costa Rican
Fillers: Honduran, Nicaraguan, Mexican San Andrés
Toro: 6 x 54
Photo Credits: Alec Bradley Cigar Company