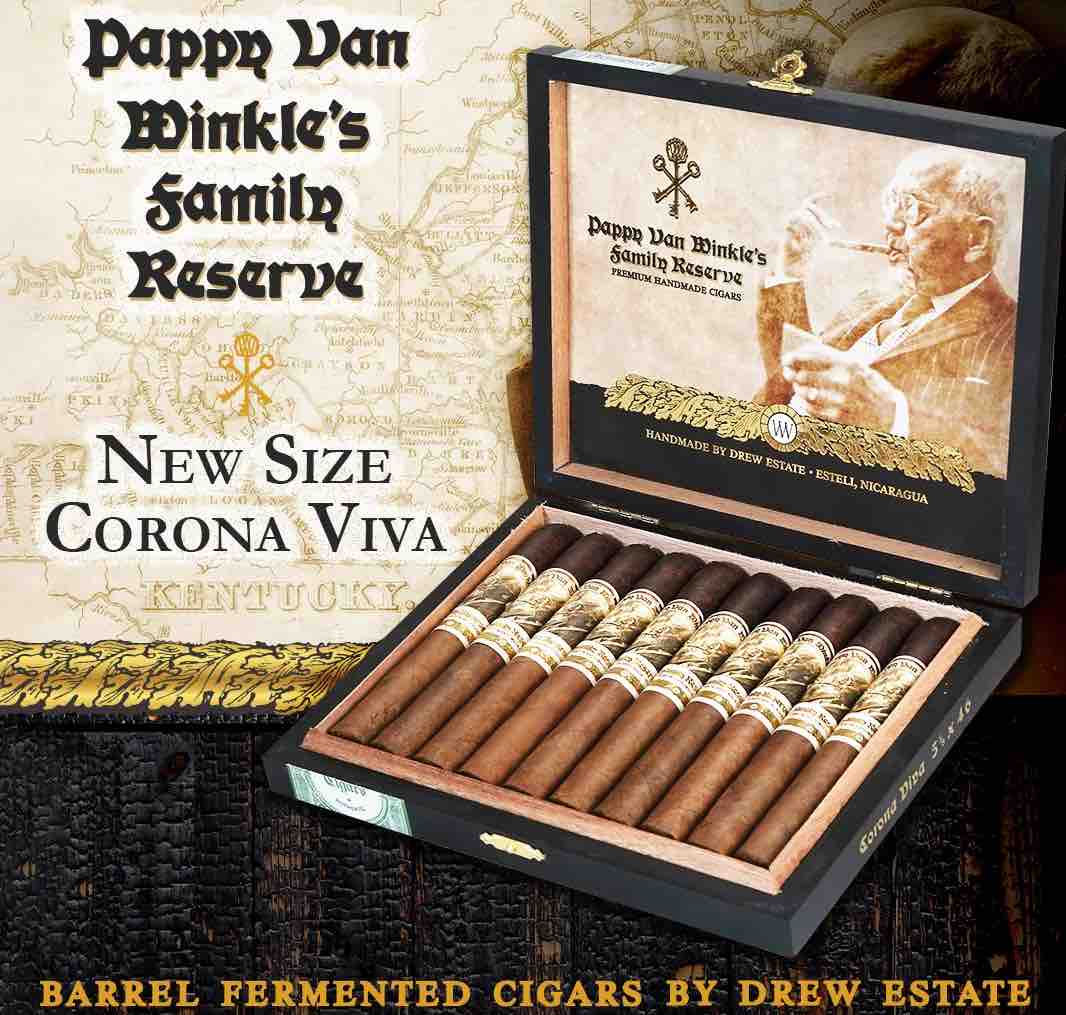 This month, a Corona Viva size of Drew Estate's Pappy Van Winkle Barrel Fermented cigar will be making its debut. This will be an exclusive cigar available at Pappy & Company's website, pappyco.com.
The Pappy Van Winkle Barrel Fermented Cigar features a Negra-style Dark Fire-Cured and barrel-aged wrapper over a Mexican San Andres base wrapper, as well as an aged Nicaraguan binder, and Nicaraguan and Kentucky Fire-Cured filler tobaccos. The Corona Viva is a 5 3/4 x 46 vitola. According to Drew Estate, the Corona Viva's narrow ring gauge accentuates the barrel-fermented tobacco presence in the Pappy Van Winkle blend, which offers an ultra-premium smoking experience with notes of chocolate, coffee, cedar and charred wood with an overall smoky sweetness.
"Both the Van Winkle family and Drew Estate built their reputations on being painstakingly committed to producing artisanal, high-quality and handcrafted products," says Carrie Van Winkle Greener, Co-Founder of Pappy & Company. "Our shared passion for those traditions stands at the center of every Pappy Van Winkle Barrel Fermented cigar, and the new Corona Viva format extends and deepens our mutual legacy for producing authentic, handcrafted and high-quality products."
Jonathan Drew, Founder and President of Drew Estate says, "The barrel-aging process, using 'spent' Pappy Van Winkle oak barrels deeply tempers and refines the fire-cured Kentucky tobacco's smoky complexity, allowing the tobaccos from Central America to play the leading role in flavor and aroma. Saint James Parish was created in 1807 directly between New Orleans and Baton Rouge on the Mississippi River and is known for a tradition called 'Bonfires on the Levee,' which takes place on Christmas Eve. We will discuss more about the folklore of Papa Noel and an Acadian named Pierre Chenet at our Barn Smoker coming up in Connecticut on Aug. 12-14."
The Pappy Van Winkle Family Reserve Barrel Fermented line was a release previously sold exclusively to Pappy & Company. In 2019, Drew Estate began to offer the line nationally to its Drew Diplomat retailers. Since then, there has also been a Flying Pig size of the Pappy Van Winkle Barrel Fermented line that has been exclusively sold to Pappyco.com.
The Pappy Van Winkle Family Reserve Barrel Fermented Corona Viva is presented in ten-count boxes. Pricing is set with an MSRP of $160/box or $16/cigar.