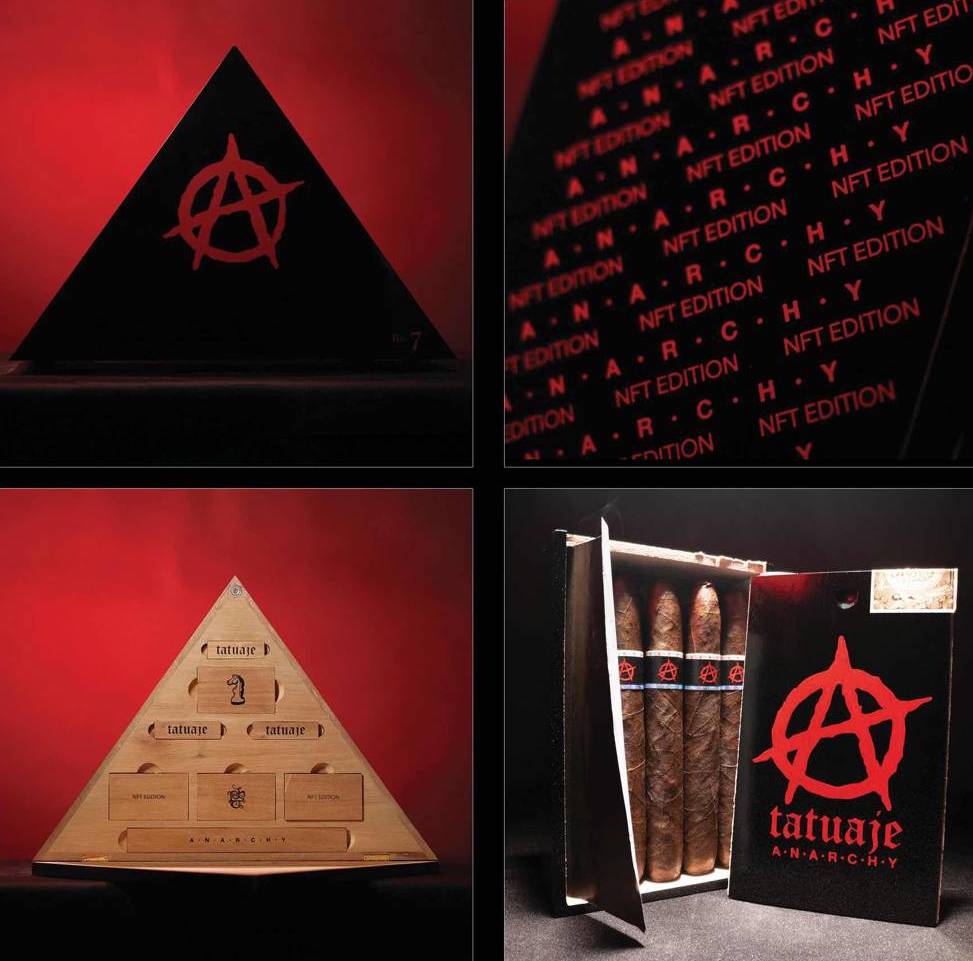 In 2022 it was announced there would be an NFT offering made around the legendary store exclusive release, the Tatuaje Anarchy. The Tatuaje Anarchy was first launched in 2010 as a store exclusive to Smoke Inn Cigars and would go on to become one of the most popular single-store releases ever. At this year's Premium Cigar Association Trade Show, the NFT Collection will be showcased as a part of Tatuaje Cigars' exhibit. The cigars, along with unique artwork and accessories from S.T. Dupont and Xikar (Quality Importers) will be included as a part of each NFT offering.
"The original Tatuaje Anarchy cigar remains to be one of the largest single store releases in our industry and is still being sought after by consumers worldwide. I felt this cigar specifically was worthy of a special NFT offering that would allow the cigar to exist, while in very limited quantities, on a regular basis. Collaborating with S.T. Dupont and Quality Importers was the perfect way to create a very special and unique collection to complete the offering," stated Pete Johnson in a press release.
The Tatuaje Anarchy NFT collection consists of seven numbered and unique original art NFTs, each entirely distinct. Six of these NFTs, numbered 1-6, will be sold via separate live auctions to be held consecutively in August this year. The seventh NFT will be issued to Smoke Inn Owner and Anarchy brand creator, Abe Dababneh.
"I cannot tell you how excited I am about this offering. Thirteen years after the original release, and we still receive regular emails from consumers asking if we have any left hidden away. This is an incredible way to let this cigar live on and be available to fans and collectors once again. I am confident Tatuaje fans all over will be hunting down these cigars from any lucky retailer who was able to obtain one of these NFTs," stated Abe Dababneh.
Each NFT comes with a specially crafted handmade 75-count Tatuaje Anarchy NFT Edition humidor, featuring 60 original Tatuaje Anarchy cigars and 15 ultra-rare Anarchy Pale Horse Editions exclusively made for NFT holders. The Pale Horse Edition mirrors the original blend but utilizes a special claro wrapper instead of the original Habano maduro. Only 105 cigars of this Pale Horse vitola will be produced.
Each winning bidder will also receive a 24×36 framed print version, a "01 of 01" Ligne 2 Lighter by S.T. Dupont of Paris, a newly developed Perfect Xi1 Cutter by Xikar, and a crystal ashtray by Quality Importers, all with matching art to the seven unique NFTs. Furthermore, each Tatuaje Anarchy NFT owner will have the exclusive privilege to purchase a quarterly allotment of 15 boxes of 15 Tatuaje Anarchy NFT Edition cigars at a price of $14.00 per cigar.
Vice President of Sales for S.T. Dupont, Les Mann states, "I cannot recall any other time a single version of a Ligne 2 lighter ever being made. These NFT edition lighters will not only be a rare collectible for Tatuaje fans, but also for all S.T. Dupont fans as well. It was a remarkable experience for our Art of Fire team in Paris to be involved in this project. The lighters are a true one of one production. I can't imagine owning a one only ever produced S.T. Dupont lighter! Congratulations to Pete on this fantastic collaboration!"
The Perfect Xi1 Cutter is the newest evolution of the famed Xi1 cutter. With a closed back, the cutter is designed to deliver a perfect cut. This cutter will be premiering in 2023, but winners of the NFT will obtain one of the first seven cutters made with the new model. Each features the unique art part of each NFT, and all are "01 of 01" and numbered accordingly.
"Quality Importers is thrilled to be involved in this cutting edge Tatuaje Anarachy NFT release. Through our SWAG Bunker we were able to bring the artwork to life in a stunning crystal ashtray and on the brand new Perfect Xi1 Cutter, exclusive to Smoke Inn. More on that coming soon!" stated Joe Gro, Director of Marketing and Communications for Quality Importers Trading Company.
UREEQA, a leading digital validation company that proves provenance on the blockchain will provide a digital marketplace for the auctions as well as utilize their revolutionary Package of Proof technology to provide security and authenticity to the NFTs. Cigar enthusiasts can purchase the very limited Tatuaje Anarchy supply with confidence knowing which retailers hold a validated by UREEQA Tatuaje Anarchy NFT. The NFTs will be auctioned in six separate 48-hour auctions to begin late August.
The PCA Trade Show opens July 7, 2023, in Las Vegas, Nevada.
Photo Credits: Supplied by Smoke Inn