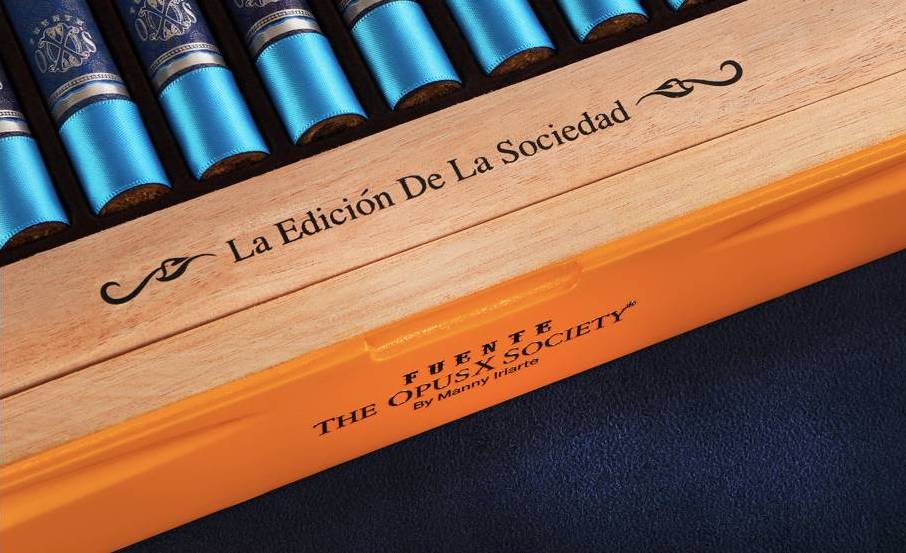 Manny Iriarte Enterprises and Arturo Fuente are teaming up to launch OXS (OpusX Society). This is an extension of Fuente – The OpusX Society that was launched in 2021 by Manny Iriate. The OXS will be a series of cigars that will introduce what is described as a "unique and extremely limited Opus blend".  The cigar will be showcased at the Premium Cigar Association (PCA) 2023 Trade Show
"The OXS is a unique and extremely limited Opus Blend. Different and Xtremely impressive richness and intensity," said Carlos "Carlito" Fuente Jr. in a press release of the forthcoming OpusX Society cigar series.
"While I am not a master blender, obviously Carlito is. This cigar is the result of a series of ongoing conversations between us. The result? Something previously never done within the OpusX series, and truly emblematic of our combined vision for OpusX Society. I am endlessly humbled by Carlito's generosity and giving spirit, which we now get to share with all of you," added Iriate.
Blend details of the OBX are not being disclosed. The only information being released at this time is that the cigars and cigar box are made by Tabacalera A. Fuente in Santiago de los Caballeros, Dominican Republic.
At press time there are no specifics of the OBX pricing. While the cigar will be showcased at the PCA Trade Show at the Manny Iriate Enterprises booth, there will be no orders taken. The cigar is not expected to be for sale until the first quarter of 2024.  Sales and distribution are being handled by a new entity called The Smoking Frenchies.
The PCA Trade Show opens July 7, 2023, in Las Vegas, Nevada. The OBX cigar will debut at 3 pm at the Manny Iriate Enterprises booth.
Photo Credit: Manny Ariate Enterprises