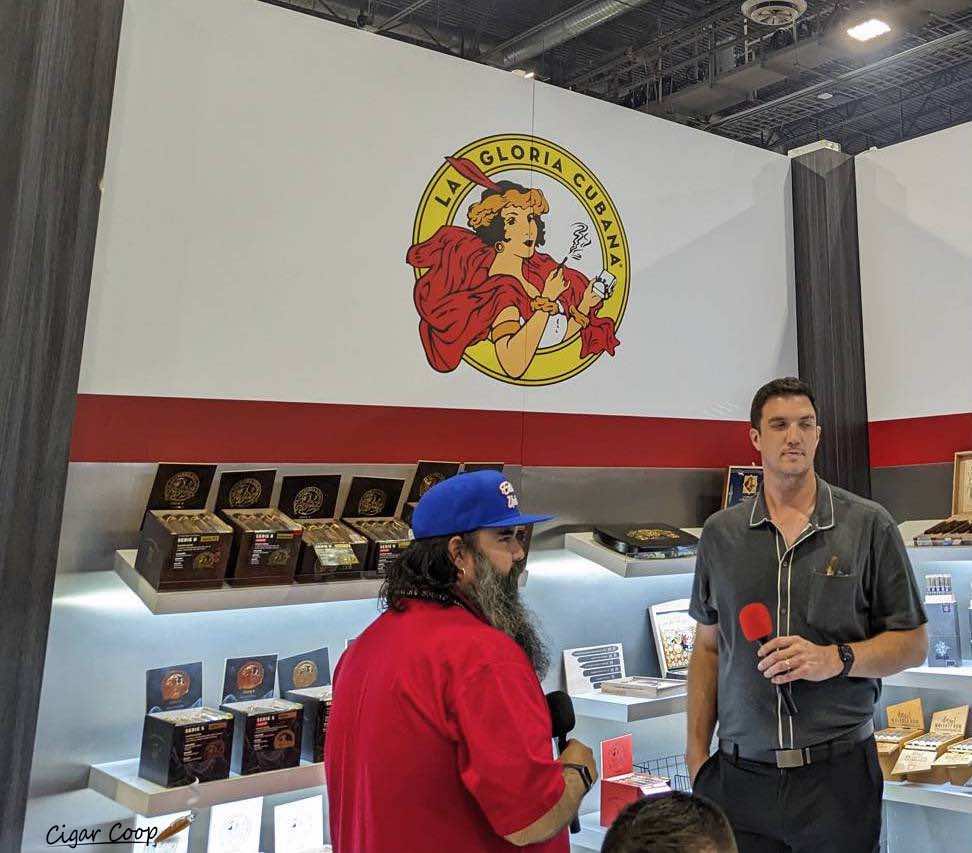 The La Gloria Cubana brand was back at the Premium Cigar Association (PCA) Trade Show for the first time since 2019. At that time, La Gloria Cubana was focused on innovation. Over the past few years, La Gloria Cubana has shifted some of its attention to returning somewhat to its roots in terms of its packaging and its associated cigars. This year, as a part of Forged Cigar Company, La Gloria Cubana brought three new releases into PCA – including a regular production cigar, a limited edition cigar, and a sampler.
Last year, La Gloria Cubana introduced La Gloria Cubana Serie S, the first regular production La Gloria Cubana to feature a San Andres wrapper. Now La Gloria Cubana has added the La Gloria Cubana Serie S Maduro – featuring a San Andres Maduro wrapper complimenting the original Serie S offering. In addition to the San Andres Maduro wrapper, the Serie S Maduro features a Nicaraguan binder and a combination of Nicaraguan and Dominican fillers. The sizes released for the Series S Maduro match the sizes with the original Serie S release: Robusto Gordo (5 1/2 x 56, SRP $7.99), Gigante (6 x 60, SRP $8.49), and Presidente (7 x 56, SRP $8.99). Each is presented in 24-count cabinet boxes. These are the same sizes and box counts as the original La Gloria Cubana Serie S. Production from the El Credito Cigar Factory, a factory within the General Cigar Dominicana factory in Santiago, Dominican Republic. The La Gloria Serie S Maduro is currently shipping.
Last year La Gloria Cubana went back to its roots, releasing the La Gloria Cubana Eighth Street. The La Gloria Cubana brand was created by Ernesto Perez-Carrillo Jr. at his El Credito factory in Miami, Florida. In 1999, Perez-Carrillosoldl the brand to Swedish Match where it became part of General Cigar. Today it is a part of the Scandinavian Tobacco Group portfolio under Forged Cigar Company. When La Gloria Cubana Eighth Street was released in 2022, it marked the first time a La Gloria Cubana would be produced in Miami in over a decade.
When La Gloria Cubana Eighth Streetdebutedt in 2022, it was released in a limited edition Toro size. This year a limited edition Corona Gorda size made its debut at PCA. The blend features an Ecuadorian Habano Oscuro wrapper over a Nicaraguan binder and a combination of Nicaraguan and Dominican fillers. The Corona Grande measures 6 1/2 x 48. The cigars are presented in ten-count boxes. Pricing is set at $22.99 per cigar. This cigar is due to ship in September.
Finally, making its debut at PCA 2023 is the La Gloria Cubana Selección Suprema sampler. This sampler contains six La Gloria Cubana cigars that were given scores over 90 points or more by Cigar Aficionado. The sampler is presented in a lacquered wooden box and is priced at $59.99. The Selección Suprema is scheduled to ship in October. The six cigars included in the sampler are:
La Gloria Cubana Natural Wavell: 5 x 50
Serie R No 3: 4 1/2 x 50
Rabito de Cochino: 6 1/2 x 42
Serie R Esteli No. 54: 6 x 54
Reserva Figurados Selectos de Lujos: 7 1/4 x 54
La Gloria Cubana Torpedo: 6 1/4 x 54
Interview with Cory Beardsley, Scandinavian Tobacco Group
Due to age restrictions, you will need to click on Watch on YouTube to view this content.
Product Reports
Photo Credits: Cigar Coop, except where noted