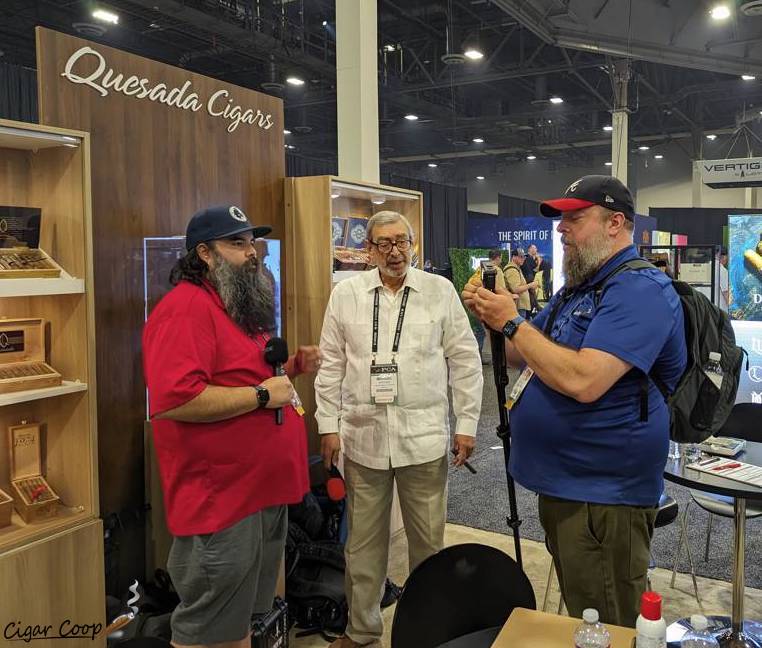 In 2022, Quesada Cigars celebrated the 75th birthday of its patriarch, Manuel "Manolo" Quesada. At the 2023 Premium Cigar Association (PCA) Trade Show, Quesada Cigars would celebrate another milestone – the 15th anniversary of Casa Magna. Quesada Cigars is releasing a commemorative cigar to mark the occasion – the Casa Magna XV.  Quesada also had its annual Quesada Oktoberfest release showcased this year. Quesada Cigars has been on a roll the past few years, and in 2022 Cigar Coop voted Quesada's TABADEX the Small/Medium Factory of the Year. The Cigar Coop team presented Quesada Cigars with an award for this achievement.
In 2008, Quesada Cigars launched a collaboration with Plasencia Cigars known as Casa Magna. The first release, the Casa Magna Colorado, was a Nicaraguan puro made in Nicaragua, and it achieved critical acclaim while skyrocketing in popularity. Today Casa Magna is a full-fledged brand offering several blends. The Casa Magna XV is a limited edition cigar but introduces an all-new blend into the Casa Magna brand.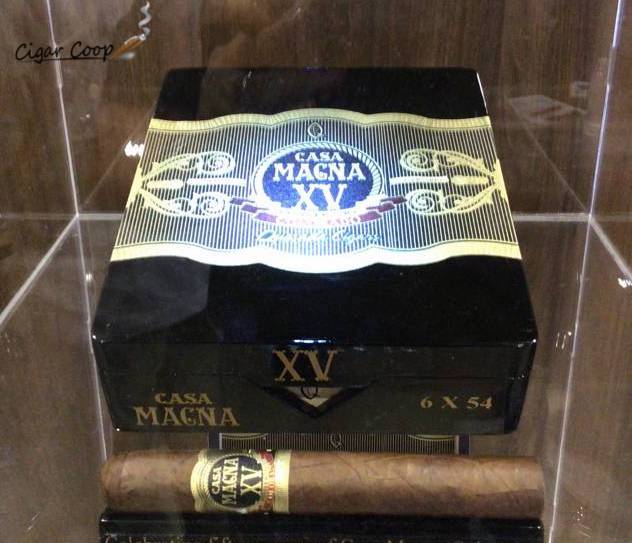 Produced at Quesada's TABADEX factory in the Dominican Republic, the Casa Magna XV Anniversary features an Ecuadorian Habano 2000 wrapper over a Nicaraguan binder and all-Nicaraguan fillers. The cigars will come in one size – a 6 x 54 Toro and will be presented in 15-count boxes. A total of 3,500 boxes have been produced, with 500 boxes of the total production heading to the European market with Quesada's distribution partner, Longfiller Company, in the Netherlands.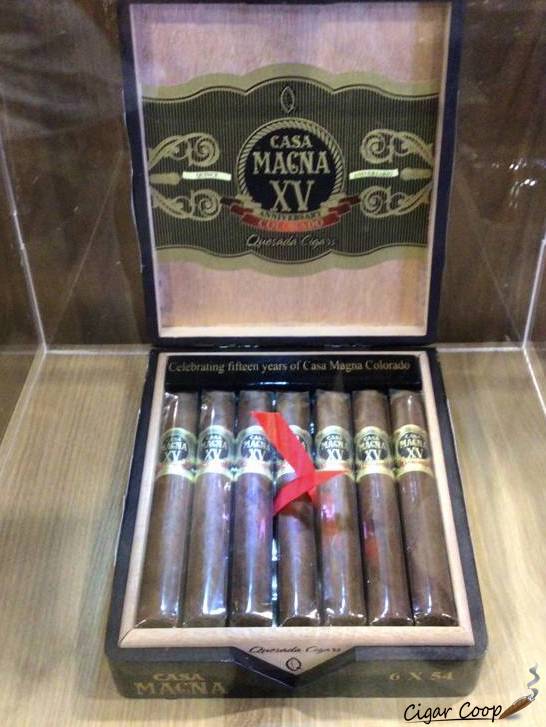 It wouldn't be a PCA Trade Show without seeing the annual Quesada Oktoberfest release. The summertime seems perfect to introduce Oktoberfest, with the fall months a little less than three months away. With the Trade Show moving to the spring next year, I wonder if Quesada will still use the PCA Trade Show to introduce Oktoberfest.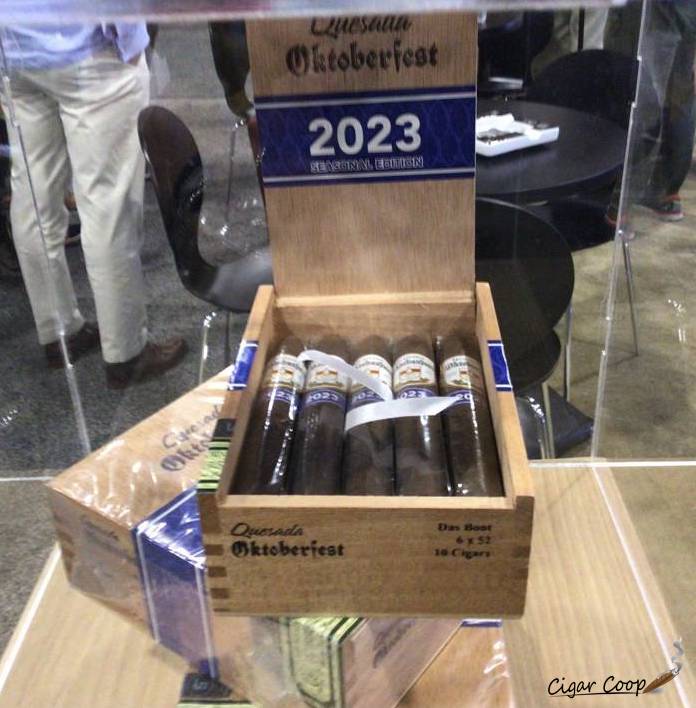 The Oktoberfest 2013 release is the third time in a row that Quesada is using the blend, which was introduced with the Oktoberfest 10th Anniversary. This consists of a San Andres Mexican wrapper over Dominican binder and filler. Three sizes are being released to retailers at the Trade Show: Uber (6 x 65, MSRP $11.80), Das Boot (6 x 52, MSRP $11.00), and Bavarian (5 1/2 x 52, $10.80). In addition, Quesada is bringing back the Salomon Press size that will be used at events. This is the first time it has been released since 2014. The Salomon Press measures 6 3/4 x 50 and is pressed in the center but rounded on the edges with tapering near the middle and ends.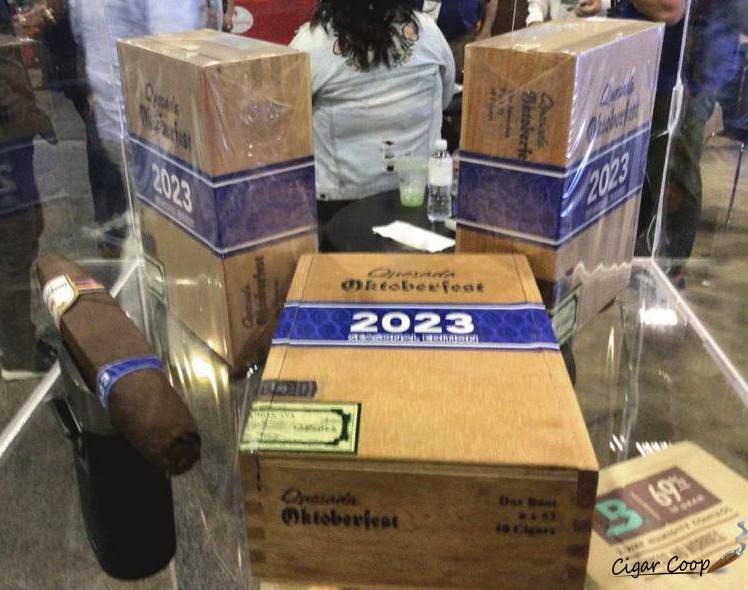 Finally, Quesada Cigars introduced two sampler packs. The first is a five-count Casa Magna Connecticut sampler. This sample comprises five Casa Magna Connecticut Toro (6 1/2 x 52) cigars. The second is dubbed the "Ultimate Brand Sampler," and it consists of five different cigars: Casa Magna Colorado Robusto, Casa Magna Connecticut Toro, Casa Magna Liga F Toro, Casa Magna D. Magnus II Primus, and a Casa Magna Oscuro Toro.
Interview with Manuel Quesada, Quesada Cigars
Due to age restrictions, you will need to click on Watch on YouTube to view this content.
Product Reports
Photo Credits: Cigar Coop