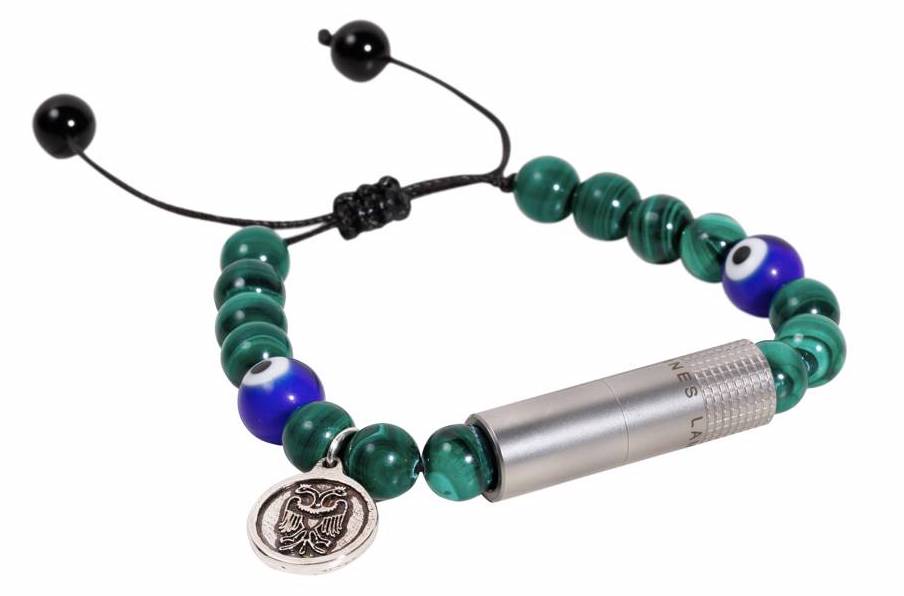 Les Fines Lames and Casdagli Cigars are again collaborating to release an accessory at Intertabac 2023, the limited edition Punch Bracelet – Villa Casdagli Eye. It's an extension of the Les Fines Lames' Punch Bracelet and is sold under Casdagli Cigars' Villa Casdagli subbrand. Previously, the two companies have collaborated, most notably on cigar knives.
The Punch Bracelet – Villa Casdagli Eye is decorated with two Nazar eye beads accompanied by striking 8mm malachite beads and carries a silver charm representing the special relationship formed over the years between Casdagli Cigars and Les Fines Lames. A nazar is an eye-shaped amulet believed to protect against the evil eye and the negative energies and bad luck associated with it. It originates from ancient times in Africa and the Middle East.
The Punch Bracelet – Villa Casdagli Eye has a hidden 7mm cigar punch cutter and is easily adjustable to the wrist size of the wearer. A total of 99 individually numbered pieces have been produced. It is currently available for purchase at the online shops of both partners and, in the near future, through selected distributors of Casdagli Cigars. Pricing for the Punch Bracelet – Villa Casdagli Eye was listed at 138.00€ on the Villa Casdagli Site.
"I remember the Nazar amulets decorating my grandfather's house in Mykonos, so they always carried a special place in my childhood memory. A big thank you to Pierre and Pablo in agreeing to marry these meaningful eye shaped beads to their beautiful and practical punch bracelet. A perfect foil to those that feel malevolent towards our wonderful hobby," says Jeremy Casdagli, the Founder and Co-Owner of Casdagli Cigars and Villa Casdagli Collection, in a press release.
"In recent years, we've forged remarkable collaborations with Villa Casdagli, a brand that holds a special place in my heart. Jeremy Casdagli, a pioneer who placed his trust in us in the early days, remains an inexhaustible source of inspiration. As they say, third time's the charm, and it's with great enthusiasm and gratitude that we collaborate with the Casdagli family for the third time. May the mystical eye of Nazar watch over us, ushering in a tide of boundless good fortune and happiness for Villa Casdagli and Les Fines Lames!" added Pierre Jourdan, Founder and Co-Owner of Les Fines Lames.
InterTabac 2023 takes place September 14-16, 2023, in Dortmund, Germany.
Photo Credit: Casdagli Cigars/Les Fines Lames