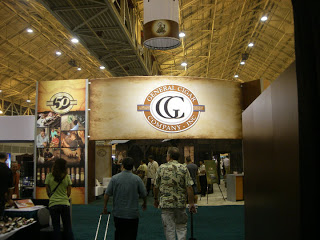 In the previous installments of Tales from the IPCPR, we have discussed a lot of family cigar companies and several indie cigar companies. Like in any industry sector, there are the big boys – a.k.a. the big corporations. A lot of times, the big corporations take a hit for being – say "too corporate". But this year, if I had to rate what cigar company had the best IPCPR in terms of what they are doing with product pipeline; hands down I would give it to General Cigars. These guys had nothing short of a home run at IPCPR! One of the key areas of focus at IPCPR 2010 for General – build up two of their already flagship brands: Macanudo and La Gloria Cubana.
First up, I felt excitement walking into the General Cigar lounge. Inside the lounge feel was to give this more of a "classic" cigar feel to it with some elements of contemporary. As you walked in, you would see some aging tobacco leaves. There was also a roller making La Gloria Cubanas. In addition, there were some of the modern perks that a big corporation can offer such as "Club Macanudo" where visitors could get free coffee and donut holes. There were plenty of showcases to highlight lots of cigar art.
The Aging Tobacco Leaves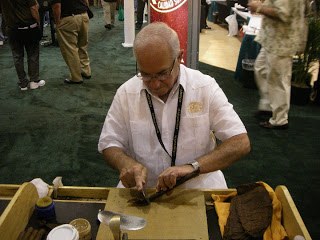 The La Gloria Cubana Cigar Roller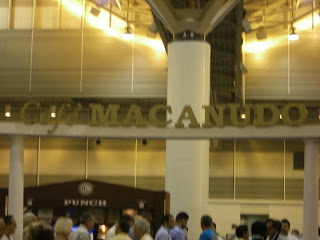 The Place to get Coffee and Donut Holes – Cafe Macanudo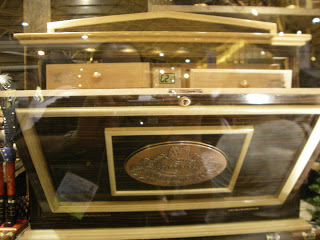 Cigar Art: A Beautiful Partagas Humidor on Display
On top of the wonderful setup at the General Cigar lounge, there was a lot of excitement about the new sticks being showcased. This wasn't a "let's put out a new stick". This was a conscious effort to examine two of the brands that have been very successful for General Cigars and look at how to expand on them. Overall, I was only pleased with what General Cigars is doing, but completely pumped!
Macanudo
Macanudo is one of those names that is pretty synonymous with the cigar industry. For those familiar with Macanudo, they are also known for making milder cigars. In 2008, the Macanudo 1968 was added to the brand. While this is a very good cigar, the higher price point (over $10.00 in most cases) has been the one question mark.
This year, Macanudo has two key additions to the brand that debuted at IPCPR:
Macanudo Cru Royale: This is Macanudo's entry into a medium bodied smoke. Price-wise, this is expected to be in that value priced cigar range of $6.00-$7.00 that many of the manufacturers have strived for in 2010. I tried this stick (and will review it soon) and liked it. The buzz I have seen around this cigar has been very positive.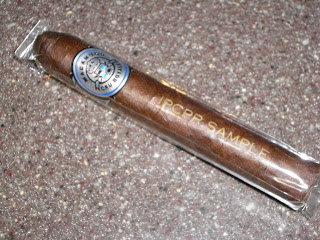 The Macanudo Cru Royale Sampler
Macanudo Maduro Vintage 1997: This is the first Maduro added to the Vintage line in the Macanudo brand. It contains a Connecticut Broadleaf wrapper from 1997. It is also intended to be a more full-bodied smoke. One unique feature is it will have a metal band as opposed to a paper band. While it is decorative, the metal band serves a purpose – it is meant to protect what is a very delicate wrapper on this cigar.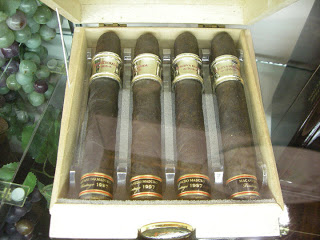 The Macanudo Vintage 1997 with its metal band- named for the year the wrapper was harvested
La Gloria Cubana
As mentioned in Tales From the IPCPR Part 10, La Gloria Cubana was founded by Ernesto Perez-Carrillo. In 2000, the La Gloria Cubana line was sold to General Cigar. During this time the La Gloria Cubana line became one of the most consistent brands under General – especially for the full-bodied flagship "Serie R" line. This year was a huge year for La Gloria Cubana. Not only are there new sticks, but this really marks the launch of the post-Carrillo era (Carrillo left General Cigars in 2009 to found EPC Cigars).
Earlier in the year, the "Artesanos de Tabaqueros" cigar was launched. This cigar is a Cigar of the Year candidate in my book. This is a unique cigar that has a Connecticut Shade lower third by the foot and hearty Ecuadoran Sumatra on the upper 2/3. This makes for two unique tastes in one stick – and an unbelievable "transition".
There were two significant additions at IPCPR to even further expand the La Gloria brand. Packaging will also play a key role here.
Artesanos de Obelisco: This has a unique, almost "pyramid-like" shape to it. It is actually modeld more after the shape of the "Heroes of the Restoration" monument located in the city of Santiago (Dominican Republic). This cigar will also be more on the more full-bodied side. The packaging is very unique as the cigars are arranged in a semi-circle styled box. Favorable reviews are coming back on this stick.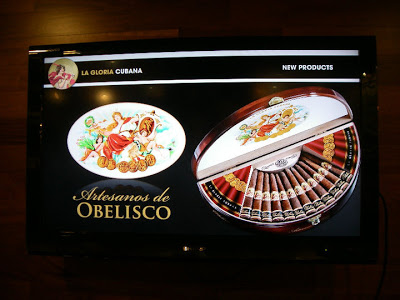 The unique packaging of the Artesanos de Obelisco
Serie N: This is meant to complement the already successful Serie R line. This combines Nicaraguan tobaccos with a Capa Oscura wrapper. This is also meant to be a strong full-bodied smoke. Packaging also unique here. 24 sticks are packaged in a red-colored hexagonal box. The cigars are layered at different angles. Part of the rationale here is to provide "breathing room" between many of the sticks. Perhaps the most amazing thing is that the letter N is etched right on the wrapper (not all the sizes contain the N). Reviews also very favorable.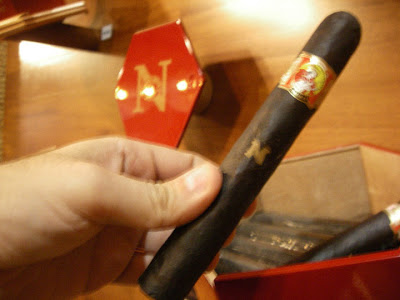 The Serie N with an "N" etched in the Capa Oscura wrapper. Hexagonal packaging in background
Without a doubt, this was a huge year for General. There was clear excitement evident at IPCPR coming from some of the good people who work there such as Rick Rodriguez (Rick proudly took us through the La Gloria brand while we were at the show and did a great job). I sincerely look forward to following up with everyone on the reviews of these sticks.