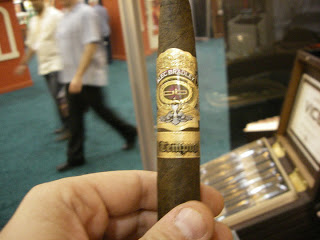 The new Alec Bradley Tempus Maduro
There were companies such as General, Miami, and Torano C that had major release years of new sticks at IPCPR. There were other cigar companies like Oliva, Camacho, and CAO that did not have major release years and instead chose to tweak their product lines. The visit to Alec Bradley Cigars was a little different than other lounges. While Alec Bradley was in the category of tweaking their product line, they also chose to market some other cigar related products – namely a new humidification system.
There were two new cigars unveiled at the IPCPR for Alec Bradley. The first was a Maduro version of the Alec Bradley Tempus. This is expected to be a limited production cigar. It uses a Mexican San Andreas Maduro wrapper. It also leverages a shorter fermentation to not suck out a lot of the strength and provide some wonderful Maduro sweetness. The second cigar was a Connecticut Ecuadorian version of the popular Alec Bradley Maxx.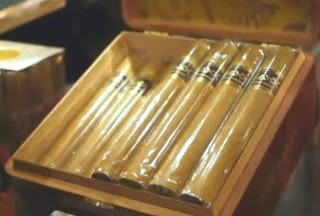 The new Alec Bradley Maxx with the Connecticut Wrapper
Alec Bradley's big focus was around its new humidification system with its new "Dr Rh" line. The unique part of this system is that customers will fill out a questionnaire on background information on where you live, humidor size, etc. Based on this information, a calculation is done when it is time to recharge the humidification system. The customer will then be notified via email that they need to recharge.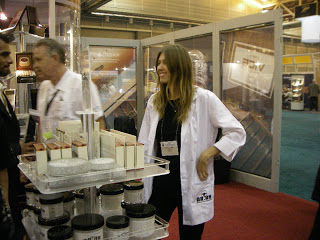 The creator of the Dr. Rh line
Finally, there was one really cool perk over at the Alec Bradley lounge. Visitors to the lounge could drop by and get a shoe shine for free. With all of the walking at IPCPR, this was a terrific idea. Now we all know a shoe shine can be relaxing, but how much better is it getting one while enjoying a nice toasty cigar!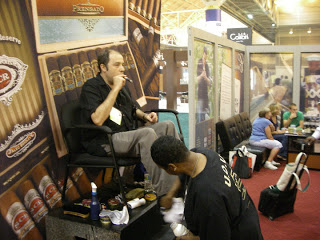 Cigar Coop receives a shoe shine while enjoying a cigar