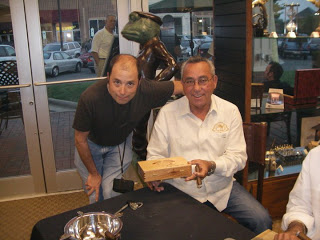 Cigar Coop with "The Master", Don Pepin Garcia
As I've mentioned several times here, the Cigar industry follows a "Donald Trump" brand model. With Trump's company, Trump is the face of the company – and the brand of his company. Many know icons such as: Jonathan Drew, Litto Gomez, Sam Leccia, Matt Booth, Christian Eiroa, Pete Johnson, and Dion Giolito – who are the faces of their company. This is also extended to icons who bring their families into the fold – with families such as: the Padrons (Jose O Padron/Jorge Padron), the Quesadas (Manuel Quesada and his daughters), the Toranos (Carlos Torano/Charlie Torano), the Garcias (Don Pepin Garcia/Janny Garcia/Jaime Garcia), Perez-Carrillo family (Ernesto Perez-Carrillo and children), and more. What is even more cool is that those who love the cigar business recognize these people as icons. In the Cigar business, these company faces often are directly promote their products themselves through events. When one of these events takes place at a retailer or another establishment, they draw big crowds. Therefore it was no surprise that when Don Pepin Garcia returned to Outland Cigars in Charlotte, NC on October 13th, it was once again a great night.
Back 2009, Outland Cigars in Charlotte Pepin at the store for what was Outland's biggest event ever. Unfortunately, my "other job" had me out of town and I was unable to meet the great Don Pepin. However, the Outlanders in attendance had nothing but high praise for this master blender. This time I had to alter my travel schedule to get to see Pepin this week.
Pepin was accompanied by his sales manager, Jose Ortega as well as his master roller, Rene Dominguez. The event featured a large selection of great deals of Pepin's "My Father" line including: the core My Father, My Father Le Bijou, the coffin-cased My Father Limited Edition 2010 (personally rolled by Pepin and his son Jaime Garcia), the new Jaime Garcia Reserva Especial, and the new La Reloba line. Rene was also providing hand-rolled masterpieces as well.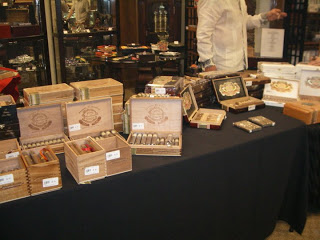 My Father Cigars on Display
But perhaps the what makes Cigar Event great is the personal interaction you get with the star attraction. During the event, Pepin was autographing boxes on request. Perhaps the best part was the roundtable that was done by Pepin. Pepin sat in the Outland Lounge with Jose Ortega and answered questions from the Outland Club members in attendance. The discussion included questions about Cuba, the future of the Cuban Embargo, Nicaraguan tobaccos, and in-general about Pepin's process for making cigars.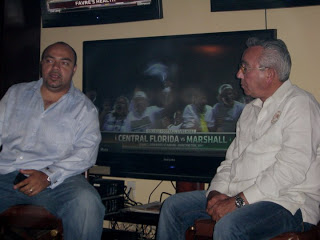 Jose Ortega and Don Pepin Garcia answer questions
The nice thing about this event was that the patrons at this event were saying that this event was just as big as the last event. If Pepin is in a town near you (or you are near Charlotte next time he visits), make an even with Pepin t a priority.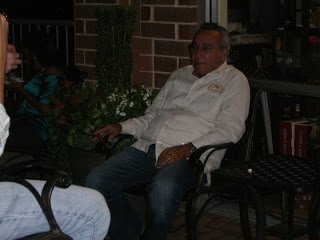 After a hard night of work, Pepin relaxes on the Outland patio