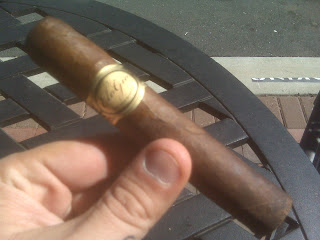 Prior to go to IPCPR 2010, our team had a series of prep meetings on how we were going to attack the trade show. One task was to really look for the Indie Cigars that would stand out and have something special. As part of his prep work, my friend Stace had done some research on Elogio Cigars and felt that this stick really fit the profile for the type of Indie stick that would be unique and bring something special to the table. At IPCPR, Stace visited the Elogio Cigars' booth and sampled some of the cigars. His words to me for the past two months – "you need to try that Elogio LSV sample you got". I'm pleased to confirm Stace's findings on this stick.
The selling point of the Elogio Cigar is a special wrapper from Somoto, Nicaragua that makes up this all Nicaraguan stick.
Wrapper: Nicaraguan Somoto
Binder: Nicaraguan
Filler: Nicaraguan
The stick is available in 5 sizes:
Churchill: 7 x 52
Torpedo 6 1/8 x 52
Robusto 5 x 50
Corona Extra 6 x 42
Petite Corona 5 x 32
For this pre-review, I sampled the Elogio Robusto. I put a straight cut into the cap and toasted the foot and began to enjoy this all-Nicaraguan stick.
The LSV starts with a pepper blast. This is a unique pepper flavor – definitely much more exotic (as advertised on the website) and it some ways it reminded me of an Indian spice. There was also some tanginess to the flavor as well. The pepper blast and tang does fade as you get toward the 1/3 point of the stick. At this point, some cinnamon sweetness tones compliment the exotic spices, I also detected some wood tones at the 1/3 point. In the second third of the cigar, the exotic spices (and to some extent the tanginess) fade just about completely and a coffee/cream taste emerges. The wood tones seem to move more toward a leather taste (I'm learning more about this flavor tone as I taste more cigars). Around the 2/3 point, it is a mocha-coffee-cream tone that is the dominant note.
The first 2/3 of this stick was awesome. It was one of the most unique and complex flavor compositions I have had in a cigar. However, in the last third of the cigar, I began to pick up a harsh and bitter tone that seems to overcome the mocha tones. To be fair to this stick, I smoked this Robusto much slower than I normally smoke a cigar of this size. It's possible the harshness was a result of burning this stick a little longer.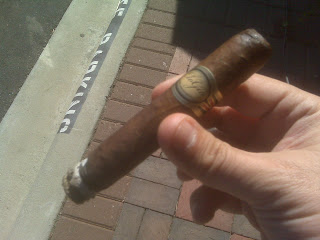 The draw of this stick was simply fantastic. I did not have to work this stick very hard to get a good draw. The burn was another story as this was not the best burn. I had to touch this stick up several times during the smoke. I did have this stick in my best humidor for two months since IPCPR, so I was disappointed with the burn. Despite the bad burn, this was cool and firm finish. I was able to get a good nub from this.
As for strength and body, I'm going to classify this as a Medium to Full in strength. As for body, I think this stick actually is full-bodied to start (with the initial exotic spices) and then settles into a Medium to Full for the remainder of the stick.
I opted to put this cigar into Pre-Review status until I get to try it again. The main reason is because I'm wondering if the harsh tones and burn issues were simply related to this one stick. I also want to learn a little more about the tobaccos in this stick. Still, the flavors of this cigar are so unique, it makes me want to go back to again. It also is a cigar I would want my local retailer to have on the shelf.