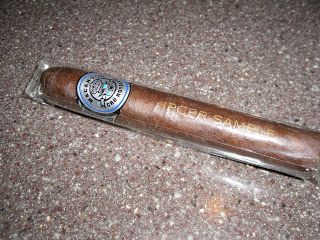 During the 2010 IPCPR, it was my opinion that General Cigars had the best year in terms of new product releases. One of the most exciting things General has been doing is investing in building their existing brands. I mentioned La Gloria Cubana as one of the brands that has seen an expansion take place. The other brand under the General umbrella seeing expansion is the Macanudo brand. Macanudo is known for their value-priced cigars that have had a reputation for not being overpowering. Back in 2008, General sought to change that reputation by introducing the more full-bodied, robust and bold, Macanudo 1968 cigar. This year in 2010, General sought to add a Medium bodied stick and would succeed with flying colors with the new Macanudo Crü Royale.
For the blending of this stick, Macanudo brought out the big guns – and had none other than the legendary blender himself Benji Menendez to craft this cigar. The composition of this stick really excited me, so let's take a closer look:
Wrapper: Ecuadoran Habano
Binder: La Vega Especial (Dominican Republic)
Filler: Dominican, Brazilian (Mata Fina), Nicaraguan
The stick is available in the following sizes:
Lonsdale: 6 1/2 x 42
Gigante: 6 x 60
Toro: 6 x 54
Robusto: 5 x 50
For this stick, I selected the Robusto size. I put a punch into the cap, then began the lighting of the cigar. Overall, I found the flavor profile of the Crü Royale to be very satisfying. Upon the initial draw, it had a unique flavor – a combination of oak, coffee, and ginger notes. Around 1/2 way through the smoke, I noticed more of a transition from the ginger taste to more of a cinnamon taste. I would not categorize this as a complex cigar, but one that delivers in flavor. The strength and body of this cigar are pretty much in the medium category.
The draw was excellent on this cigar as it did not require a lot of work to enjoy the flavors this stick had to offer. The burn was more on the fair to good range, but I will say the sticks I have had so far were IPCPR samples.
While I love what Macanudo did with the more full-bodied Macanudo 1968, I feel they priced themselves a little high (around $8 – $11 depending on retailer) with that stick. The Crü Royale falls into the sweet spot of the premium "value-priced" cigar of $5.00-$7.00. This is great value and one I'd recommend picking up.
Strength: Medium
Body: Medium
Assessment: Nice to Have