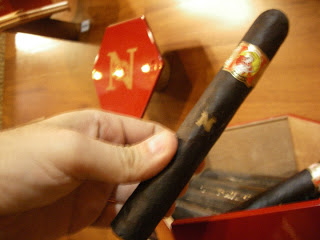 The Beauty of the La Gloria Cubana Serie N


I've mentioned this several times – during the 2010 IPCPR, it was my opinion that General Cigars had the best year in terms of new product releases. The key thing I've seen from General is investing in building their existing brands – namely Macanudo and La Gloria Cubana. Recently I just reported on the new Macanudo Crü Royale, therefore it is only fair to discuss one of the new La Gloria Cubana sticks that debuted at IPCPR. For this review, I selected the La Gloria Cubana – Serie N. I consider La Gloria Cubana to be one of the most consistent brands available in any humidor today. I'm very pleased to report that the Serie N continues the fine tradition started when Ernesto Perez-Carrillo when he launched La Gloria Cubana. While Ernesto has long since departed General, the brand is in great hands with "Team La Gloria Cubana" (namely Yuri Guillen ,Benji Menendez, Michael Giannini and Rick Rodriguez)
Back in my IPCPR report, I summarized the Serie N as: "This is meant to complement the already successful Serie R line. This combines Nicaraguan tobaccos with a Capa Oscura wrapper. This is also meant to be a strong full-bodied smoke. Packaging also unique here. 24 sticks are packaged in a red-colored hexagonal box. The cigars are layered at different angles. Part of the rationale here is to provide "breathing room" between many of the sticks. Perhaps the most amazing thing is that the letter N is etched right on the wrapper (not all the sizes contain the N)."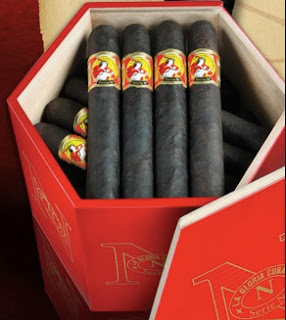 The Beautiful Hexagon Box of the Serie N
Let's dive a little more into the Serie N in terms of its composition and sizes. As mentioned, the Serie N contains Nicaraguan tobaccos (thus the reason for branding it an "N"):
Wrapper: Capa Oscuro (Ecuadorian Sumatra)
Binder: Nicaraguan (Proprietary)
Filler: Nicaraguan (Proprietary)
Generoso: 5 3/4 x 49
Glorioso: 6 1/2 x 58
JSB: 5 1/2 x 54
Rojo: 6 1/2 x 4
Being a big ring gauge Cigar enthusiast, I immediately gravitated to the Glorioso. I put a straight cut into the cap, toasted the foot, and prepared to enjoy this stick – as this stick was one I was really looking forward too.
The initial notes of flavor were mocha/chocolate tones. These were not sweet, but really had a natural mocha/chocolate taste to it. About 1/3 into the stick, a sweetness emerged on the stick. I was detecting some black cherry notes, but this wasn't the sweetness. Finally, it hit me – this was a raisin-like sweetness. This raisin sweetness will become the dominant tone in the second third of this cigar – really good stuff. As the cigar progresses into the final third, the raisin sweetness does diminish a bit and the mocha tones soon re-emerge. At the same time, I picked up some leather notes (like I've said several times, I'm getting better at picking up the leather tones). The finish was warm and soft, but this could be because I had this big stick lit for well over 90 minutes. Overall, I loved the flavor of this stick!
The burn was outstanding throughout the whole stick and maybe only required one or two tiny touch-ups. For the most part, the ash was good, but the ash did get a little flakey at the end (again, might be due to the fact that I had this stick lit for well over 90 minutes). I did find the draw a little tight, but this particular stick was just stocked on the store shelf where I bought it – so this could be the reason.
The flavor tones are definitely on the full body side. As for the strength, this had some punch, but still would put this on the high-end of the medium to full side.
Another nice thing is the price point – I've seen the Serie N priced in the $6.00-$8.50 range, so this won't break the bank. This cigar is right up there with the best of the cigars that have been released in 2010. It's been a great year for Team La Gloria Cubana with the outstanding Artesanos de Tabaqueros (released earlier this year) and now the Serie N (and I still have to review the Artesanos de Obelisco that was also released this year). La Gloria Cubana is definitely on target for cigar brand of the year. Bottom line is the Serie N is a stick I highly recommend.
Strength: Medium to Full (High end)
Body: Full
Assessment: Memorable