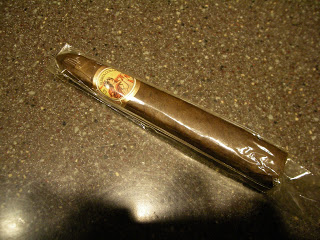 #16: La Gloria Cubana Artesanos de Obelisco
Today we approach the half-way point of "30 Cigars in 31 Days" – my review of the Top 30 Cigars for 2010. Following today, we enter the Top 15 for sticks of the year.
Slotting in at #16 that has one of the most unique vitolas around – the La Gloria Cubana Artesanos de Obelisco. The Obelisco is only available in one vitola, but it is a beauty. It has a unique, almost "pyramid-like" shape to it. It is actually modeled more after the shape of the "Heroes of the Restoration" monument located in the city of Santiago (Dominican Republic).
The blend consists of the ever-popular Ecuadorian Sumatra wrapper combined with a Dominican binder and combination of Dominican and Nicaraguan Ligero filler. The cigar has very good complexity in its favor tones consisting of transitions of earth, wood, roastee nuts, cedar spice, and even some cayenne pepper. The strength is definitely medium to full and the body is definitely full-bodied.
The amazing thing was the smoking experience of this stick. The odd shape had this cigar smoke like a combination of a box-press and a Lancero. I was amazed for such an unorthodox vitola how well this cigar burned and drew. It even had a nice cool and firm finish.
I will post a more detailed review in the near future.


Recommended Vitola: 5 x44 x 57 (Due to its unorthodox shape – ONLY VITOLA Available)