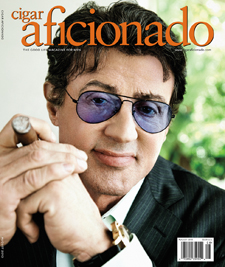 I've been pretty critical of Cigar Aficionado's Top 25 list of Cigars over the past few years. While many of us might gripe about this list, this is still the barometer for what our industry looks at. When your cigar makes this list, you have arrived. When you are a retailer and you have a cigar in your shop that is on this list, it is great for business. Therefore, this list is important and noteworthy. I was expecting to write my first commentary bashing this list. However, I was pleasantly surprised – I think Cigar Aficionado did a better job than they have in previous years.
Three have been three primary reasons that I am critical of this list:
1. I don't think you can rate Cuban Cigars when the majority of your readership has no legal access to these sticks. Cigar Aficionado does this.
2. I don't think rating a new Vitola for an existing blend is something that should be done. I did a separate "New Vitola of the Year"
3. My perception of the list is that the Indie Cigars have not been given due justice when the cigar selections have been made.
On a side note, it also was a big year for the "Limited Run" cigars, so I'm curious to see where or if these show up on the Top 25. My gut tells me we won't see a lot on the Top 25 list – although Padron's 45th Anniversary did top their list last year.
Cigars 6-10 were released today. The selections were listed below and you can click on the Cigar Aficionado Web-Site link here. No the selections weren't perfect and all of the same issues that I list above are still present. However, I do think the picks are better in terms of the quality of the cigars.
| | | |
| --- | --- | --- |
| Rank | Cigar | Thoughts |
| 6 | La Aroma De Cuba Mi Amor | Great selection. This ranked #11 on my list, but I'm pleased to see this one on the CA list. |
| 7 | Illusione Epernay | My experience with this cigar was negative. While I know people love this stick, this is the one stick I did not enjoy so I will leave it at that. |
| 8 | E.P. Carrillo Elencos Edicion Limitada 2010 | Thrilled to see EPC in the Top 10. In my opinion, the Short Run was the better cigar (and I had the Short Run ranked at 15) |
| 9 | H. Upmann No 2 | I'm not pleased CA lists Cuban cigars, but if they are going to pick one – this is a good one. Problem is that this is not a new blend, but a new Vitola. |
| 10 | La Flor Dominicana Air Bender Chisel | I was pleased to see the LFD Air Bender on this list. This was an honorable mention on my list and was a good cigar. The chisel is the best of the vitolas. |