Last year my favorite new cigar that was released by Torano Family Cigars was the "Master by Carlos Torano". In fact I was so high on this blend that in my Top 30 Cigar of the Year countdown, this cigar placed #17 – an excellent showing in an ultra-competitive year for new releases. I was really excited to find out that they have released a new vitola to add to the Master line – this one is beautiful 6 x 60 cigar called the BFC. Given that this is my favorite size of a cigar, I was pumped. A few months ago, I did post a detailed review of this cigar, but I had sampled the Robusto. Given that Torano was kind enough to send me a sample, I felt the least I can do was provide some feedback. The best news is that the cigar did not disappoint. This is another home run for Torano!
I know a lot of folks think a 6 x 60 cigar loses something in the way of flavor. While sometimes this is the case, I also find if the cigar is well constructed, you will get a smooth cigar. I also love that "Tony Soprano" feeling of a big cigar in your mouth – creates a sense of boldness and confidence! Sometimes I have had construction issues with the big cigars as well, so I'd consider myself a tough customer to please. The great news is the Master by Carlos Torano BFC gave me a smooth smoke, that sense of boldness – and yes was a well-constructed cigar.
The Master is a joint effort by Charlie Torano and his "master roller" Julian Felipe Sosa. In fact, Torano Family cigars paid homage to Sosa by placing his picture on the box, thus the genesis of the stick name. Let's take a closer look at the construction of this cigar:
Wrapper: Ecuadorian Habano
Binder: Nicaragua (Esteli)
Filler: Nicaragua (Esteli & Jalapa)
With the release of the BFC, The Master is available in five sizes:
Robusto: 5 x 50
Toro: 6 x 54
Torpedo 6 1/4 x 52
Churchill: 7 x 50
BFC: 6 x 60
Like when I reviewed the Robusto, this cigar started out real smooth – it had a nice mix of earth, black cherry, and cedar spice. With the BFC, the spice was a little more toned-down than the Robusto, but I come to expect this with a bigger ring gauge. Like the Robusto, I did notice a change in the spice around the 1/3 point -from a cedar spice to more of a baker's spice. I also noticed a change in the sweetness in the first half of the cigar – it goes from a black cherry to a raisin-like sweetness. The raisin notes are not overpowering, in fact – they are very smooth.
Like the Robusto, as the BFC crosses the halfway point, I noticed more of of the earth tones begin to take center-stage. This combined with the baker's spice and raisin sweetness was wonderful as I smoked a pretty good nub on this cigar. Considering the large size, the finish was not harsh and not soft. The nub was a little warm, but I expect that with a big ring gauge.
I mentioned I am picky about construction on a big cigar. This cigar was low maintenance in terms of draw. It was not too loose and not too tight. The burn was excellent as I smoked this cigar almost two hours. Strength wise this cigar will not kick your butt, it is a medium. While I had the Robusto as more Medium to Full in terms of body, because of some of the toned-down flavor notes with the BFC I'm inclined to give this a medium in terms of body. I don't view this as a negative as it really was a smooth smoke.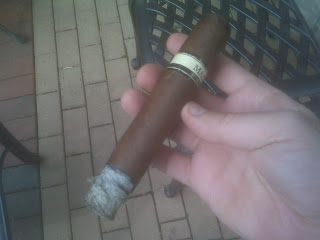 Razor Sharp Burn of the Master by Carlos Torano BFC
Given I am a tough customer when evaluating a 6 x 60, I simply loved this size in the Master. This is a cigar I would love to have a box of in my collection. If you are a 6 x 60 fan looking for a well-constructed cigar that smokes real smooth, this is the cigar for you. If you are apprehensive at times about having a 6 x 60, I suggest giving this one a try. In fact, I've upped my assessment from the Robusto to give the BFC a "Memorable".
Draw: Excellent
Burn: Excellent
Strength: Medium
Body: Medium
Assessment: Memorable