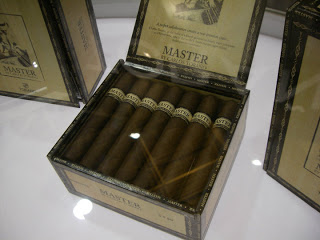 Back at the 2010 IPCPR, one of my most exciting visits was to the Torano Family Cigar booth. During that visit, I saw a lot of energy and excitement around the recent re-branding of the company and the new releases that were due for 2010. I recently was very satisfied with one of these new sticks – the Single Region Serie Jalapa. Therefore, I was equally as excited to try the new Master by Carlos Torano. Once again, I was not disappointed.
The Master is a joint effort by Charlie Torano and his "master roller" Julian Felipe Sosa. In fact, Torano Family cigars paid homage to Sosa by placing his picture on the box, thus the genesis of the stick name. Let's take a closer look at the construction of this cigar:
Wrapper: Ecuadorian Habano
Binder: Nicaragua (Esteli)
Filler: Nicaragua (Esteli & Jalapa)
The Master is available in four sizes:
Robusto: 5 x 50
Toro: 6 x 54
Torpedo 6 1/4 x 52
Churchill: 7 x 50
For this review, I opted to go with the Robusto. Lately I've been more on a Robusto kick because I find with the colder weather in the Carolinas, this is a better cigar size to smoke outside. However, for this review I was able to sample this cigar in the climate controlled confides of Outland Cigars.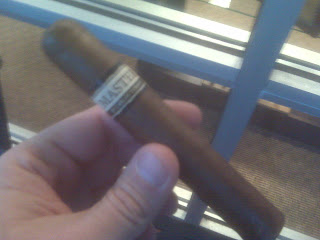 The Master by Carlos Torano Robusto
Sometimes with Nicaraguan fillers and binders, I tend to notice a salty start (and this just might be me). However, this cigar started real smooth – it had a nice mix of earth, black cherry, and cedar spice. As the cigar progressed to about the 1/3 point, I noticed an increase in the spice. This spice was not overwhelming and it made for a very smooth smoke. The spice actually seemed to transform a bit – from a cedar spice to more of a baker's spice.
As the smoke crosses the halfway point, I noticed more of of the earth tones begin to take center-stage. This combined with the baker's spices is the way I brought this cigar home to the finish. I was able to get a terrific nub. I smoked this one slow, and savored all of the flavors – a good 90 minutes I spent on this Robusto. This stick never got harsh and was great right until the end. In general, I found the Master to be a smooth cigar with just the right among of spices and flavor. I definitely would categorize this as a Medium strength stick with Medium to Full body.
I'm pretty picky on the burn of a cigar, but this one produced one of the best burns I have seen from a stick in 2010. In general, Torano has done a great job in construction of the new sticks because the Single Region Jalapa also has a consistent great burn.
I mentioned the pride that Charlie Torano and his team had at IPCPR 2010 – and once again this reflects in a product. Like the Single Region Jalapa, Torano appears committed to delivering premium cigars in the value priced range. Give or take a few cents, I do believe these sticks will be priced about $5.50-$6.50 a stick. I wouldn't hesitate to get a box of these as these will make wonderful everyday smokes as well as special occasion stick.
Draw: Excellent
Burn: Excellent
Strength: Medium
Body: Medium to Full
Assessment: Nice to Have