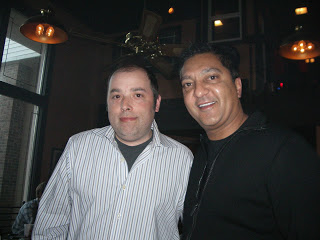 Cigar Coop and Rocky Patel
Making his rounds through the southeast, world-famous cigar-maker Rocky Patel made a stop in Greenville South Carolina at Outman Cigars for an event. As usually the case, Rocky drew a big crowd – I'm estimating about 150 people jam-packed Outman Cigars for a great evening.
One thing that always strikes me about Rocky is how personable he is. I happened to be seated near the entrance of Outman, and as soon as he walked in, he immediately began shaking hands with the guests. He always took time for a conversation, and must have taken over a 100 picture and autograph requests during the evening.
Perhaps the most interesting conversation I overheard was when a Pittsburgh Steelers fan started talking to Rocky Patel. Rocky is a huge Green Bay Packers fan and last week his beloved Packers took their fourth Super Bowl title by defeating the Steelers. Total respect by both Rocky and that individual for each other's team there – and that respect is what makes the cigar scene so special.
Rocky addressed the crowd and made two points.
1) Rocky kicked things off discussing the importance of the work of the Cigar Rights of America (CRA). He talked about the battle against cigar taxes and the increasing amounts of the smoking bans. He discussed how the cigar scene is a lifestyle and culture and should not be lumped in with cigarette smokers. One important point he made is the importance on educating legislators who might confuse cigarette smoking with cigar enthusiasm. It is this effort where the CRA can really help cigar enthusiasts.
2) The second half of Rocky's speech was focused around Cigar 101. Rocky talked about the hand-made process of making cigars. He discussed the process from "seed to store" (an overused expression, but I couldn't think of a better one). Always interesting to hear stuff like this. It's great for novice enthusiasts and I also feel more experienced enthusiasts can learn from this type of discussion.
Rocky closed his speech with his trademark expression from his radio commercials, "I promise you, nobody works harder than we do"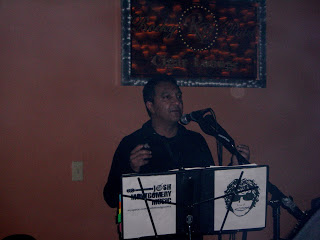 Rocky Patel addresses the crowd at Outman Cigars
There was some interesting music from a young musician by the name of Josh Montgomery. He did a great job at putting together some medleys of some classic rock songs by artists such as the Beatles, Queen, Guns and Roses, the Kinks, and a lot more. He was a one man guitar show (although he did have some pre-recorded instrumentation). The best part is how he strung the music into one continuous medley. Even Rocky was even digging the music.
One of the cigars I smoked that was a huge surprise was the Rocky Patel Valedor. This was a cigar that really flew under the radar in 2010. This was a cigar that Rocky blended specifically for the National Rifle Association. My buddy Dan and I smoked this and we found this to be a pleasant surprise. I'll post a more detailed review on this one in the near future.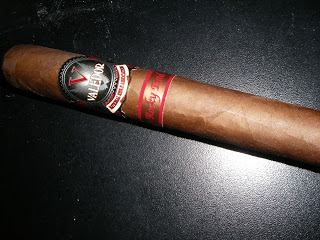 Rocky Patel Valedor
One interesting tidbit. Dan also asked Rocky about the future of the seasonal blend series. I had heard some rumors about this series being resurrected. Rocky was non-committal on this, but he did confirm something I some buzz around across the internet – The Rocky Winter Blend 2008 is the current Patel Brothers offering. This was something I did not know before.
I don't think anyone went away from the evening disappointed. It's one of the unique benefits about the cigar industry – the access you get to the "rock stars" or what I term "cigar-ebrities" of the cigar world. This was a prime example of such a benefit.