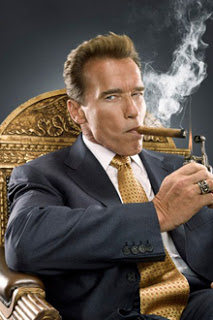 Photo from CRA Email Correspondence
The following was an email sent to members of the Cigar Rights of America. This contains a letter from former California Governor Arnold Schwarzegger who vetoed a smoking ban back in 2007. With the new SB 575 lurking on the horizon, there is now a new Governor (Jerry Brown) and this time a veto might not be a guarantee.
The SB 575 bill calls for a tobacco ban on: all retail tobacco businesses, private clubs, hotel lobbies, bars, taverns, banquet rooms, warehouse facilities, and employee break rooms. In other words, your worst nightmare if you are a cigar enthusiast.
Click here for what you need to do. This is important whether you live in California or not. Here is the text from CRA and Schwarznegger's letter on the veto back in 2007:
Why We Should Still Be Listening to Former Govenor Arnold Schwarzenegger
This is to remind our members, that in 2007 when California Senator Mark DeSaulnier was a member of the State Assembly, he sponsored an identical piece of legislation that was passed by the Assembly and Senate, and was stopped by Governor Schwarzenegger with his veto pen. It could happen again, and we don't have "The Governator" to stop it….we have Governor Jerry Brown.
We remind our national membership, that what can happen in California, can happen in your community. National models for anti-smoking legislation spread, especially after it gets traction in a place like California.
Let's keep up the pressure to stop this effort to ban smoking in cigar shops, private clubs and related venues!
Schwarzengger's Veto Letter – 2007
BILL NUMBER: AB 1467
VETOED DATE: 10/14/2007
To the Members of the California State Assembly:
I am returning Assembly Bill 1467 without my signature.
This bill would remove a limited number of exemptions found in current law that permit smoking in specified bars, warehouses, hotel lobbies, meeting and banquet rooms, and businesses without employees.
California has led the nation in effective smoking control activities, achieving the second lowest rate of smoking among adults in the nation. The cessation of smoking is a component of my plan to encourage Californian's to lead a healthy lifestyle and thereby reduce health care costs. While more needs to be done to reduce smoking rates, I do not agree that placing further restrictions on business owners is the correct approach. Instead, California can further reduce smoking rates in other ways, such as increasing access to cessation services offered through the highly effective California Smokers' Helpline.
Sincerely,
Arnold Schwarzenegger