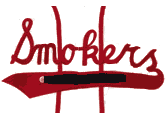 If you have listened to Cigar Dave the past couple of weeks, you have heard the story about the Tampa Bay Rays wearing a throwback jersey on their July 2nd game against the St. Louis Cardinals.  The jersey they selected was from an old Class B team that played in Tampa called the Tampa Bay Smokers.
On one version of the Smokers' jersey, it consisted on a cigar on the logo.   The Rays have opted to wear a version of this jersey, but a modification of the original   They are omitting the cigar on the logo.
The Smokers were a team that existed when many of Tampa's cigar factories owned baseball teams.  It is a part of Tampa's history.  If you go to Ybor City in Tampa, you see how important the cigar industry has been and still is to Tampa.
The irony is they still are using the Smokers name, so what would the harm be in using the original jersey?  The Rays are a new team and should be doing everything possible to embrace the history of Tampa – especially given the fact they are struggling at the gate despite being a very good team.  I also don't buy the Rays' explanation in a statement they issued:
We have chosen to wear the Smokers' jersey to celebrate the rich heritage and traditions surrounding baseball in Tampa Bay and this version of the logo is intended only to be a slightly more contemporary version of that wonderful history.
It's a shame because this is a jersey I would love to wear if it had the cigar on it.   Thank goodness for Jack McKeon who is managing  Florida's other team – the Florida Marlins.   McKeon loves cigars and makes no bones about it.
Here is a local news report (video) on this.