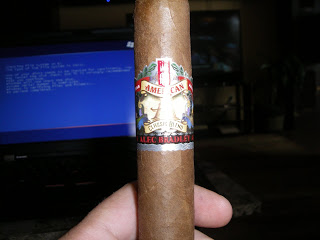 Alec Bradley American Classic Blend – Gordo
I have to admit, when I got word of the new Alec Bradley Cigar – the American Classic Blend, I did not know what to make of it. Part of me wondering if this was going to be an all-American puro. It turns out that this was not the case. With the American Classic Blend, Alec Bradley sought to blend a cigar that turned back the clock a century and had the feel of a smoke during the early part of the 20th century. While I cannot assess whether Alec Bradley met this objective or not (namely I haven't had a cigar from that time period), I can tell you one thing – Alec Bradley has added a very good addition to their family of cigars.
It was only this past week where I have gotten the opportunity to sample the Alec Bradley American Classic Blend. I had heard several reports over the past few weeks since it was released around late May/early June. The most noteworthy thing I heard was how this was going to be a mild offering by Alec Bradley. I immediately began to wonder with so many good mild cigars being released this year (the E.P. Carrillo New Wave Connecticut, the JD Temptation Claro, and 601 White Label) whether the American Classic Blend would get lost in the shuffle. After sampling this, it is clear that the American Classic Blend stands on its own.
The Alec Bradley American Classic Blend is the first cigar to be released with the new Alec Bradley logo. Let's take a closer look at what this brings to the table.
Blend Profile
While the American Classic contains a Connecticut Shade wrapper, the tobaccos from this cigar come from Nicaragua and Honduras. Most interesting about this blend is that the Connecticut Shade wrapper was grown in Honduras.
Wrapper: Honduran-grown Connecticut Shade
Binder: Nicaraguan Jalapa
Filler: Nicaraguan (Esteli and Condega)
Vitolas Available
The Alec Bradley American Classic Blend is available in five sizes:
Corona: 5 1/2 x 42
Robusto: 5 x 50
Toro: 6 x 50
Churchill: 7 x 48
Torpedo: 6 1/8 x 52
Gordo: 6 x 60
Preparation for the Cigar Experience
Naturally since there was a Gordo-sized vitola, I opted for it. Many will know I fall into the minority of cigar reviewers because I love big ring gauge cigars. I placed a straight cut into the cap and took some dry draws. The pre-light draws were flavorful – a mix of wood, cedar, and slight undertones of mixed fruit. It was a decent pre-light experience. I then toasted the foot and prepared to enjoy the cigar experience.
Flavor Profile
After lighting the American Classic Blend, I was treated to an interesting mix of flavor notes: mixed fruit, mild cocoa, mild pepper, cream, and some wood. It didn't take long before mixed fruit notes moved to the forefront with the mild cocoa as a secondary note.
About 15 percent into the cigar experience, there are some flavor changes. It is at this point that a baker's spice emerged. Meanwhile the mixed fruit started to morph into more of a honey sweetness. When the cigar experience entered the second third, I noticed the sweetness begin to fade and the baker's spice seemed to go back to a classic pepper taste.
Toward the end of the cigar experience, the notes seemed to go back to wood and cedar again. I had a very nice firm and cool nub, but the finish was a little harsh. This sometimes is the by-product of slow smoking a big ring gauge cigar.
Burn and Draw
The burn did require a few touch-ups along the way, but for the most part it burned well. The cigar did not burn hot and it burned at a near perfect rate. I did find the draw a little tight. While it didn't significantly impact the burn or flavor, it still was a little more difficult to work with than I prefer.
Strength and Body
I had to think long and hard, but I did not find this to be a mild strength or mild-bodied cigar. In fact, I did not find this to be mild to medium in strength and body. In both categories, I felt the Alec Bradley American Classic had just enough power and flavor depth to qualify as a medium in both categories. This is the kind of cigar that still makes a great morning smoke, but offers a little more than your typical morning smoke.
Final Thoughts
As I said above, I don't think this cigar is one to compare to some of the other milder cigars that were released in 2011. I can say, that this cigar does stand well on its own. While I did struggle a bit on the draw, I would still smoke this cigar again. The other positive thing is that this is going to be one of the best priced cigars in your retailer's humidor – you are looking at $4.00 – $6.00 depending on the size and tax in your state. This also is a great cigar for newer enthusiasts to sample and experience some great flavor nuances. Overall a nice addition to the Alec Bradley family.
Summary
Burn: Good
Draw: Fair
Complexity: Medium
Strength: Medium
Body: Medium
Assessment: Nice to Have
Disclamer: The cigars used for this assessment were purchased from Charlie's Tobacco Outlet in Charlotte, NC.