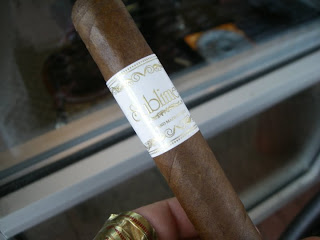 The Sublimes Cigar
One reason that I have been a big supporter of HR 1639 is to protect the Indie cigar companies. The Indie cigar companies really provide a nice niche to the cigar industry. In particular, if HR 1639 is not passed and premium cigars are no longer exempt from FDA control, it could subject Indie cigar companies to submit blends for approval. This could cripple not only the Indie cigar industry, but the cigar industry as a whole. Case in point, one Indie cigar that I recently discovered was a brand called Sublimes. I had not heard of this cigar before a cigar representative that handles Sublimes came into our store. The resulting cigar experience was really positive and it proved that Indie cigar companies are an important sect of the cigar industry.
Sublimes was a regional cigar company out of South Florida. Recently, they have been expanding their marketspace on a more national level. These cigars are made right in South Florida – which still has a mystic appeal to some cigar enthusiasts. Ultimately, the end product is going to dictate how well the product is received.
Here is a closer look at the Sublimes:
Blend Profile
From its appearance, the Rosado wrapper surrounded by a white band really makes this cigar stand out:
Wrapper: Habano Ecuador Rosado
Binder: Habano Nicaragua
Filler: Habano Nicaragua
Vitolas Available
The Sublimes is available in 5 sizes:
Robusto: 4¾ – 50
Robusto Extra: 5¼ – 52
Double Robusto: 5¾ – 54
Grande: 6¾ – 56
Magnum: 6¼ – 58
Preparation for the Cigar Experience
For this cigar experience, I sampled the Robusto. I opted for a punch cut into this cigar – I had not done a punch cut in some time, so I was long overdue to do this. The prelight draws gave an interesting combination of cedar and raw caramel to start with. This was an interesting combination to start. It was now on to lighting the Sublimes and savoring in the cigar experience.


Flavor Profile
There was some complexity right out of the gate with the Sublimes. The initial notes were a combination of cedar, coffee, and cherry. It doesn't take long before I detected some floral notes. At the same time, cinnamon flavors emerged. The Sublimes takes on an interesting profile of cinnamon and floral, but with some nice coffee notes in the background. No this wasn't a potpourri candle, it would have some great tobacco flavor to make this a solid smoke.
Around the 1/3 point, there are notes of cream and cedar spice that emerged. The cinnamon, floral, and coffee notes are still very much present. For the remainder of the smoke, the cinnamon and floral notes do alternate as what is the predominant flavor. Again, with the coffee, cedar spice, and cream it made for one of the more unique flavor profiles from a cigar.
Toward the end, the flavors did turn harsh on me – particularly in the last 20% of the smoking experience. While the nub wasn't hot, it was soft. I really can't put my finger on why it turned harsh.
Burn and Draw
Overall the burn wasn't hot and the cigar didn't burn fast. It did require several touch-ups along the way. I would still say it was a good burn, but it probably could have been better. The Draw was a little tight. Again, this wasn't a bad draw, but it probably could have been better.
Strength and Body
The Sublimes is not a cigar that is going to overpower you in either category. It's a classic medium strength, medium bodied smoke. It will not be a nicotine bomb and the flavors are not going to be super deep. The Sublimes does a good job at balancing these two attributes – something that is very important in my book.
Final Thoughts
Despite the harsh finish of this cigar, I do think this cigar has some promise. Up until the point the cigar turned harsh, I was actually enjoying what this cigar was bringing to the table. I'm normally not one to enjoy a cigar with floral flavors, but this one did a good job by balancing it with some other flavor notes. Being a big ring gauge cigar enthusiast, I'm real curious to see how the Magnum and Grande vitolas smoke and taste. I'd definitely give the blend a try again. I might still steer this cigar away from recommending this to someone who tends to smoke full strength/full bodied smokes. With its unique flavor profile, it solidifies why the Indie cigar market is good for the cigar industry.
Summary
Burn: Good
Draw: Good
Complexity: Medium
Strength: Medium
Body: Medium
Assessment: Nice to Have
Source: This cigar was provided to myself from an authorized representative for Sublimes cigars. The request was initiated by the representative to myself (Cigar Coop) to sample. Cigar Coop is appreciative to samples provided but this plays no role in a final assessment rating.