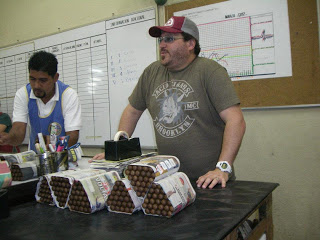 Earlier this month, we officially launched the Cigar Coop Video Channel on You Tube.  The intent of this video channel is to supplement the content on this web-site.  From time to time, we will include some of the content on this web-site that we feel is relevant to the mission of this web-site.  The following video was filmed in Nicaragua and is part of an on-going series this month (June 2012) of a visit I took to Drew Estate in Nicaragua.
This video was filmed at Oliva's pre-industry facility that Drew Estate Cigars makes use of.  Drew Estate Chairman Jonathan Drew (with some help from Drew Estate President Steve Saka) gives a talk on some of the tobacco producing countries, highlighting Nicaragua and Ecuador.
Drew Estate has been historically a Nicaraguan tobacco producing country, and has been riding the coattails of a renaissance in Nicaraguan tobacco.  Drew discusses this renaissance and how it has fit nicely into his company's model.  He also discusses how Nicaragua is poised to become the leading country in the cigar industry.
Drew Estate has a strong relationship with Oliva and utilize leverage their pre-industry facilities.  Oliva is a leader in growing wrappers in the country of Ecuador.  Drew discusses how Oliva has become a game-changer in the wrapper industry.  He discusses why Ecuadorian Connecticut Shade has replaced (U.S.) Connecticut Shade as a wrapper of choice.  He also mentions Oliva's role in the Ecuadorian Sumatra wrapper arena.
Perhaps the most interesting part is when Drew discusses the recent surge in Ecuadorian Habano wrapper.  Drew talks about some of the origins of this wrapper and how he feels this will be a dominant wrapper at the 2012 IPCPR trade show.   Saka also mentions how the upcoming Joya de Nicaragua Cuenca y Blanco and Drew Estate's Willie Herrera blend will use Ecuadorian Habano.