Assessment Updates will be posted on this web-site to: 1) Assess "pre-review" cigars that were not given a rating or score (typically pre-release cigars); 2) Provide numeric ratings to cigars previously assessed prior to the implementation of the numeric scoring system; 3) Provide a re-assessment and re-score of a previously assessed/score cigars. Today, we provide an assessment rating and score to the Solaris by Arturo Fuente – an exclusive cigar to South Florida retailer Smoke Inn. We had an opportunity to smoke the pre-release of this cigar back in May, 2012.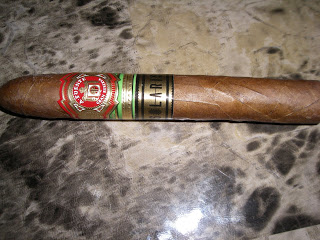 Solaris by Arturo Fuente
(Part of the Smoke Inn Microblend Series)
The Solaris by Arturo Fuente is the fourth installment of South Florida retailer Smoke Inn's Microblend Series. The series was created to commemorate Smoke Inn's 15th anniversary. The concept involves Smoke Inn teaming up with some of the biggest names in the cigar industry to produce a one time limited run. For the Solaris, it was Arturo Fuente Cigars that provided the blend for this installment.
The production of this cigar is limited to 550 boxes of 10 cigars. We don't know much about the blend other than the cigar features an Ecuadorian Sun Grown wrapper (the binder and filler have not been disclosed). Only one vitola was produced – a 6 x 49 belicoso.
This post-release cigar had been aging for over five months. I found that time really helped to mature the flavor profile. For the Solaris, I detected notes of herbs, pepper, floral, coffee, and cream. On the original pre-release smoke, I had detected mint notes. In the post release cigar, the herbal notes replaced the mint – and it played a big role in maturing the flavors. While it has herbs and spice, the Solaris delivers an incredibly smooth smoking experience. The notes are medium-bodied, so they are not overpowering. The nicotine level is also medium – except for the very end where it kicks up to medium to full strength. For the most part, the strength and body balance each other nicely.
The burn level also improved. While the original pre-release samples required multiple touch-ups, this post release was low maintenance – helping give this an excellent burn. The draw was also outstanding. While I normally think belicosos/torpedoes produce inferior burns – the Solaris does not fall into this category.
Click here for our detailed pre-review of the Solaris by Arturo Fuente.

Assessment: Nice to Have
Score: 90