Assessment Updates will be posted on this web-site to: 1) Assess "pre-review" cigars that were not given a rating or score (typically pre-release cigars); 2) Provide numeric ratings to cigars previously assessed prior to the implementation of the numeric scoring system; 3) Provide a re-assessment and re-score of a previously assessed/scored cigar. Today, we provide a numerical score to the Macanudo Vintage 1997 Maduro. This was a cigar we assessed January 2011.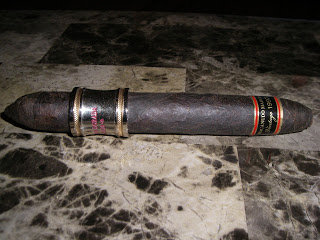 Macanudo Vintage 2007 Maduro
The Macanudo Vintage 1997 Maduro was launched back at the 2010 IPCPR by General Cigar Company. While the selling point is the unique metal band that is on this cigar, it also contains a Connecticut Broadleaf wrapper that has been aging since 1997. The cigar was one of our favorites from 2010 and it ended up finishing as our #24 Cigar for 2010. Today, we revisit the Macanudo Vintage 1997 and see what kind of score it delivers.
The metal bands were originally intended to be temporary and were going to become standard paper bands. However the metal bands were such a hit that General Cigar Company made a decision to keep the metal bands. Shortly afterwards, a metal-banded robusto size was added to the toro and perfecto vitolas that were originally released. In 2012, General Cigar would launch the Macanudo Vintage 2006 – a Connecticut Shade cigar with a metal band.
For this assessment update, we revisit the perfecto vitola. This cigar has tobacco from five countries. In addition to the Connecticut Broadleaf wrapper, the cigar contains a Honduran binder. The filler is a combination of Brazilian Mata Fina, Nicaraguan Ligero and a combination of two types of Piloto Cubano from the Dominican Republic.
This Macanudo Vintage 1997 Maduro being assessed today has over two years of age on it. The flavor profile contains Coffee, raisin, black cherry, and pepper. While the flavors were still good, this cigar lacked a little of the deep "chock full o nuts" roasted coffee notes I had back when I first smoked these at the end of 2010. The aged cigar had more pepper notes to it. The flavors remained medium to full-bodied while the strength remained at the upper part of medium (similar to how it smoked back in 2010).
Back in 2010, the burn and draw to my Vintage 1997 Maduro were good, but still short of excellent. Things changed in 2010 as this cigar performed flawlessly in terms of burn and draw. For a perfecto this surprised me. I did have this stored in a humidor with lower humidity (65 to 67) – and I believe the dryer humidity improved the burn. This is because I believe the Connecticut Broadleaf wrapper tends to hold moisture.
Click here to read our original assessment of the Macanudo Vintage 2007 Maduro.
Assessment: Nice to Have
Score: 90
Source: The cigars for this Assessment Update were purchased from Outland Cigars back in late 2010.