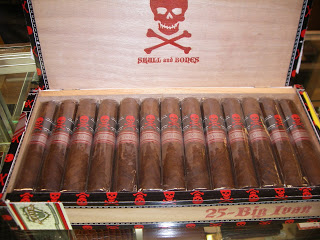 Viaje Skull and Bones Big Ivan
In a surprise move, a third cigar in the latest cycle of the Viaje Skull and Bones series has arrived at some Viaje retailers. This version is called the Skull and Bones Big Ivan. This is the largest vitola in the Viaje Skull and Bones series as it comes in at a 5 x 60 size.
Last month, Viaje President Andre Farkas put some pictures on Facebook of the 8th release cycle of the Skull and Bones series. This cycle included a return of the Little Boy and Fat Man vitolas – this time without the double cap. There was no indication of a third vitola being shipped.
The Big Ivan is the first Skull and Bones to be banded with the "Edicion Limitada" secondary band. No specifics on the blend were disclosed, but all Viaje Skull and Bones with the exception of the maduros in the 7th release cycle have been Nicaraguan puros. The cigars are packaged 25 per box. No quantities have been made available at this time.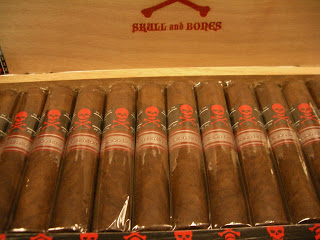 Viaje Skull and Bones Big Ivan
For completeness, here is the history of the Skull and Bones series:
First Release Cycle (Spring 2010)
Daisy Cutter: 4 x 54

Second Release Cycle (Fall 2010)
? (Mystery): 5 x 54

Third Release Cycle (Spring 2011)
WMD (Weapon Mass Destruction): 3 3/4 x 54
MOAB (Massive Ordinance Air Blast or Mother of all Bombs): 4 1/4 x 54 (Torpedo)

Fourth Release Cycle (Summer 2011)
Little Boy: 4 1/4 x 52 (Double capped)
Fat Man: 4 1/4 x 56 (Double capped)

Fifth Release Cycle (Fall 2011)
Mystery 4 1/2 x 54 (Short Torpedo)
M?ytery Box Press 4 1/2 x 54 (Short Torpedo Box-press)

Sixth Release Cycle (Spring 2012)
WMD (Weapon Mass Destruction) 2012: 3 3/4 x 54 (Black and Red Band)
MOAB (Massive Ordinance Air Blast or Mother of all Bombs) 2012: 4 1/2 x 54 (Black and White Bands – Short Robusto)
FOAB (Father of all Bombs): 4 1/2 x 56 (Black and White Bands – Short Robusto)
Seventh Release Cycle (Fall 2012) – M?stery
M?stery: 4 1/2 x 54 (A short robusto featuring the San Andres wrapper and a glow in the dark band)
M?stery BP: 4 1/2 x 54 (A short box-press robusto featuring the San Andres wrapper and a black on black band)
M?stery Vintage: 4 1/2 x 54 (The Nicaraguan puro that is an identical short torpedo to the Viaje Skull and Bones Mystery Box-press 2011)
Eighth Release Cycle (Winter 2013)
Little Boy: 4 1/4 x 52
Fat Man: 4 1/4 x 56
Big Ivan (Edicion Limitada): 5 x 60