Assessment Updates will be posted on this web-site to: 1) Assess "pre-review" cigars that were not given a rating or score (typically pre-release cigars); 2) Provide numeric ratings to cigars previously assessed prior to the implementation of the numeric scoring system; 3) A re-assessment and re-score of a previously assessed/score cigars. Today, we provide a score for the Tatuaje Anarchy. This was a cigar we assessed back in March 2011.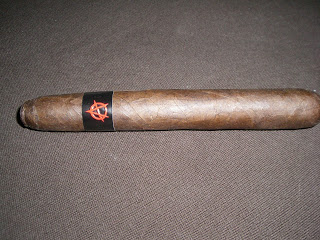 Tatuaje Anarchy
The Tatuaje Anarchy was a retail exclusive cigar to South Florida retailer Smoke Inn. It was released in late 2010 and was the first of the Smoke Inn MicroBlend series. The series was originally created to commemorate Smoke Inn's 15th anniversary. The concept involves Smoke Inn teaming up with some of the biggest names in the cigar industry to produce a one time limited run exclusive to its shop . The term Tatuaje Anarchy is used in the past tense here because since this was a one time run, it is getting very difficult to find this cigar. When we smoked this cigar, it proved to be a home run. It finished as our #3 Cigar for 2011, and has to rank as one of the all-time great retail exclusive cigars.
The cigar is a work of art. It features a beautiful dark Ecuadorian Habano wrapper over Nicaraguan binder and filler. The shape of the cigar is a 6 1/8 x 48-52 salomon. In my opinion it's an ideal shape for a salomon. The cap features a spiral-like pig-tail.
There is no shortage of flavors with the Tatuaje Anarchy. The Tatuaje Anarchy has a highly complex flavor profile. It features notes of trademark Garcia Family pepper, roasted coffee, molasses, leather, cream, earth and cane sugar. Now some two years after its release there seemed to be a little less sweetness and a little more earth. The flavors are still smooth and robust – and definitely on the full-bodied side. The strength of this cigar did also mellow a bit in the past two years. I would say this is still a medium to full strength cigar, but unlike two years ago, it did not progress to full strength. There is a slight edge in body over strength.
The burn and draw were amazing. Usually I am down on a salomon/diadema shape because there is a tendency for burn issues and draw issues, however the Anarchy performs with flying colors here.
Overall this is an excellent cigar. While this was released as an exclusive to Smoke Inn, I have seen some boxes of these floating around from some other retailers. However, as mentioned – this is getting to be a difficult cigar to find.
Click here for the original assessment of the Tatuaje Anarchy.
Assessment: Memorable
Score: 95
Source: The cigars for this assessment update were purchased from Smoke Inn Cigars back in 2011.