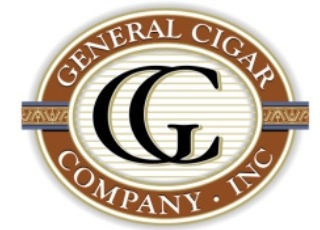 Going into the 2013 IPCPR Trade Show, there was perhaps no company that kept things under lock and key better than General Cigar Company. However once the show opened, General would make a huge splash in 2013 leading the way with new releases. At the top of this splash was the expansion of the Foundry brand which saw the catalog of that line add two additional lines and a staggering 20 new blends!
The strategy of General seemed to focus on both brick and mortar and large internet catalog companies – as exclusive product offerings were made to each of these entities. This is a strategy that General Cigar launched earlier this year with the release of the La Gloria Cubana Serie R Black – an offering to large internet catalog companies only.
General also continued along the lines of maintaining its innovation around packaging as well as offering many collections.
Over the next few days, we will examine the General Cigar Company line in greater detail.  In the interim, here is a summary of what the company launched in 2013
Foundry
Last year, the Foundry brand was born within General with the launch of the self-titled cigar line. According to David Pace, Foundry is starting to evolve more like a "company" within General Cigar. In fact Foundry is now being referred to as Foundry Tobacco Company. This year, there were two significant lines added under the Foundry umbrella, however these two lines add a total of 21 additional blends.
War of Currents: This is the first line extension by Foundry and it was inspired by the intellectual/invention war between Thomas Edison and Nikola Tesla over the battle of DC vs AC electricity.  The line introduces two new blends. One is a full-time blend known as "Laboratories" in 2 frontmarks called Shoreham and Menlo Park (named for Tesla and Edison's laboratories). War of Currents will also introduce a small batch line called "Inventions" with four frontmarks named after inventions by the two inventors (Belgrade, Madison, Menlo the Phono, Auburn the Chair)
Compounds, Elements and Musings:  A total of 18 new blends is being introduced.  These blends will be a part of 12 separate package offerings (each with a unique box design).  Six packages (for a total of 9 blends) will be brick and mortar exclusive while the other six packages (9 blends) will be large internet exclusive.  These will be named after 12 elements in the periodic table and feature some unique packaging.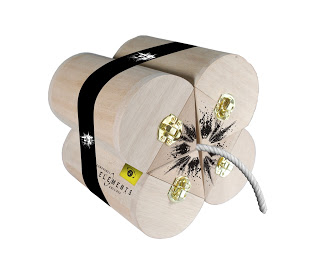 Compounds, Elements, and Musings – Plutonium
(one of the 12 "elements" for the packages of this line)
La Gloria Cubana
Serie R Esteli: La Gloria Cubana continues to be an active brand under General Cigar Company. At the 2013 IPCPR Show, the brand launched a new brick and mortar exclusive called La Gloria Cubana Serie R Esteli. This is meant to be a companion to the internet only Serie R Black introduced earlier this year. Like the Serie R Black, the Serie R Esteli will be a Nicaraguan puro.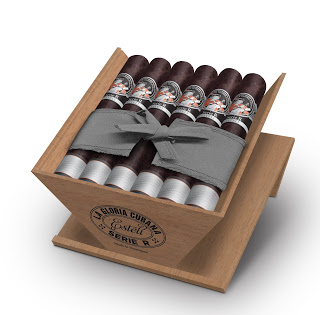 Trunk Show 2013
: Three new blends are being introduced with 500 boxes each only being produced for a one time run.  Two are brick and mortar only, one is large internet only. All three will continue with the smokeable cigar bands.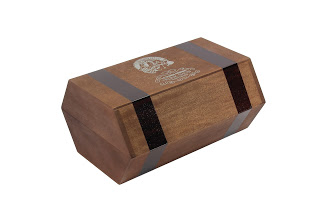 For Brick and Mortar, the Liga YG-23 (named for Master Blender Yuri Guillen) will feature a die-cut smokeable blend.  The Liga MG-08 (named for Michael Giannini), uses a homogenized tobacco leaf as the physical label, and its printing is done with a non-toxic vegetable dye. The Liga JD-05 (named for aster Blender Jhonys Diaz) will be internet only.  It features a torpedo vitola and has cigars packaged with both the die cut and homogenized tobacco leaf smokeable bands.
CAO
Flathead will be a new core line that is being introduced.  It will be an all box-press line consisting of four vitolas – ranging from lancero to 7 x 70 (the latter a first for CAO).  The packaging will be inspired by hot-rod cars and pin-up girls.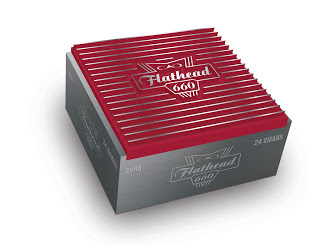 Macanudo
Macanudo Estate Reserve: Macanudo is a staple of the General Cigar portfolio, so it was no surprise there was something new being launched under this line.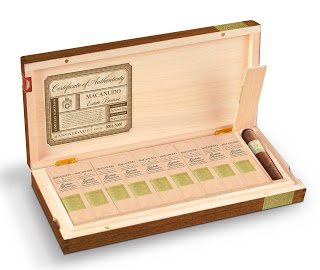 The Estate Reserve is a new limited edition collection of cigars to commemorate the 45th anniversary of the Macunado brand.  These will be closer to the ultra-premium cigar point ($16 – $18 per cigar) and feature coffin box packaging per cigar.
Dunhill
Dunhill Aged Reserva Especial 2006: This follows up the Dunhill Aged Reserva Especial 2003 that was released several months ago.   This time (as the name indicates), the Aged Reserva Especial 2006 features aged Dominican filler tobacco from 2006 and will a limited 3,000 box run.
Line Extensions
The following lists the new front marks for 2013 to existing General Cigar lines.
Cohiba Edicion Diamante "A" (8.25" x 49), SRP $33.33 per cigar or $99.99 for a 3-count box. Available late August.
Dunhill Aged Caleta Tin (4"x 42), SRP $19.99 for a 4-count tin. Available September.
Partagas Black Label Purito (4.19" x 32), SRP $13.59 for an 8-count tin. Available in September.
Partagas 1845 Toro Grande (6.25" x 54), SRP $7.09 per cigar or $141.80 for a box containing 20. Available now.
Partagas 1845 Robusto en Crystale (5.5" x 50), SRP $6.99 per cigar or $69.90 for a box containing 10. Available now.
Punch Miniatures (3" x 22), SRP $9.99 for a 20-count tin. Available in October.
Punch Cigarillos (4" x 24), SRP $13.99 for a tin containing 20 cigarillos. Available in October.
Partagas 150 Humidor
Finally, General Cigar introducing the Partagas 150 Commemorative Humidor.  This will be a handcrafted humidor containing 150 of the Partagas 150 cigar.  It will carry an SRP of $9,999.00 and be available in December.