Assessment Updates will be posted on this web-site to: 1) Assess "pre-review" cigars that were not given a rating or score (typically pre-release cigars); 2) Provide numeric ratings to cigars previously assessed prior to the implementation of the numeric scoring system; 3) Provide a re-assessment and re-score of previously assessed/score cigars. Today, we provide an assessment rating numerical score to the Swag SoBE Edition by Boutique Blends. This is another vitola for a cigar we first did a pre-release sample of in August, 2012.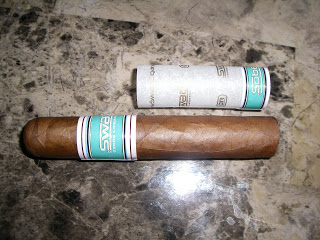 Swag SoBE Edition
The Swag SoBe Edition is the third blend to be added to the Swag Cigars family. The cigar was launched prior to the 2012 IPCPR. The cigar pays tribute Miami Beach's South Beach (SoBe) stands for South Beach – referring the famous Miami Beach neighborhood Specically the impetus for the name came after the Miami Heat won their second NBA Championship. After the win, the Swag team went to celebration to celebrate and thus the name was born.. This tribute is reflected in the packaging and art deco blue banding. Today we revisit the Swag SoBE about ten months since its release and see what the cigar brings to the table.
The Swag SoBE Edition is an all Dominican puro. It is made at Tabacalera Palma in the Dominican Republic under the watchful eye of Jochy Blanco. We've been told there is some extra ligero in the blend. The cigar is available in four sizes: VIP (4 1/2 x 48), Lavish (5 x 54), Infamous (6 x 54), Ego (6 x 60). For this assessment update, we once again revisit the Rothchild-sized VIP cigar.
The Swag SOBE Edition VIP still has a flavor profile consisting of nut, pepper, and some grapefruit citrus. The ten months of age we had on this cigar really did some nice things to the flavor profile. The citrus notes were less acidic and there was also a nice taste of natural tobacco to this cigar. The flavors remained medium to full in terms of body from start to finish. This was countered by medium to full strength. The SoBE Edition does a real good job at balancing strength vs. body.
The burn was excellent from start to finish. As for the draw, I've always found this cigar's draw has a draw on the tighter side, and this version I smoked remained the same. Still, it wasn't a bad draw.
Click here to read our original pre-release assessment of the Swag SoBE Edition..
Assessment: Nice To Have
Score: 91

Source: The cigars for this assessment update were purchased from Outland Cigars.